TOUR PEARL HARBOR NATIONAL MONUMENT
Pearl Harbor Tickets At The Best Value
Embark on a poignant journey through Pearl Harbor's rich history with our expertly curated tour packages. Our expeditions offer more than just sightseeing; they serve as a gateway to the solemn moments of history etched into this hallowed ground. Navigate through the emotional landscapes of the USS Arizona Memorial and the powerful Battleship Missouri, with tours crafted to accommodate every budget and curiosity.
Recognized as Hawaii's premier visitor attraction, Pearl Harbor stands as a must-visit to unravel the intricate tapestry of stories embedded within Hawaii's picturesque vistas. We hold a firm belief that a journey through this iconic national monument should seamlessly weave into every Hawaii vacation. Therefore, our diverse range of inter-island tours ensures guests from all islands can integrate a day of reflection at Pearl Harbor into their holiday.
Opt between a reflective half-day sojourn, visiting the USS Arizona Memorial & Battleship Missouri, or immersing completely in a thorough full-day exploration of all historic sites within Pearl Harbor. For our guests journeying from other islands, we orchestrate a smooth transition to Oahu, overseeing every facet including flights, admission, transportation, and the provision of a dedicated personal guide. Engage with the impactful narratives and explore the pinnacle of island attractions, while we manage the particulars, assuring your visit is as enriching as it is memorable.
Additionally, we specialize in crafting tours specifically tailored to accommodate larger groups, ensuring an immersive and personalized experience. Uncover more and explore further details by visiting our group tours.
Pearl Harbor Tickets
&

Tours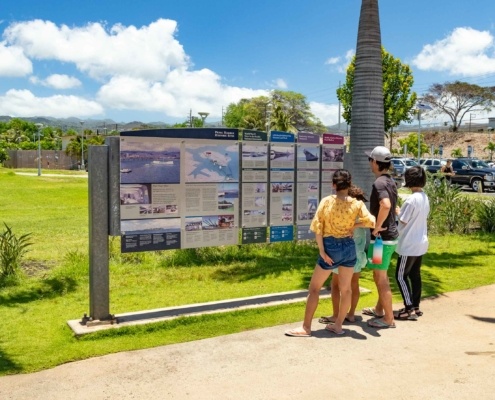 USS Arizona Memorial and USS Missouri Battleship Tour
Exploring the Timeless Legacy
The most popular tour with highlight visits to the USS Arizona Memorial by Navy Boat and a shuttle ride to Ford Island to visit the USS Missouri.
Your visit to Pearl Harbor also includes viewing of a documentary film of actual footage of the attack on Pearl Harbor followed by a Navy Boat ride to the USS Arizona Memorial for your tribute to perhaps one of the most solemn memorials of World War II.
Visit the Pearl Harbor Visitors Center, experience and learn history at the Exhibits and Museum. After we return to our private tour vehicle and drive onto Ford Island to visit the USS Missouri. Your tour concludes with a drive through the National Cemetery of the Pacific at the Punchbowl Crater, officially dedicated on September 2, 1949, only 4 years after the signing of the surrender treaty with Japan on the deck of the USS Missouri. Also, a drive-through visit of Historic Honolulu, Iolani Palace, King Kamehameha Statue, Kawaiahao Church, State Capitol, and Downtown Honolulu.
USS Arizona Memorial and Battleship Missouri Tour Highlights
Pickup At Or Near Your Hotel And Transportation In A Climate Controlled Small Group Van (Max. 12 Guests)
4.5 Hours Historic Journey through Pearl Harbor, and the Iconic USS Arizona Memorial and USS Missouri Battleship
Captivating and Nautical Expedition to the Revered USS Arizona Memorial, a Solemn Tribute to Heroes Lost at Sea
A Guided Tour to Explore the Spectacular Maritime Might and Historical Richness Aboard the USS Missouri at Scenic Ford Island
Stand In Awe Of The Surrender Deck Where The Empire Of Japan Signed The Surrender Treaty Ending World War II
Drive Through Honolulu To View Historic Buildings, With Photo Stops At Iolani Palace And King Kamehameha Statue
A Tranquil Drive Through the Evocative Punchbowl Crater, The Majestic, and Revered Home to the National Cemetery of the Pacific
The Complete Pearl Harbor Experience
The All-Encompassing Journey Through Pearl Harbor's Rich Tapestry
The Complete Pearl Harbor Experience is our biggest and best tour of Pearl Harbor. From the moment you are picked up from your hotel, you'll be treated to a day packed full of history and beauty.
When the tour begins you'll ride in an air-conditioned motorcoach to Pearl Harbor where you'll bypass the long lines to buy tickets to this historic location.
While inside Pearl Harbor you'll not only get to visit the the USS Arizona Memorial but also the Pearl Harbor Aviation Museum including access to other attractions that history buffs will appreciate like the Battleship USS Missouri and the USS Bowfin Submarine.
Once your tour of Pearl Harbor is complete you'll be taken on a ride through downtown Honolulu to see historical buildings and the Punchbowl National Cemetery.
Experience all of this and more when you book this once-in-a-lifetime tour today!
The Complete Pearl Harbor Experience Highights
Enjoy the convenience of Waikiki Hotel Pick-Up and immerse yourself in Historic World War II Narration
Engage with Film Footage of the December 7 Attack and explore the significant USS Arizona Memorial at the Pearl Harbor Visitor Center
Discover the USS Bowfin Submarine Museum and delve into history at the Pearl Harbor Aviation Museum
Marvel at the USS Battleship Missouri and Embark on a Detailed, Enriching Deck Tour of the Iconic 'Mighty Mo'
Embark on a Smooth Journey with Seamless Ford Island Transportation and Honor History at the USS Oklahoma Memorial
Enjoy a No-Host Lunch Stop at Laniakea Cafe and immerse in the beauty during the visit to Oahu's Pacific Historic Park
Explore Downtown Honolulu's Iconic Landmarks, like Iolani Palace, Kawaiahao Church, and Statues of Hawaiian Royalty
Experience a Soulful Journey Through Tranquility and Time at the Historically Rich Punchbowl National Cemetery
PEARL HARBOR AND OAHU CIRCLE ISLAND TOUR FROM WAIKIKI
From the Historical Depths of Pearl Harbor to the Enchanting Landscapes of Oahu
For anyone who wants to see all of Oahu's most popular sights, the Pearl Harbor Oahu Circle Island tour is a must.
Embark on a day of profound history and stunning island sights with our tour that offers a blend of Pearl Harbor's deep-rooted past and Oahu's natural beauty, beginning in our cozy, air-conditioned tour vehicle that conveniently picks you up near your hotel and guides you directly to Pearl Harbor. Immerse yourself swiftly in the rich history, exploring museums and viewing a poignant documentary featuring actual footage from the infamous attacks, followed by a Navy boat ride escorting you to the USS Arizona Memorial for a moment of remembrance.
Post-Pearl Harbor, we'll whisk you away on an island tour to discover Oahu's top attractions, from the charming Dole Plantation and scenic overlooks to the historic town of Haleiwa and the renowned beaches of the north shore, allowing you to weave through the tapestry of Oahu's history and natural wonders in a seamless, all-encompassing day of cherished memories. Book this tour for an unforgettable experience at Pearl Harbor and Oahu's celebrated sights!
Pearl Harbor and Oahu Circle Island Tour Highlights
View Oahu's Pacific Historic Park, The Pearl Harbor Visitor Center, The Uss Arizona Memorial, And Captivating World War Ii Museums
Uncover The Secrets Of The Dole Pineapple Plantation And The Delicacies Of A Macadamia Nut Farm
Enjoy Breathtaking Views From The Historic Nu'uanu Pali Lookout, Scenic Island Lookout Lāʻie Point, And The Halona Blowhole Lookout
Delight In Oahu's Famous North Shore Beaches, Legendary Surf Spots, And The Serene Waimanalo Beach Park
Marvel At The Picturesque Waimea Bay & Sunset Beach Along With The Visually Stunning Hanauma Bay Lookout
Dive In The Visual Spectacle Of South Shore Rocky Shoreline And The Enchanting View Of Rabbit Island From Makapu'u Lookout
Experience Unparalleled Luxurious Trip By Exploring Opulent Elegance in Kahala Estates' Homes & Mansions
Explore Enchanting Oahu Locales, Creating Vibrant Memories Across Its Plantations, Historical Sites, And Stunning Lookouts
PEARL HARBOR AND POLYNESIAN CULTURAL CENTER TOUR
Harbor Echoes and Island Melodies
See Hawaii's most popular attractions on this day tour. This tour has history, culture, and fun all wrapped up in one unforgettable day.
Begin your immersive journey into Hawaii's rich tapestry with a warm greeting from your guide at your Oahu accommodation, proceeding to an enlightening ride towards the Pearl Harbor Visitor Center. Board a Navy boat, traversing the harbor to the solemn USS Arizona Memorial, a tribute to the brave souls of December 7, 1941. Post-reflection at Pearl Harbor, your exploration continues across Windward Oahu, pausing at scenic overlooks and a delightful macadamia nut farm.
Next, dive into the vibrant Polynesian Cultural Center, embarking on a canoe ride, savoring a delightful menu at Pounders, and learning about the diverse cultures of Polynesia. Book now to peel away from Waikiki's beaches and discover a multifaceted Hawaii, oscillating between historic solemnity and vibrant island culture. Join us for a tour that threads you through the intricate stories of Hawaii!
Pearl Harbor and the Polynesian Cultural Center Highlights
Enjoy A Comprehensive Package That Includes Honolulu Airport Pickup And Inclusive Flights From Maui, Big Island, And Kauai
Engage In A Historic World War Ii Narration And Witness Oahu's Wwii Valor In The Pacific National Monument
Witness Authentic Film Footage of the Infamous Pearl Harbor Attacks at the Specially Designated Visitor Center
Visit The Iconic Uss Arizona Memorial, A Solemn Place Where You Can Pay Your Heartfelt Respects To The Fallen Heroes
A Cultural Odyssey With Admission To The Enriching Polynesian Cultural Center And Delve Deep Into The Diverse Island Cultures
Savor A Complimentary Lunch At The Renowned Pounders' Restaurant, Indulging In Exceptional Local Flavors
A Hoku Pa'a Canoe Ride Through Beautiful Scenic Locales, Immersing Yourself In The Natural Beauty And Culture Of The Islands
Participate In Authentic Demonstrations At Island Villages And Marvel At The Vibrant Polynesian Canoe Pageant
PRIVATE TOUR BY JEEP, SUV, CADILLAC OR MERCEDES SPRINTER
Exclusive Pearl Harbor Exploration in Luxury Vehicles
Prefer to get a more personal tour? Book our Pearl Harbor Private Tour by Jeep, SUV, or Mini Coach and you'll get a private car with a driver for you and your party, plus the undivided attention of your expert tour guide.
Select from three vehicle options based on your group size: a Jeep for up to 3 guests, an SUV for parties of up to 6, or our mini-coach accommodating up to 12. We'll pick you up at your Oahu accommodation, providing you with fast-track tickets to skip the lines and access Pearl Harbor swiftly.
Begin your journey with a visit to Pearl Harbor, including a compelling documentary and a boat ride to the USS Arizona Memorial. Afterward, tailor your adventure – delve deeper into Pearl Harbor or venture to other island attractions, such as the Dole Plantation or Polynesian Cultural Center. Enjoy expert narration from your private driver, creating a personalized and enlightening experience for couples and small groups alike. Book today for an unforgettable Oahu exploration!
Pearl Harbor Private Tour Highlights
Enjoy Free Pick-up Service From Your Waikiki Hotel Or Pier, Or Opt For Alternative Pick-up Locations For A Small Fee
Immerse Yourself In The Rich History Of Pearl Harbor With An Extensive Three-hour Tour At The Pearl Harbor Visitor Center
Witness The Actual Attack On Pearl Harbor Come To Life Through A Captivating And Informative Movie Screening
Embark On An Emotional Journey With A Navy Boat Ride To Pay Tribute At The Solemn Uss Arizona Memorial
Choose from USS Missouri, USS Bowfin, North Shore, Dole Plantation, Waimea Valley, or Polynesian Cultural Center
A 8-9 Hour Private Tour with an In-Depth Exploration of the Most Prominent Highlights across Oahu's Stunning Landscape
Enhance Your Trip With Add-ons Like Waimea Valley Waterfall Swim, Missouri Battleship, Bowfin Submarine & More
Please Note That Weather Conditions And Construction May Impact Some Of The Tour Highlights
FAQs About Pearl Harbor Journeys