Cancellation, Changes
&

Refund Policy
We now offer 100% full refund options for tours originating from Oahu. Tours with flights must purchase trip insurance to qualify.
To qualify for a refund, you must cancel your tour at least 72 hours before the start time.
No stop is guaranteed to be operating on the day of your tour. We have no control of Navy and Army operations, which may result in the closure of Ford Island or the boats going to the Arizona Memorial without notice. In the event of this occurring, our guides will make up for it in various ways, so your experience is always worthwhile.
Pearl Harbor Tours that include airline flights from Maui, Big Island of Hawaii, or Kauai can qualify for a full refund if guests add the $15 per person insurance during checkout and cancel at least 72 hours prior to their flight.
If you do not purchase flight insurance at checkout, there are no refunds for cancellations or no-shows at any time after purchase. Rescheduling fees may be applied to change your tour dates. Tickets are non-transferable.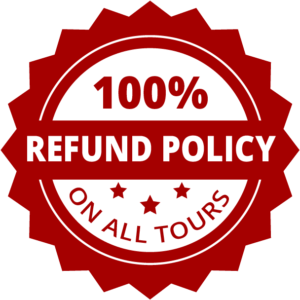 Receiving Full Credit or Cash Refunds
Guests taking part in tours that originate on the island of Oahu and qualify for a refund will receive the amount paid back into the card or account initially used for payment. This may take up to 7 business days to appear.
Guests who have purchased trip insurance at checkout and qualify for a full cash refund on their tour starting on Maui, Kauai, or the Big Island of Hawaii will receive the full amount back to the card or account used for the initial payment. The travel insurance is purchased through our partner (Allianz Insurance) and handled by Hawaiian Airlines. Once we file a claim, it takes about 20 business days for the process to complete.
Vacation Packages Policy
We now offer cancellation insurance with All-Inclusive Hawaii Vacation Packages. You will receive a full credit refund if you need to cancel for any reason. (A full cash refund is available for an extra fee per person.) And you can cancel anytime up to 72 hours before your departure. Groups of 6+ guests must cancel at least 7 days in advance.
Helicopter Tours And Groups Of 6 Or More
Cancellations must be made at least 7 days in advance to receive a full refund.
For groups of 6 or more people and those taking helicopter tours, additional cancellation fees may apply, and the standard 72-hour cancellation policy may not be applicable. For more information on specific cancellation policies, please get in touch with us.
Gift Cards
Gift cards are not redeemable for cash. However, they may be used to purchase any tour or activity available on PearlHarborTours.com. If a customer cancels a booked tour that was paid for using a gift card, they will only be eligible for a credit refund.