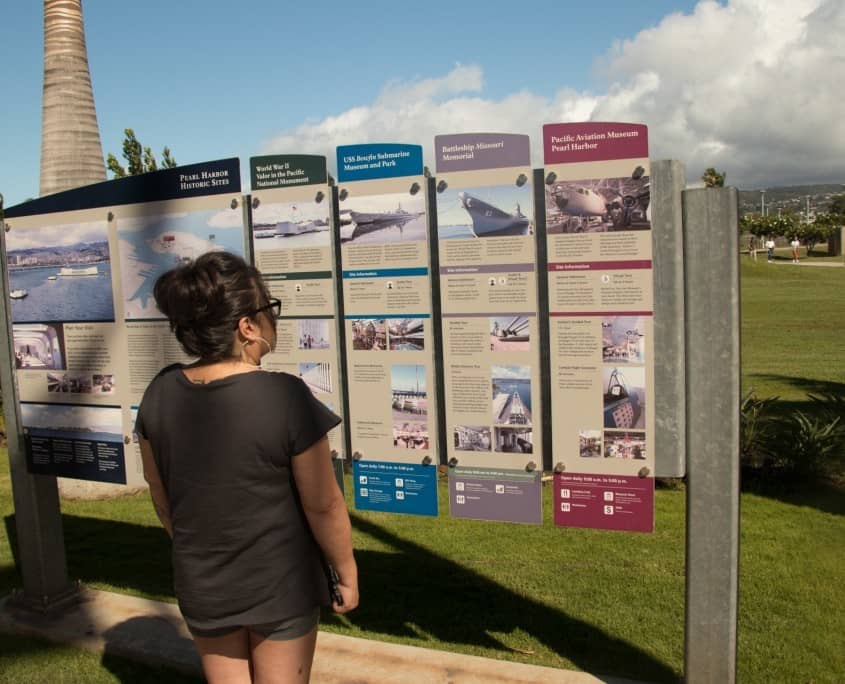 Passport To Pearl Harbor Tickets
Passport To Pearl Harbor is the full day experience. Visit the most popular paid museums in Honolulu, including the Bowfin Submarine, USS Battleship Missouri and the Pearl Harbor Aviation Museum.
Spend the day immersed in the history and valor of World War 2 here in the center of the Pacific. See it from the perspective of being below the waves in a submarine, commanding the seas from a mighty battleship and from high above in a variety of amazing aircraft. Listen to the stories with a free audio tour device so you can listen and hear points at every stop.  Come explore Pearl Harbor at your own pace with a Passport to Pearl Harbor ticket.
No trip to Pearl Harbor is complete without a visit to the USS Arizona Memorial. Pick up boarding tickets separately. Reserve online. Limited tickets are available. Going with a guide is a wonderful stress-free option. They handle everything for you.
Highlights
Guide yourself through the attractions of Pearl Harbor at your own pace.

Take time to watch the many films offered at each attraction

Go inside the Bowfin Submarine and visit the submarinerʻs museum

Upgrade To Complete Experience For Transportation To & From Waikiki
Tour above and below the decks of the Battleship Missouri docked at Ford Island

See what filled the skies of the Pacific at the Pearl Harbor Aviation Museum

Multiple places to take time to relax and enjoy some food (not included in price)

Tickets available at will-call for pickup anytime. (Arizona Memorial not included.)
Passport Description
The Passport to Pearl Harbor consists of a set of tickets for each of the attractions. You will have access to the Pacific Aviation Museum and Battleship Missouri on Ford Island as well as Bowfin Museum at the World War 2 Valor In the Pacific National Monument.
If you want access to the USS Arizona Memorial, upgrade to a Complete Pearl Harbor Experience that also includes transportation from Waikiki and a guide. Or you can wait in long lines when you arrive at Pearl Harbor for a ticket.
Please ask us here if you have any questions.
Schedule & Duration
Tentative Schedules for The Passport to Pearl Harbor
| | |
| --- | --- |
| Arrive When You Want | Wait In Line For Tickets to The Arizona Memorial (skip the line with a tour) |
| After you wait a bit more… | View Documentary film in the theatre |
| After the film | Take a solemn visit to the Arizona Memorial |
| Look around the park | Visit Pearl Harbor Visitors Center. See the museum and exhibits around the area. |
| Go look inside a sub | The "Pearl Harbor Avenger" nickname of the Bowfin Sub |
| Head onto a military base | Stand in line for the public shuttle onto Ford Island |
| 15-20 min later | Begin the exploration of the Battleship Missouri |
| About 1-2 hours | Explore the Mighty Mo inside and out, wait for a volunteer to lead a short guided walk around the ship |
| Get on the shuttle | Visit the Pacific Aviation Museum, explore the wonders of flight, even grab some food here. |
| Later that day | Board shuttle back to Pearl Harbor Visitor Center |
*Pearl Harbor Historic Highlights may change or updated due to route change in event of weather.
Availability
The Passport is available daily. As long as the park is open you can stop at all museums and attractions. Please be sure to reserve your Arizona Memorial tickets which must be booked separately.
Cancellation Policy
There are no refunds or date changes for the Passport To Pearl Harbor. Once you purchase the tickets for the dates on the reservation you are locked into that. There are no refunds for no-shows. If you would like more flexibility in your options, please choose the Complete Pearl Harbor Experience which has a 72-hour cancellation policy.
Special Instructions
Bags are not allowed on the Pearl Harbor Visitor Center but if needed can be checked and stored for $ 5.00 per item.
Government issues ID needed for Ford entry island
No camera lens longer than 6 inches at Pearl Harbor
Bring a reusable water bottle
Do not forget your camera!
Wear reef safe sunscreen, hat, sunglasses
Wear comfortable shoes
Leave a swimsuit at home
dress comfortably & check the weather.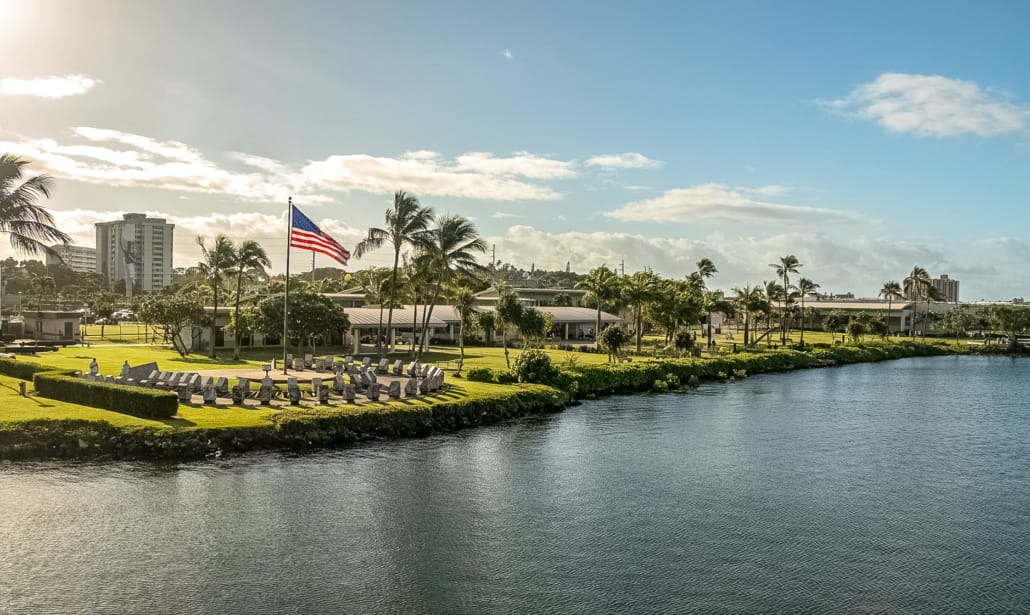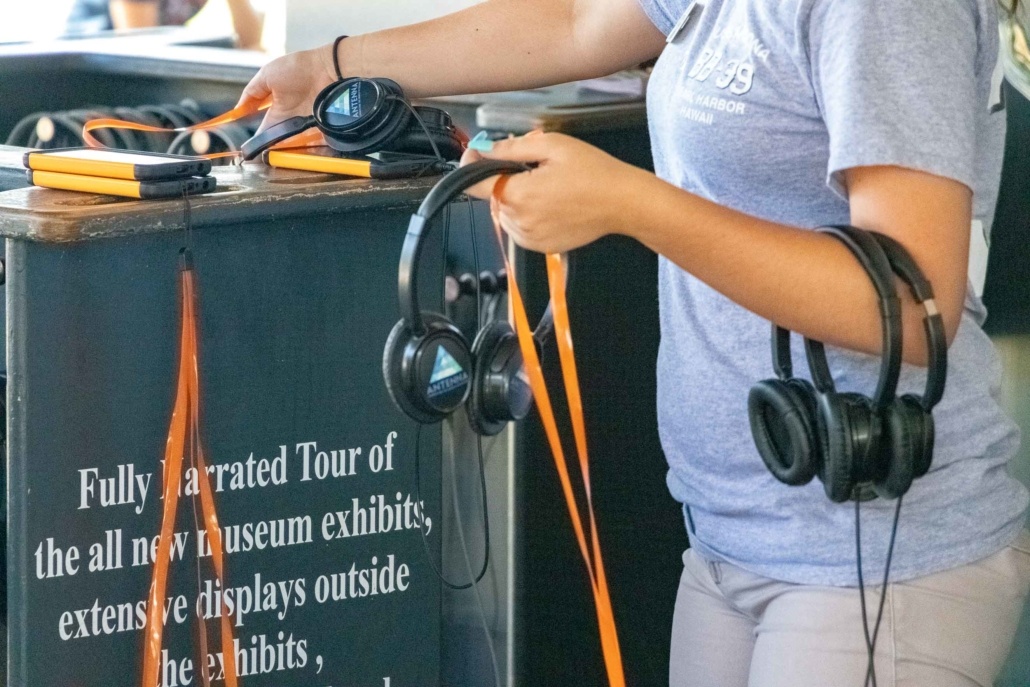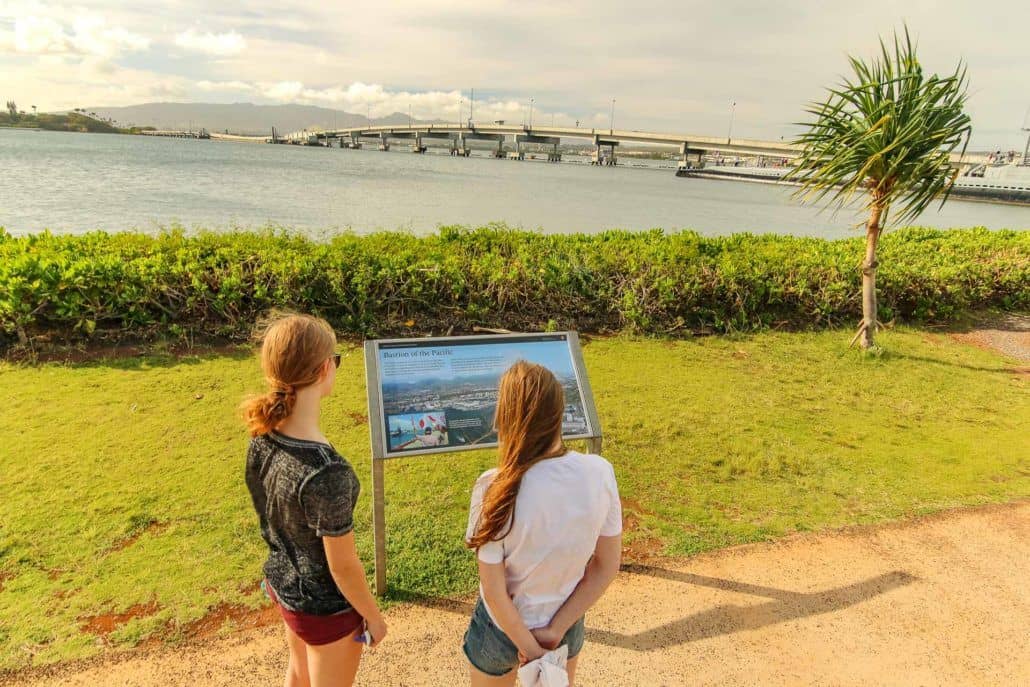 Pearl Harbor Visitor Center
Your passport can be picked up at will-call in the Visitor Center at the desk in front of you as you walk past security. With every purchase from Pearl Harbor Tours, you will access our on-island concierge and the audio app. An audio app greater details about 29 different areas around the center. Since you are doing the tour at your pace, you can take the time to watch all the films and check out all the exhibits in each area. The audio guide is available in 9 different languages including English, Japanese, Chinese, Korean, French, Russian, Italian, German & Spanish.
At this location, you can get into the line to gain tickets to visit the USS Arizona Memorial.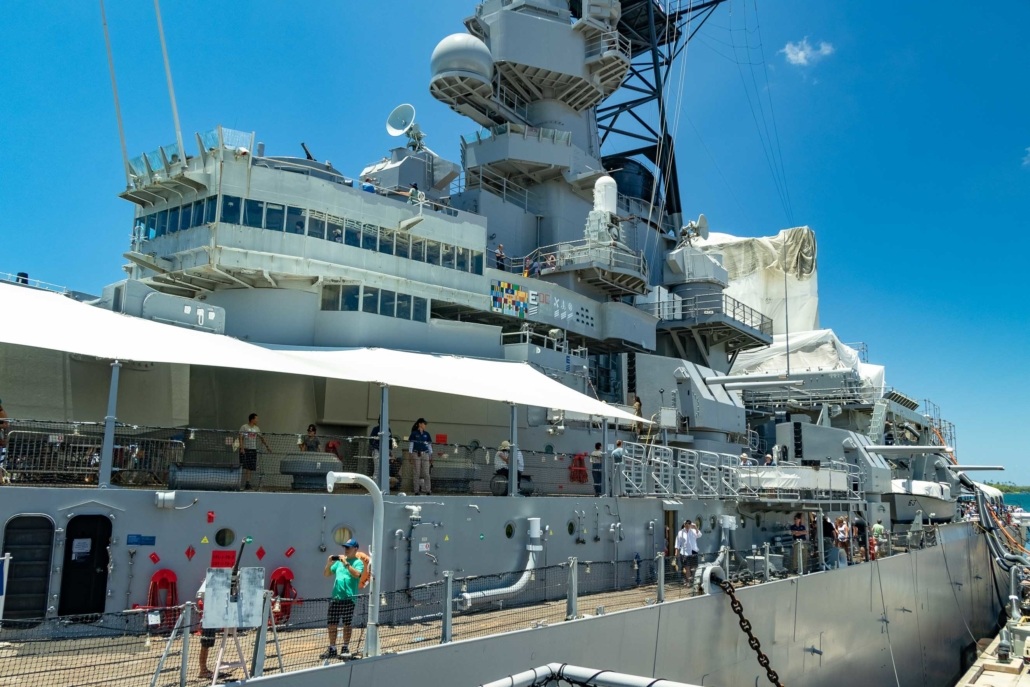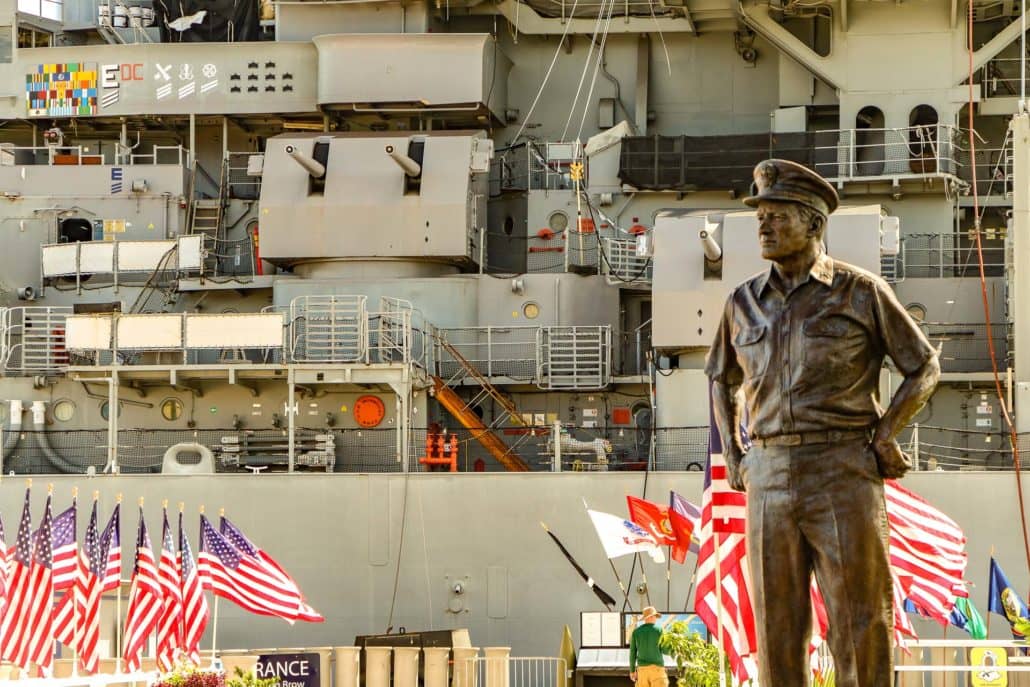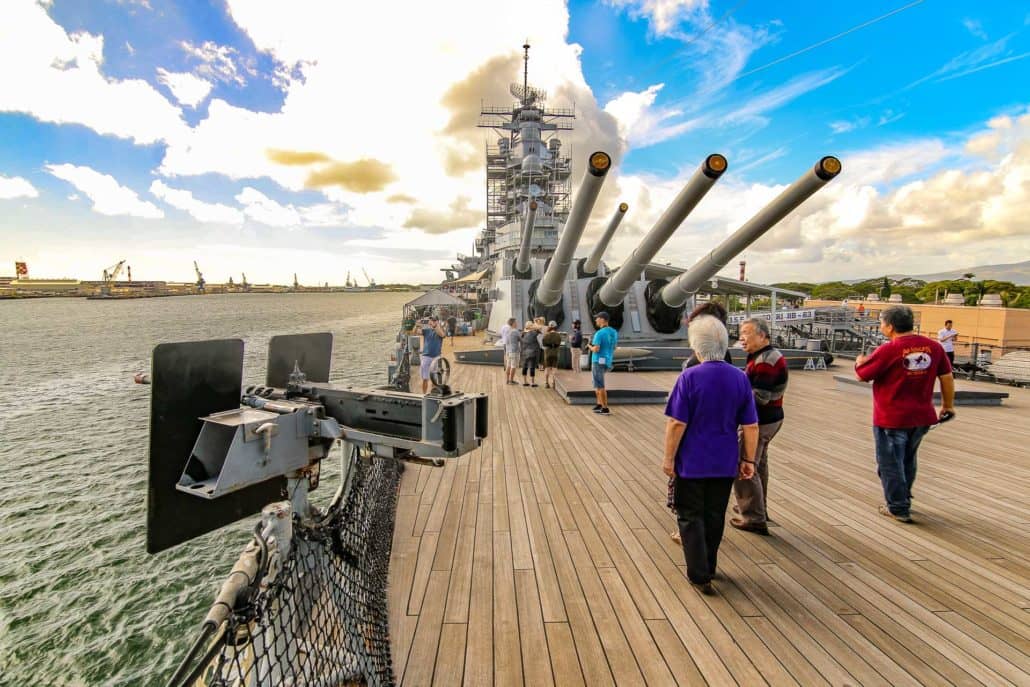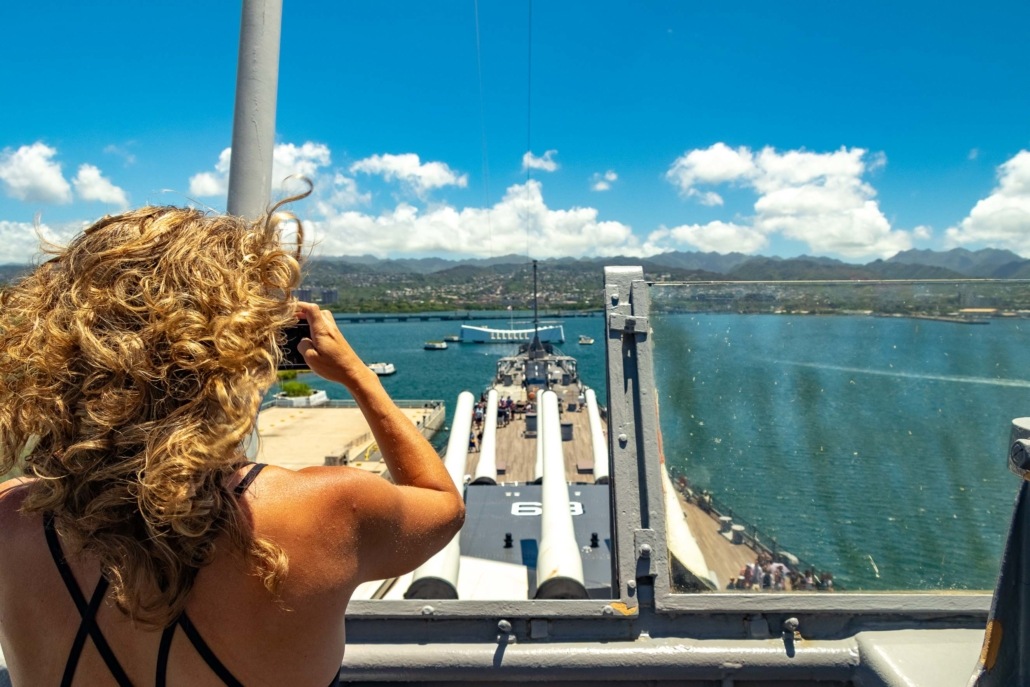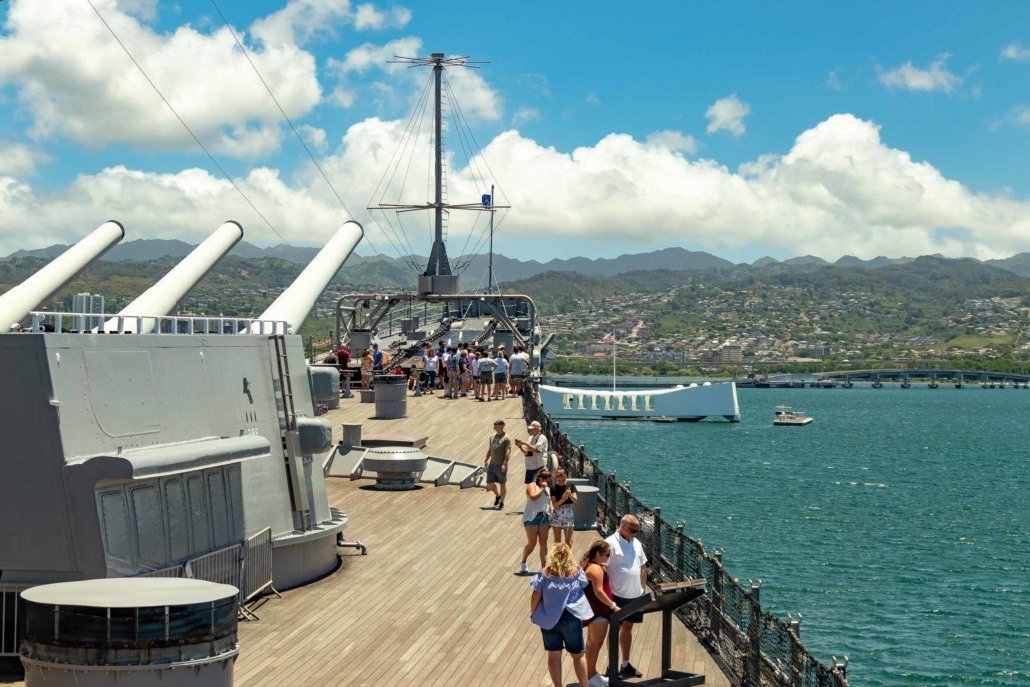 United Statesʻ Battleship Missouri
It was on the Battleship Missouri decks that the Japanese signed the documents of surrender that ended World War Two. This mighty battleship is moored along the same battleship row that over 75 years ago, her sister ships were attacked and sunk. All of them raised and sailed again except one.
A shipʻs host will lead you on a short 35-minute tour of the above-decks. Go below and check out the rest of the ship, set up like a museum for you to learn and explore. There is a lot to see. Donʻt get lost down there!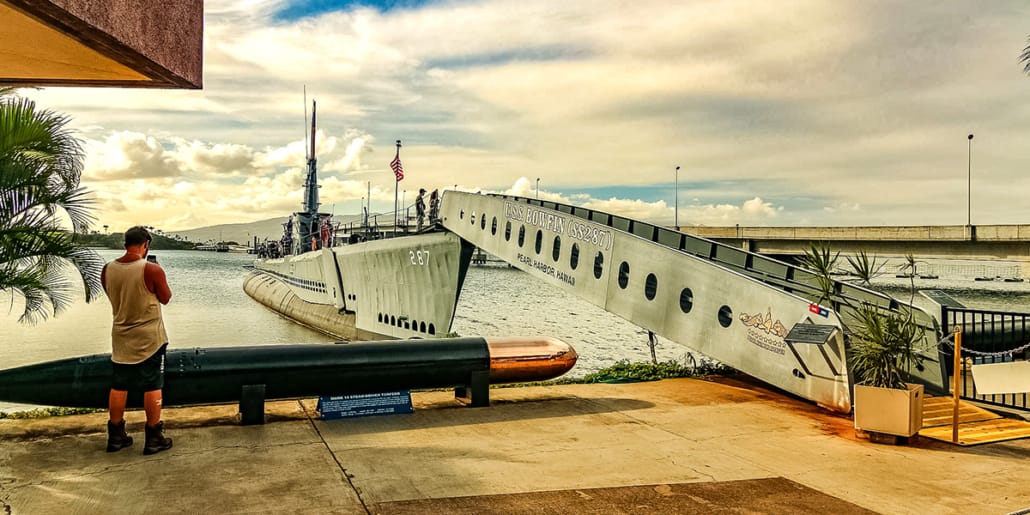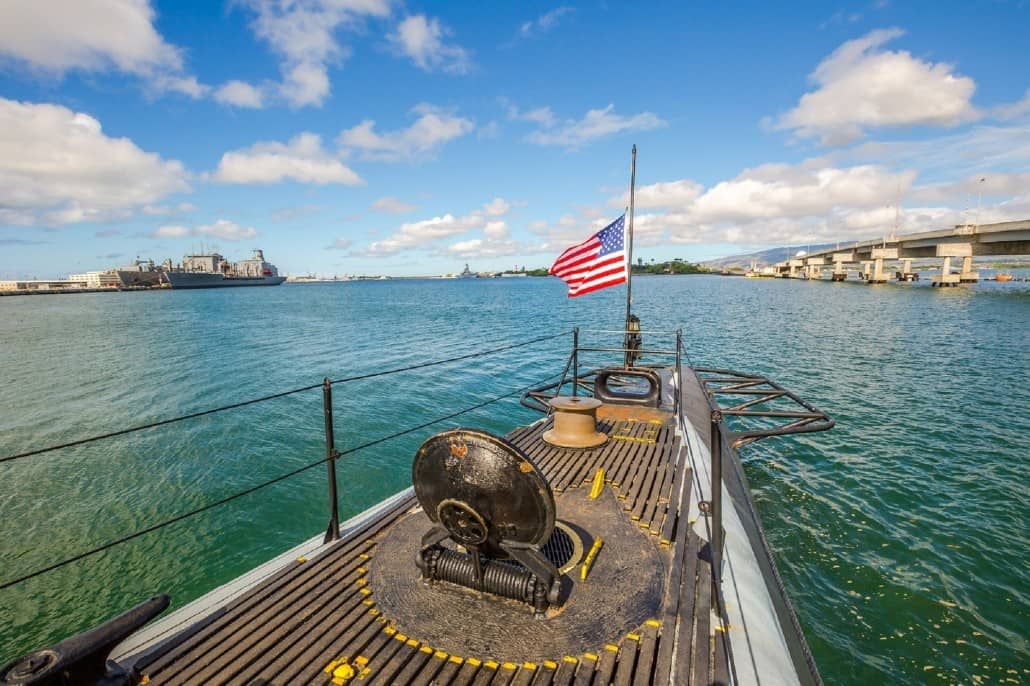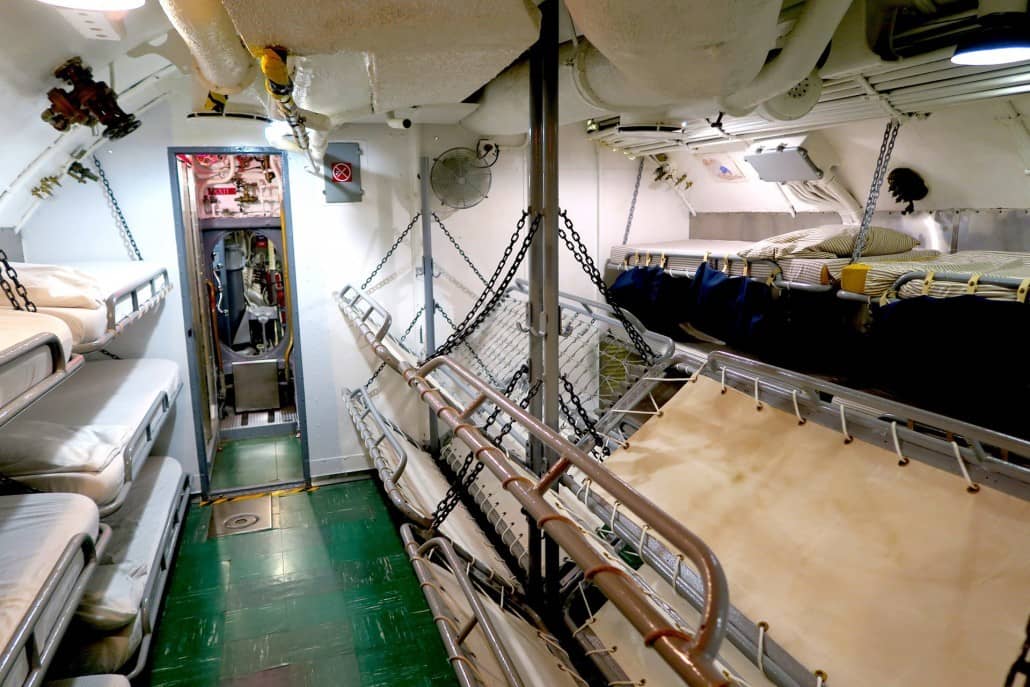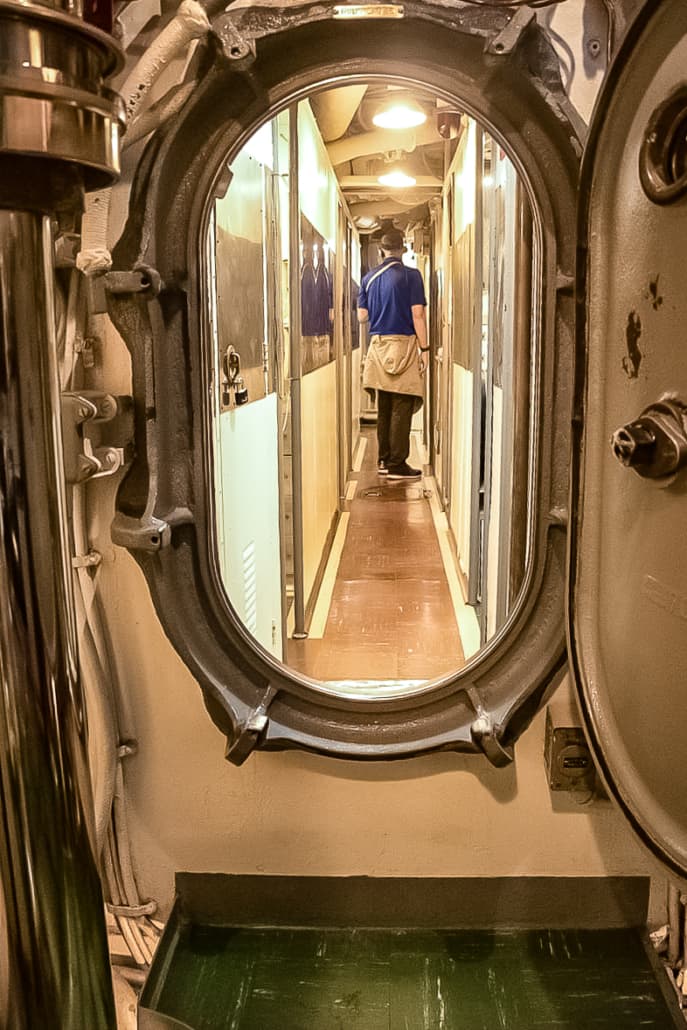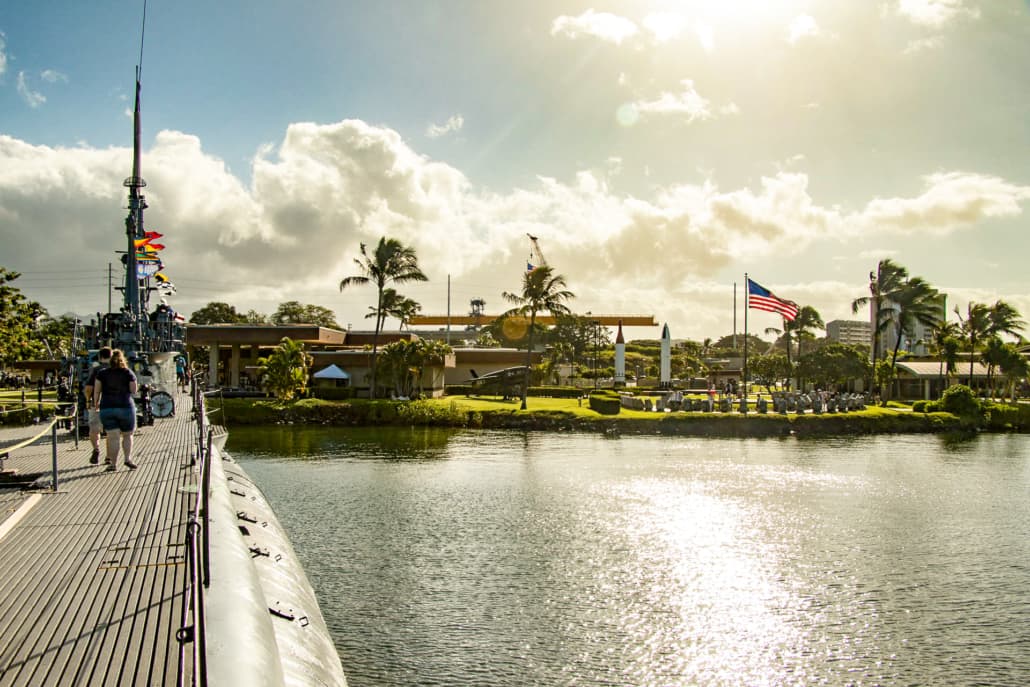 The USS Bowfin was a busy sub every since itʻs launch, exactly one year after the attack on the harbor. Dubbed the "Pearl Harbor Avenger", it led a storied career, completing 9 patrols over 2 years. You can explore the submarine and go inside. There is also a museum to walk through that houses a lot of submariner artifacts, missiles, and more.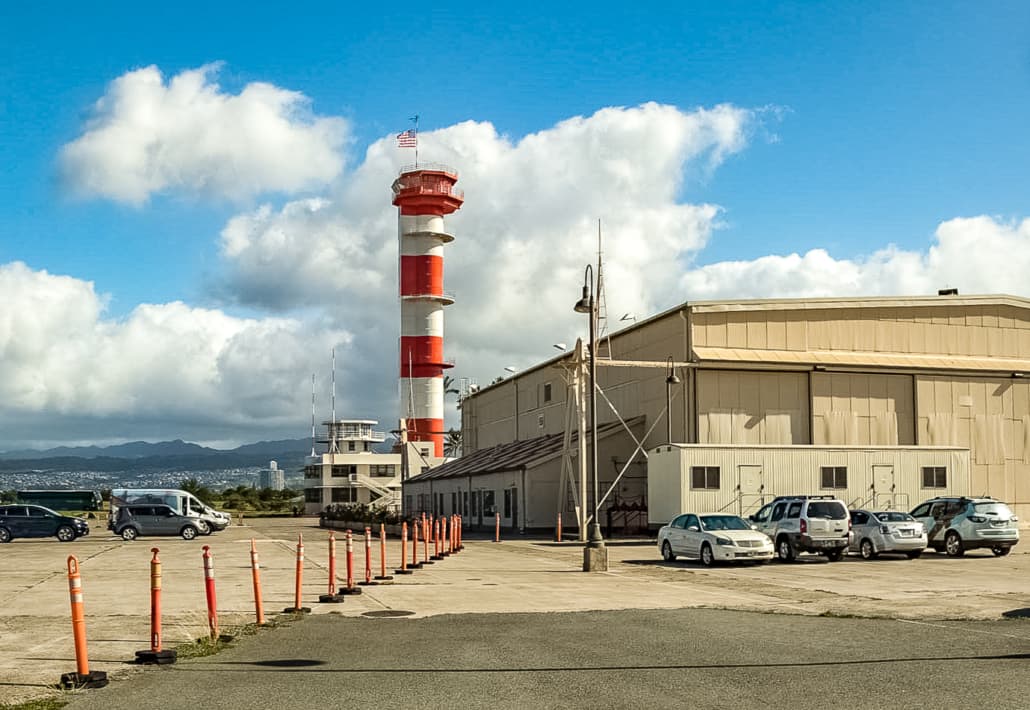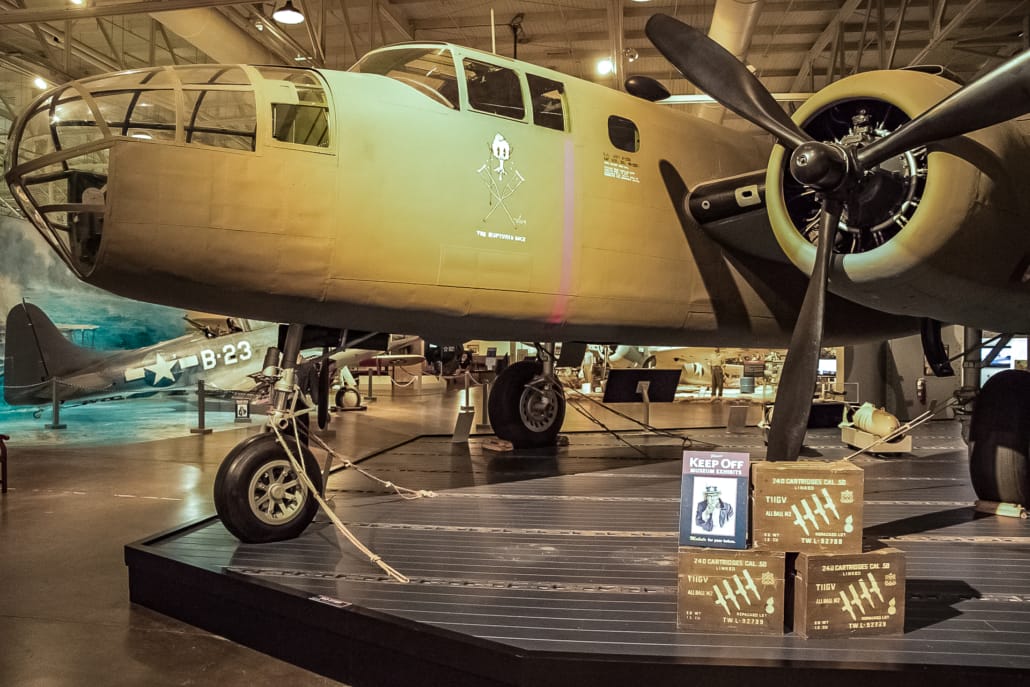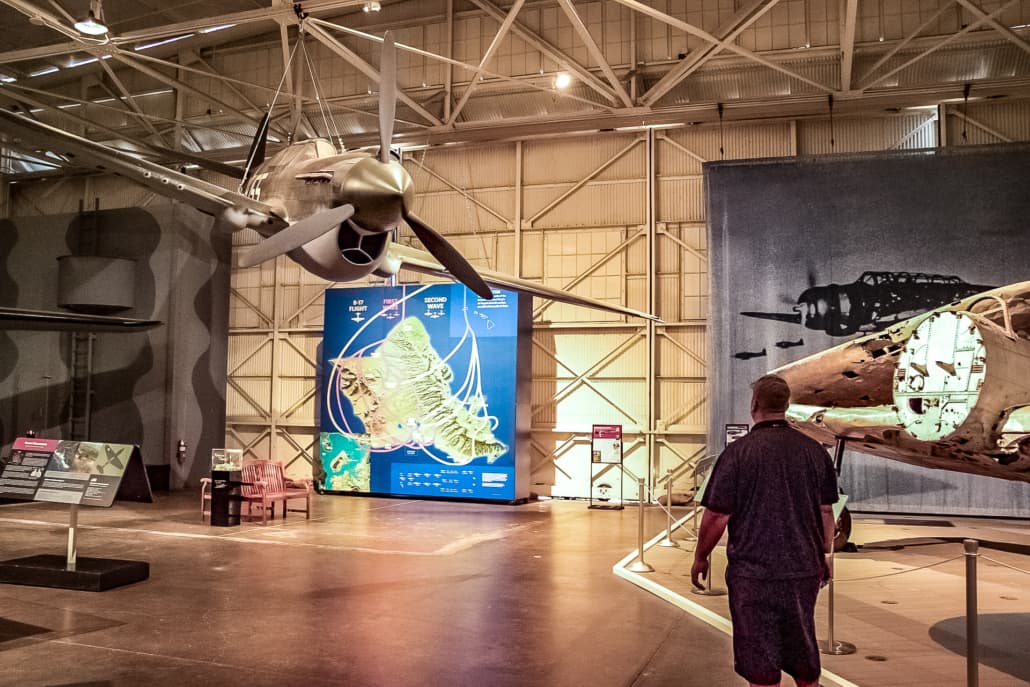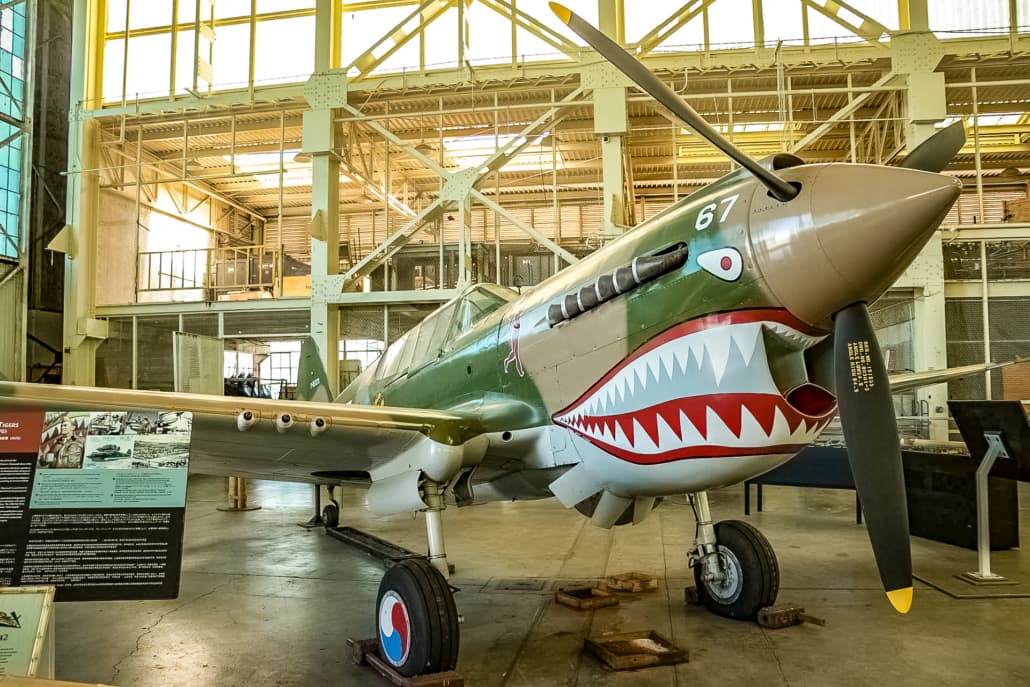 Pearl Harbor Aviation Museum
In hangers that still bear the bullet holes from Japanese aircraft is a variety of military aircraft from over the entire span of human flight. Helicopters, jets, bi-planes, bombers, and fighters can all be seen under the roofs of these two massive buildings, as well as the area in between. The historic red and white control tower, seen from around the area marks the spot. You canʻt miss it. Make sure to leave plenty of time to check out the Pearl Harbor Aviation Museum.
Frequently Asked Questions
Does Pearl Harbor Tours Accommodate Large Groups?
Although Pearl Harbor tours are more personable with smaller groups, there isn't a group too large for our team of Pearl Harbor experts to accommodate. Whether you have 1 person or 100, we will work with you to provide the best Pearl Harbor Hawaii tour possible.
Will You Match Competitors' Prices?
Here at Pearl Harbor Tours, the best experience possible for our guests is a top concern. Since we are so confident that we offer the best Pearl Harbor Arizona Memorial tour out there, we will gladly match or beat the price of any identical tour on any of the Hawaiian islands.
What Sites Will We See?
You can see whatever you would like at all Pearl Harbor attractions. Your ticket allows you access to everything but Arizona Memorial. Take your time and see what interests you but be careful, there is a lot of great stuff to see. Book our Complete Pearl Harbor Tour to see the best parts of each attraction
How Long is the Pearl Harbor Tour?
The Passport to Pearl Harbor is all about how much time you want to spend. There is over 8 hours worth of exploration that can happen at Pearl Harbor.
Can I Get a Refund if I Cancel My Tour?
THERE ARE NO REFUNDS OR CHANGES FOR THE PASSPORT TO PEARL HARBOR. ONCE YOU PURCHASE THE TICKETS FOR THE DATES YOU ARE LOCKED INTO THAT. THERE ARE NO REFUNDS FOR NO-SHOWS. IF YOU WOULD LIKE MORE FLEXIBILITY IN YOUR OPTIONS, PLEASE CHOOSE THE COMPLETE PEARL HARBOR EXPERIENCE WHICH HAS A 48-HOUR CANCELLATION POLICY.
Do you Offer Tours from the Nearby Hawaiian Islands?
We can help you book tickets and arrange for you visit to Oahu. We have options for flights and rental car or tour guide and transportation included. Ask us about it.