Complete Inter-Island Tour from Maui, Kauai
&

Big Island
Pearl Harbor is Hawaii's #1 visitor destination. If you're a history enthusiast looking for a fantastic day trip to Oahu than this the perfect package tour for you. We'll book your flight, provide transportation to Pearl Harbor and provide a personal overview of the very places and events of the surprise Japanese attack that changed our country and the world forever!
Our Inter Island Tour from Maui, Kauai or the Big Island combines all of Pearl Harbors' attractions into a full day of immersion into the hearts and minds of wartime Hawaii and the United States during the 1930s and '40s. It's a truly moving experience of tragedy and triumph during the largest war the world has ever known.
You'll get a true feeling of what it must have been like for these service members and everyday Americans during that time in history as we visit the USS Arizona Memorial, board the USS Bowfin Submarine, board the USS Missouri Battleship and explore the historic hangers and aircraft of the Pearl Harbor Aviation Museum. It's the best and most personal overview of the Japanese attack at Pearl Harbor and the costly battles in the Pacific during WWII.
Highlights
Round Trip Airfare From Outer Islands With Honolulu Curbside Pickup

Pickup and return to Honolulu airport

View documentry film of Japanese attack

Pearl Harbor Visitor Center

Admission Tickets to USS Arizona Memorial

Go Inside USS Bowfin Submarine
Board Battleship Missouri

Explore the 120,000 sq ft Pearl Harbor Aviation Museum

No-Host Lunch Stop at Laniakea Cafe (lunch not included in tour price)

Downtown Honolulu City Tour: Punchbowl National Cemetery, King Kamehameha the Great Statue, Ali'iolani Hale & Hawaii State Capitol
Tour Description
The day starts with pickup from Honolulu airport. Our expert guides will give you an overview of the day with a narration of the rich history of both Pearl Harbor and Honolulu. Upon arrival, we'll escort you to the visitor center where admission tickets are fast-tracked – no waiting in line! Enjoy exploring the museums, informative displays, artifacts and memorials that tell the story of the attack on Pearl Harbor in and around the Visitor Center. After watching a short film we'll board a Navy shuttle boat for transport to the Arizona Memorial. Feel the solemn respect given to the fallen at the memorial's "Wall of Remembrance". Stroll the gleaming white structure that is suspended, but not touching, the sunken battleship below.
After our return, a short walk brings us to the USS Bowfin Submarine. Explore the boat inside and out, trying to imagine how 70 men lived aboard for months at a time! Next, we'll head over to Ford Island and board one of the most famous battleships of WW2 – the USS Missouri. Walk underneath the colossal 16-inch guns, see the "surrender deck" where Japan signed the articles of surrender – ending WW2! Go below deck and learn about life at sea during wartime.
The final stop at Ford Island is the Pearl Harbor Aviation Museum. These two hangars survived the Japanese attack and the windows still have bullet holes from that fateful day. There are over 50 vintage aircraft including fighters and bombers used on the WW2 Pacific war front as well as jet fighters, bombers, and helicopters from the Korean and Vietnam wars. Enjoy a simulator dogfight in a P-40 Warhawk, see the interactive displays and exhibits and grab a bite to eat at the Laniakea Cafe.
Before returning to the airport we'll take you on a historic driving tour of Honolulu. See King Kamehameha's Statue and Iolani Palace, to name a few, during a leisurely narrated tour in our custom vehicles. It's a great way to end a full day at Pearl Harbor!
Schedule & Duration
Tentative Schedules for The Complete Pearl Harbor Experience from Kauai, Big Island or Maui – 11 hours
(Subject to change depending on Pearl Harbor Ticket Time)
7:15 AM
Board flight on Maui, Kauai or Big Island
8:00 AM
Pick Up From Honolulu Airport, Curbside
8:15 AM
Arrive at Pearl Harbor
9:00 AM
View Documentary film
9:30 AM
Board Navy boat for your solemn visit to the USS Arizona Memorial
10:15 AM
Visit Pearl Harbor Visitors Center museum and exhibits
10:45 AM
Visit the USS Bowfin Submarine, know as the Pearl Harbor Avenger
11:15 AM
Board shuttle to Ford Island
11:30 AM
Arrive at the Battleship USS Missouri. Tour the USS Missouri
1:00 PM
Depart to Pearl Harbor Aviation Museum for lunch on your own at the Laniakea Cafe
1:45 PM
Explore the Pacific Aviation Museum
2:15 PM
Leave Pearl Harbor
3:15 PM
Depart to National Cemetery of the Pacific at Punchbowl Crater
3:45 PM
Visit Historic Honolulu and Sightsee sites;

Iolani Palace
King Kamehameha Statue
State Capitol
Kawahawoi Church
China Town

5:30 PM
Return to the airport for flights back to the outer-islands
*Tour Highlights may change or updated due to route change in event of weather or traffic situations beyond our control
Price & Availability
Maui
Adult (12yrs+)

$

489.99
Child (2-11yrs)

$

449.99
Kauai
Adult (12yrs+)

$

539.99
Child (2-11yrs)

$

499.99
Kona
Adult (12yrs+)

$

489.99
Child (2-11yrs)

$

449.99
Hilo
Adult (12yrs+)

$

519.99
Child (2-11yrs)

$

479.99
Inter-Island tour runs on Monday, Wednesday, Friday and Saturday
Pearl Harbor is our #1 visitor destination and can sell out on certain days. We recommend booking your Pearl Harbor tours in advance of your arrival in Hawaii. Also, consider booking your full day on Oahu close to your arrival date in the islands. There is an early start time for this tour but we find that due to the time difference most of our guests are wide awake in the early mornings.
*Safety is our #1 priority. Sites & features of our tours can change due to adverse weather and other unforeseen circumstances.
Attire
Dress comfortably but remember that shirts and shoes are required on the USS Arizona Memorial; swimwear is not allowed. Bags are not allowed on the Pearl Harbor Visitor Center but if needed can be checked and stored for $ 5.00 per item.
Cancellation Policy
In the event of cancellation or request change to your reservation, please note the following if you purchase trip insurance there is no charge for date change or tour change based on tour availability but must be made 72 hours prior to the original tour day. No refunds issued for any tours within the 72-hour period, prior to the start of your flights.
Pearl Harbor Tours that include airline flights from Maui, Big Island of Hawaii, or Kauai can qualify for a refund if guests add the $15 per person insurance during checkout. If you do not purchase insurance, there are no refunds for cancellations or no-shows. Rescheduling fees will be applied to change your dates. Tickets are non-transferrable.
No stop is guaranteed to be operating on the day of your tour. We have no control of Navy and Army operations which may result in the closure of Ford Island or the boats going to the Arizona Memorial without notice. In the event of this occurring, our guides will make up for it in a variety of ways so your experience is always worthwhile.
Special Instructions
No bags allowed at Pearl Harbor
Government Issued ID required for Ford Island entry
No camera lenses longer than 6 inches at Pearl Harbor
Bring A Refillable Water Bottle
Don't forget your camera!
Bring reefsafe sunscreen, hat, sunglasses
Wear comfortable shoes
Leave your swimsuit at home
Dress comfortably & check the weather.

Due to ceremonies honoring the attacks of December 7, 1941, we will not operate tours to Pearl Harbor and the USS Arizona Memorial on December 7 each year.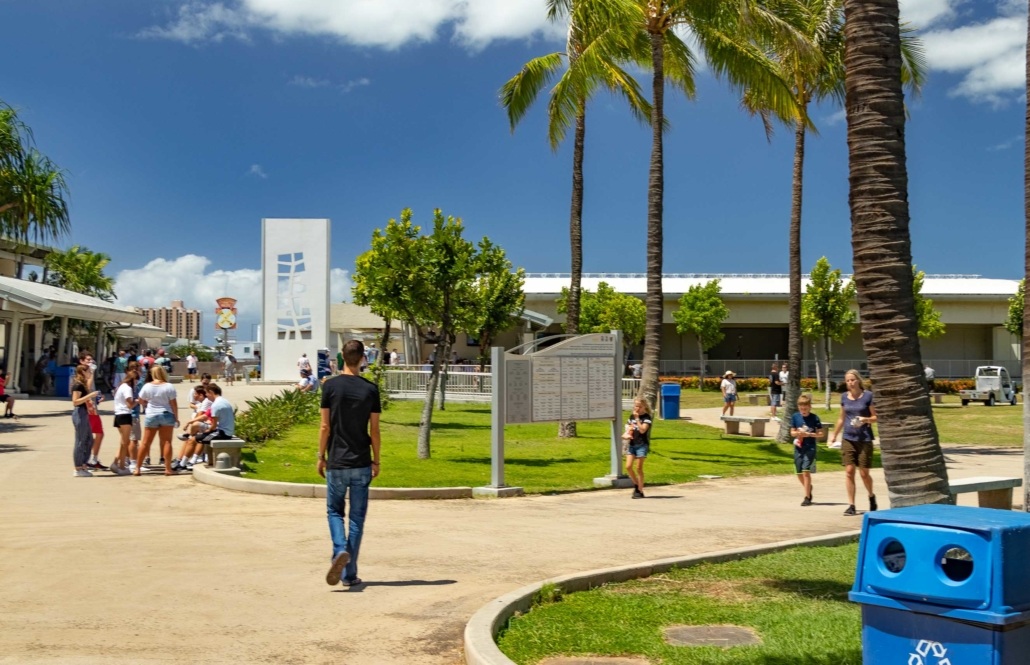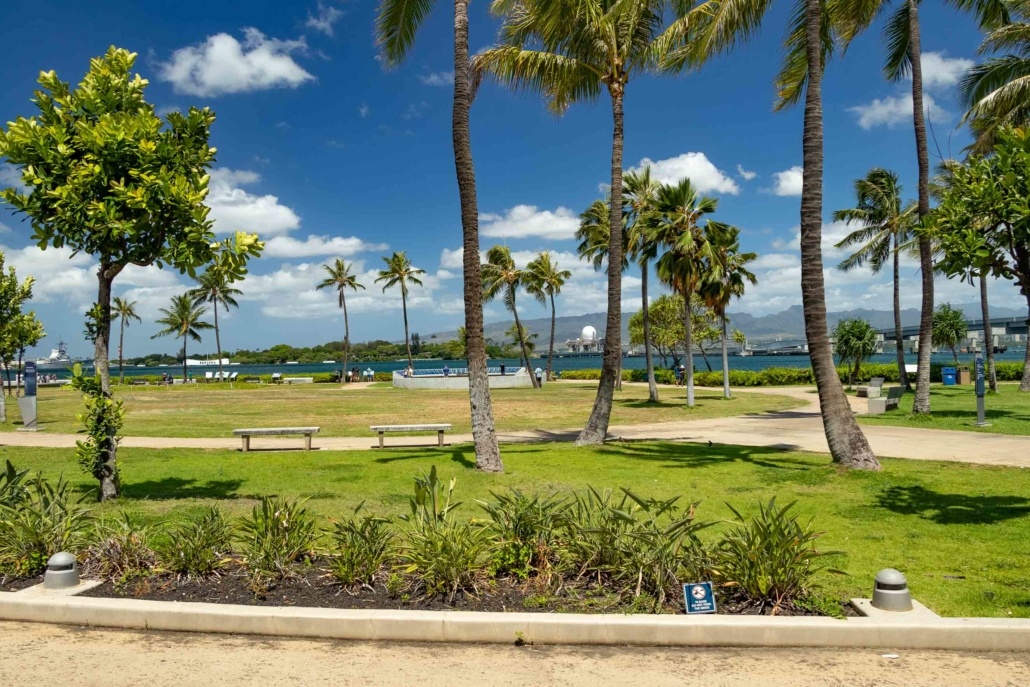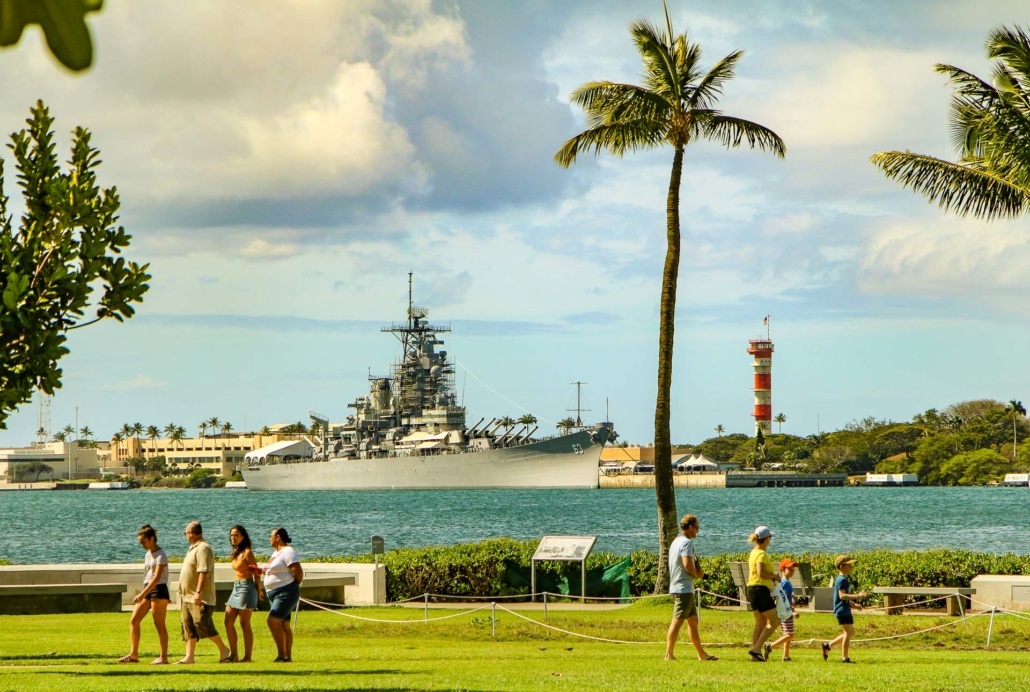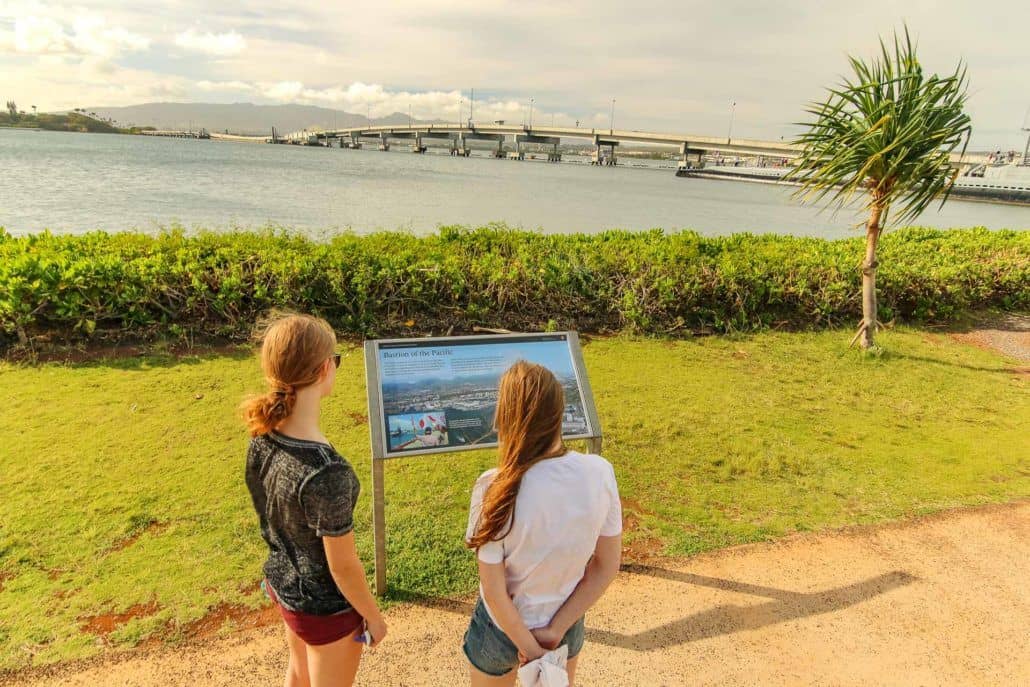 Pearl Harbor Visitor Center
Explore multiple museums, interpretive displays and memorials in and around the Visitor Center to begin your full day at Pearl Harbor. Audio headsets are included in 9 languages giving guests an opportunity to also experience a narrated tour of these sites. Dozen of displays, photographs, artifacts and signage paint a vivid picture of the United States as it prepared to defend itself while the rest of the world plunged into war. This complete tour includes admission and transportation to all public sites within the World War II Valor In The Pacific National Monument at Pearl Harbor.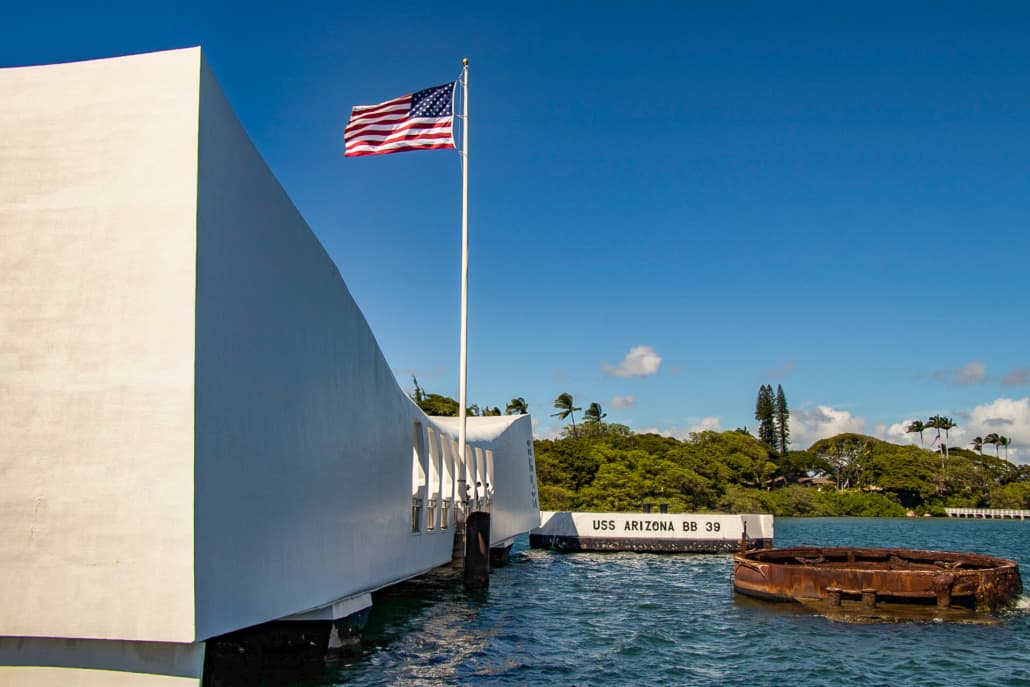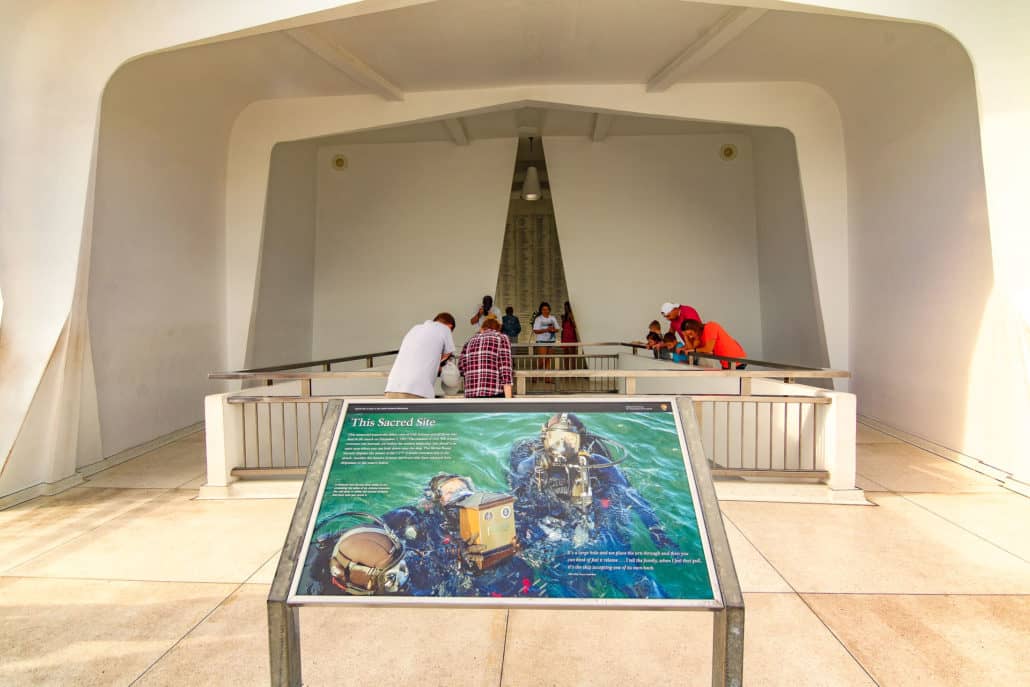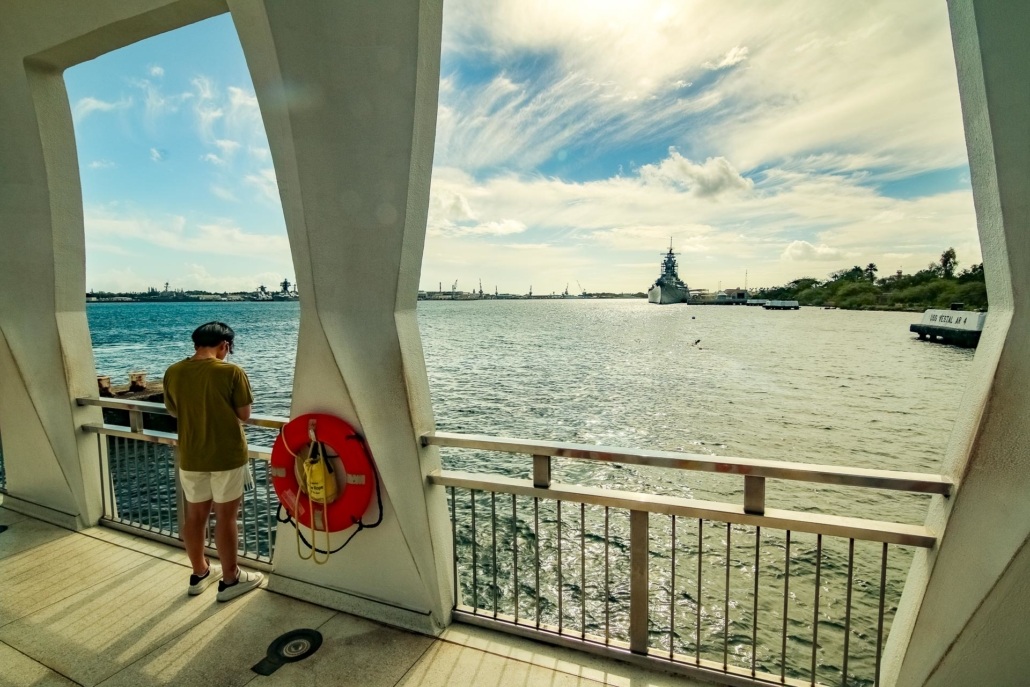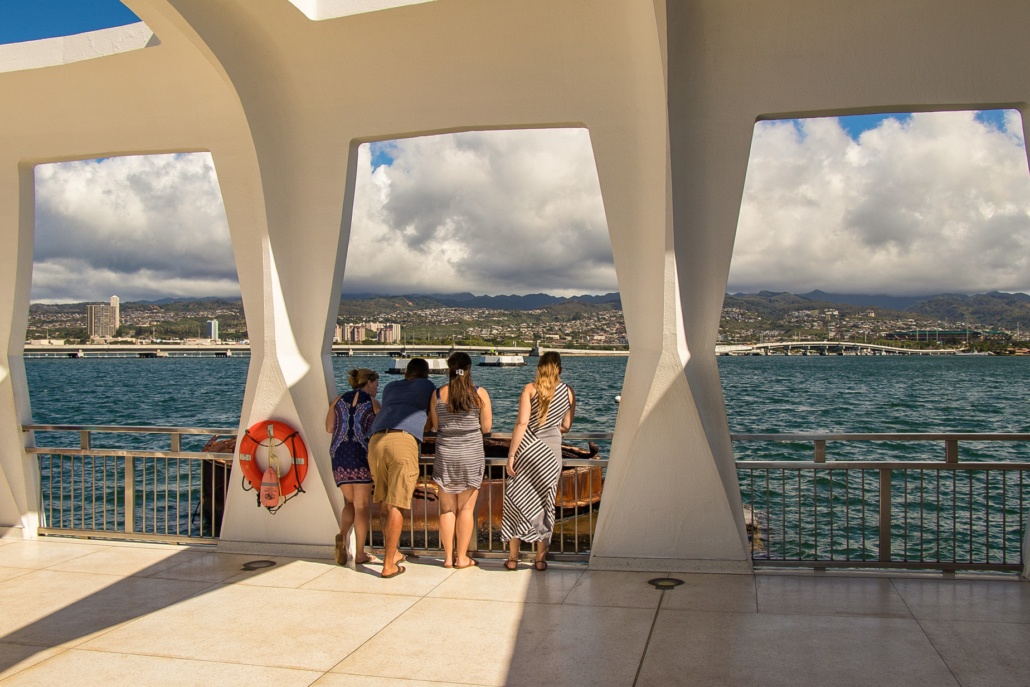 In the Arizona Memorial Theater, we'll watch an exclusive documentary of world events before, during and after the Japanese attack on Pearl Harbor. After the film we'll board a Navy shuttle boat for a short cruise across the harbor to the USS Arizona Memorial. Stepping onto the deck of the solemn memorial and looking down at the sunken remains is a sobering experience that will be remembered for a lifetime. Look on the water's surface for "black tears" – oil that still slowly seeps from the sunken battleship to this day. Pay your respects at the cavernous marble "Wall of Remembrance" were the names of the ships crew members who died aboard are etched.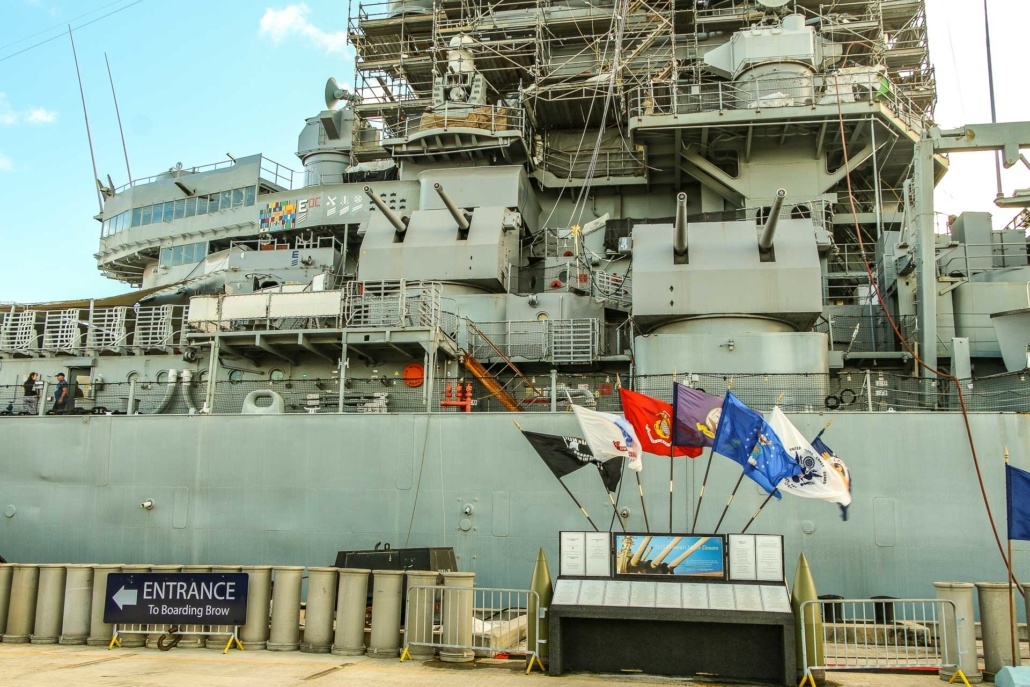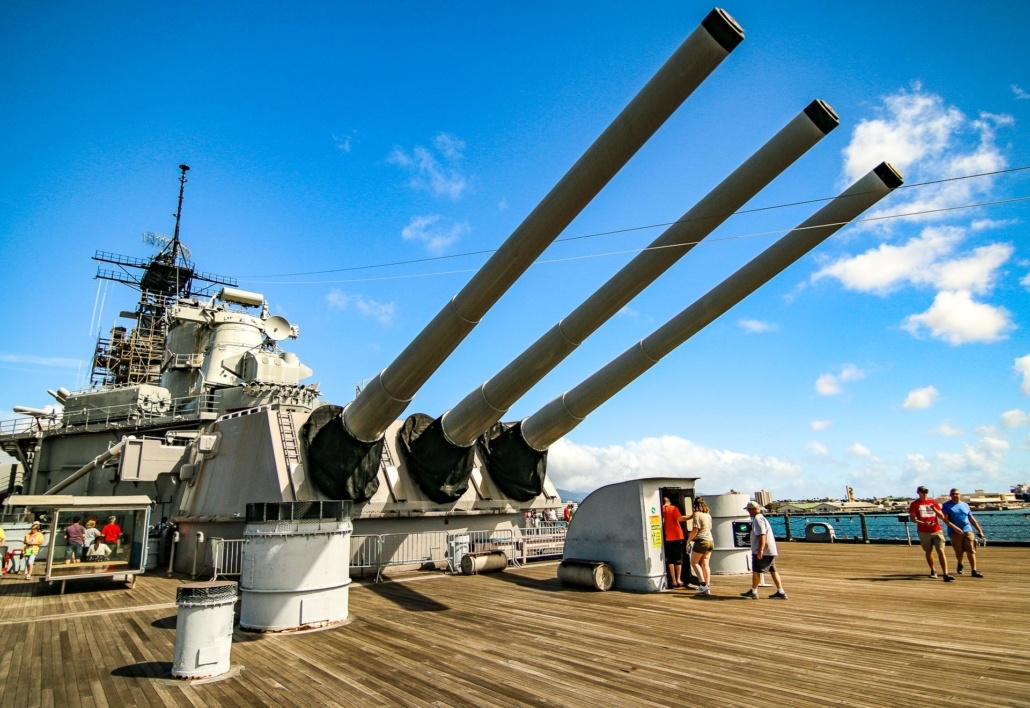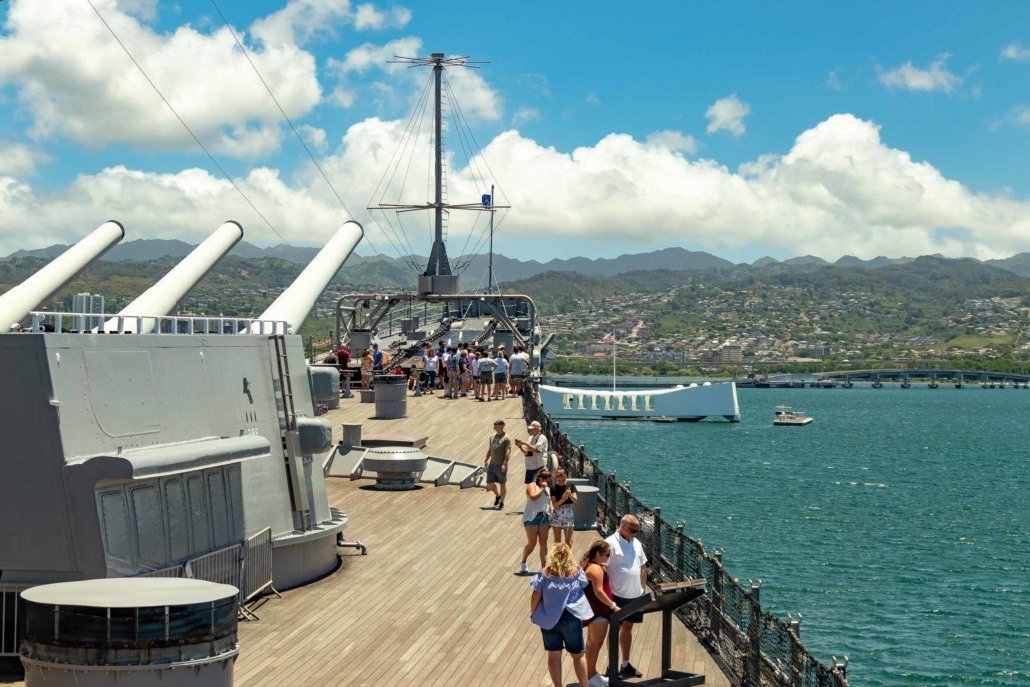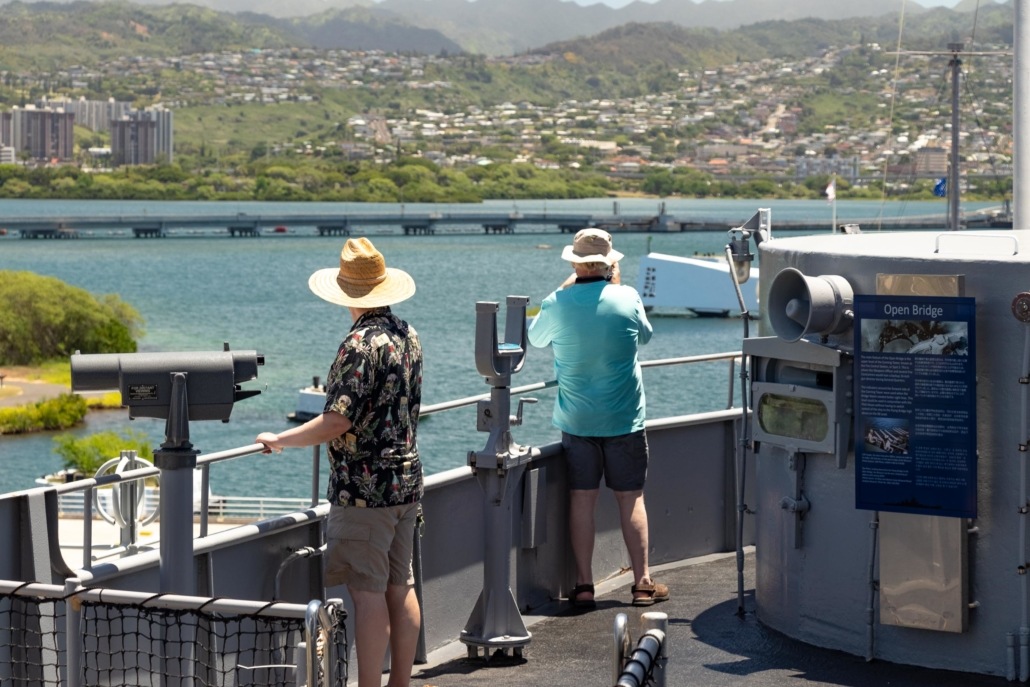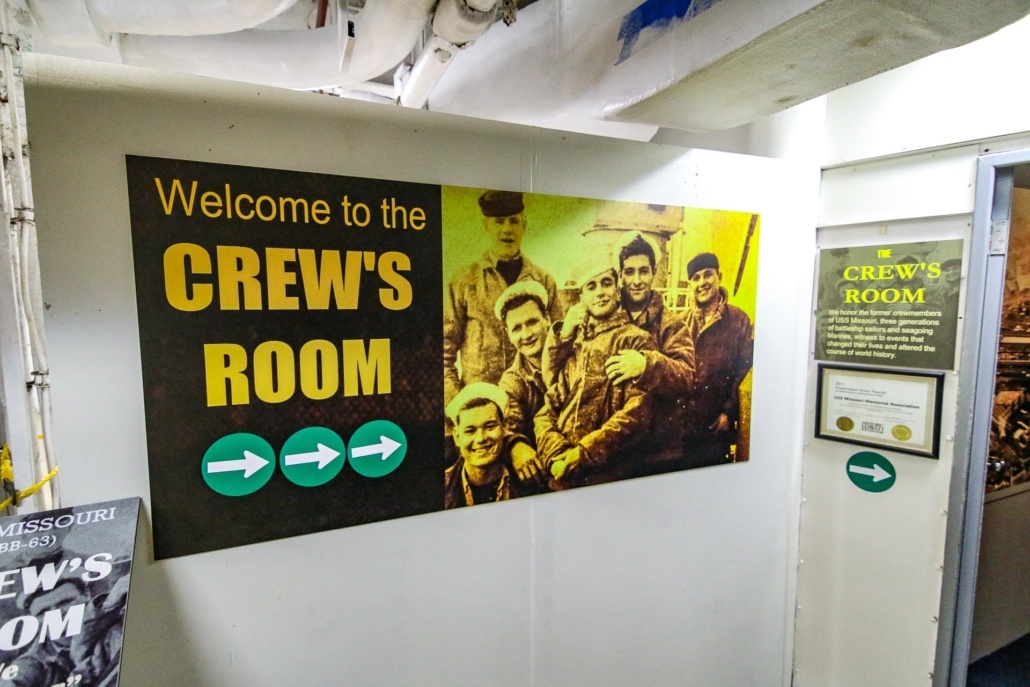 Few attractions at Pearl Harbor give visitors more of idea what serving in the Pacific during WW2 was like than stepping onto the USS Missouri battleship at Ford Island Naval Base. We'll explore this colossal 8 stories high ship inside and out, including the "Surrender Deck" where the Japanese and U.S. Supreme Commander General Douglas MacArthur signed the "instrument of surrender" aboard the ship on September 2nd 1945 in Tokyo Bay. Learn about the "Mighty Mo" first hand from veteran volunteers and explore from below deck to the upper captains bridge overlooking the USS Arizona memorial. Historic displays, exhibits, crews quarters, control stations and war rooms can be found throughout the ship.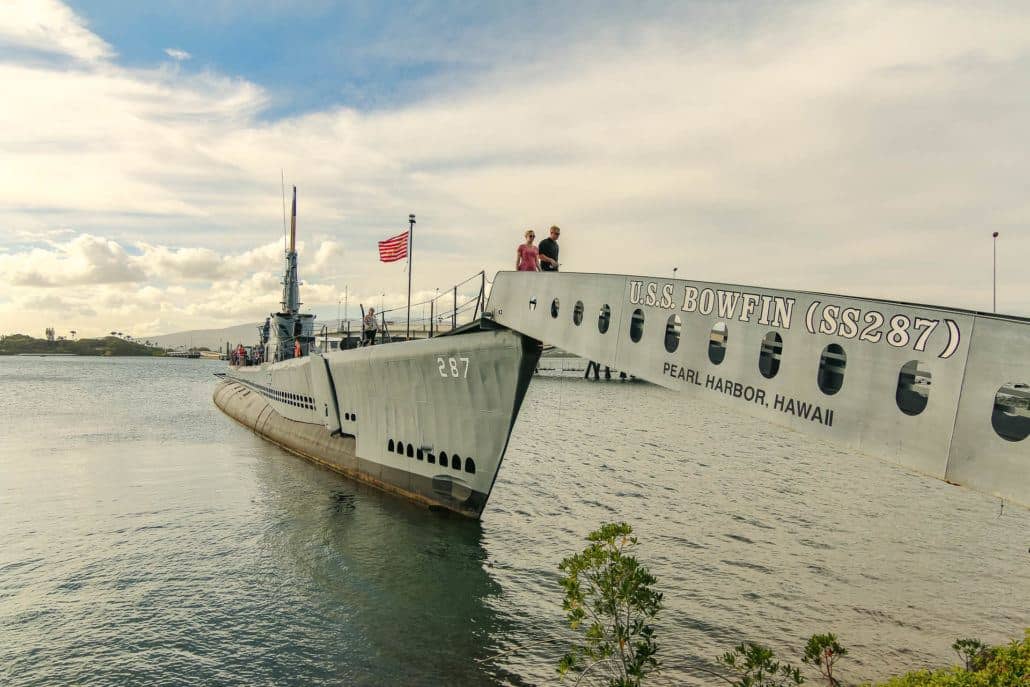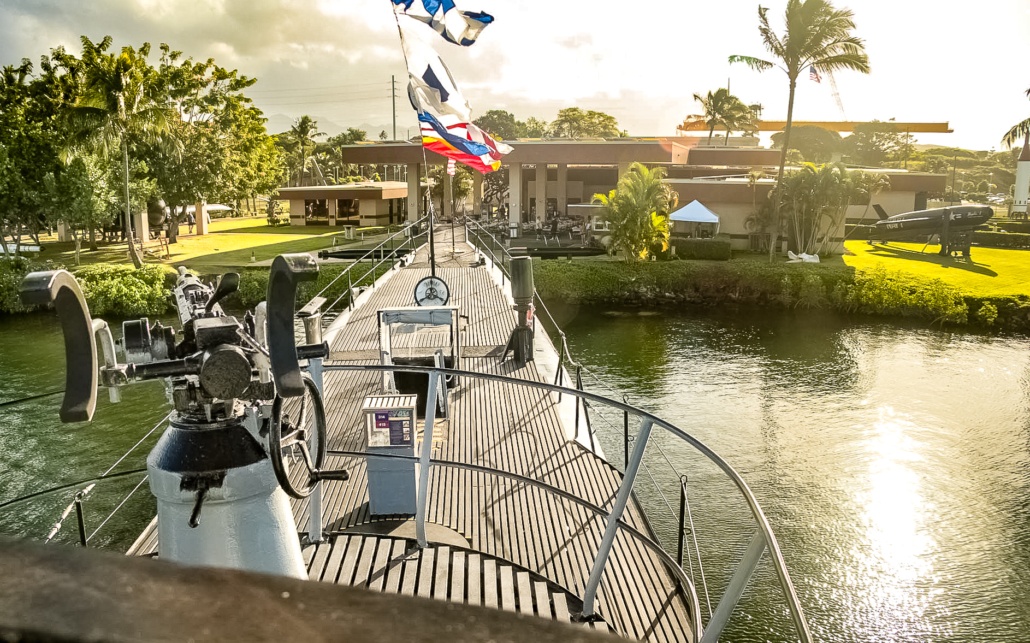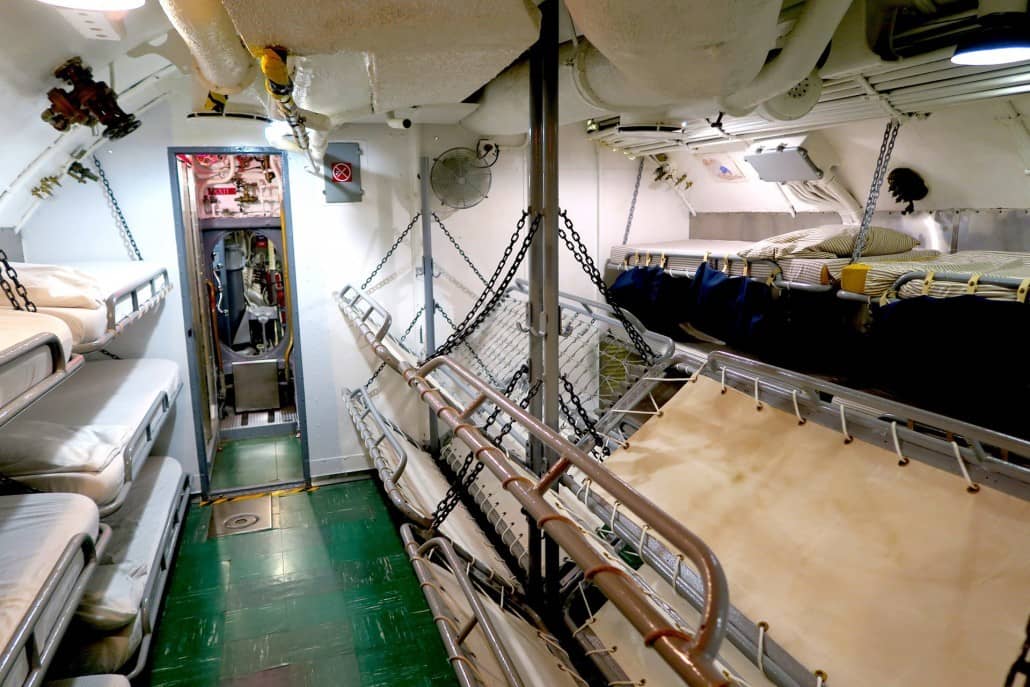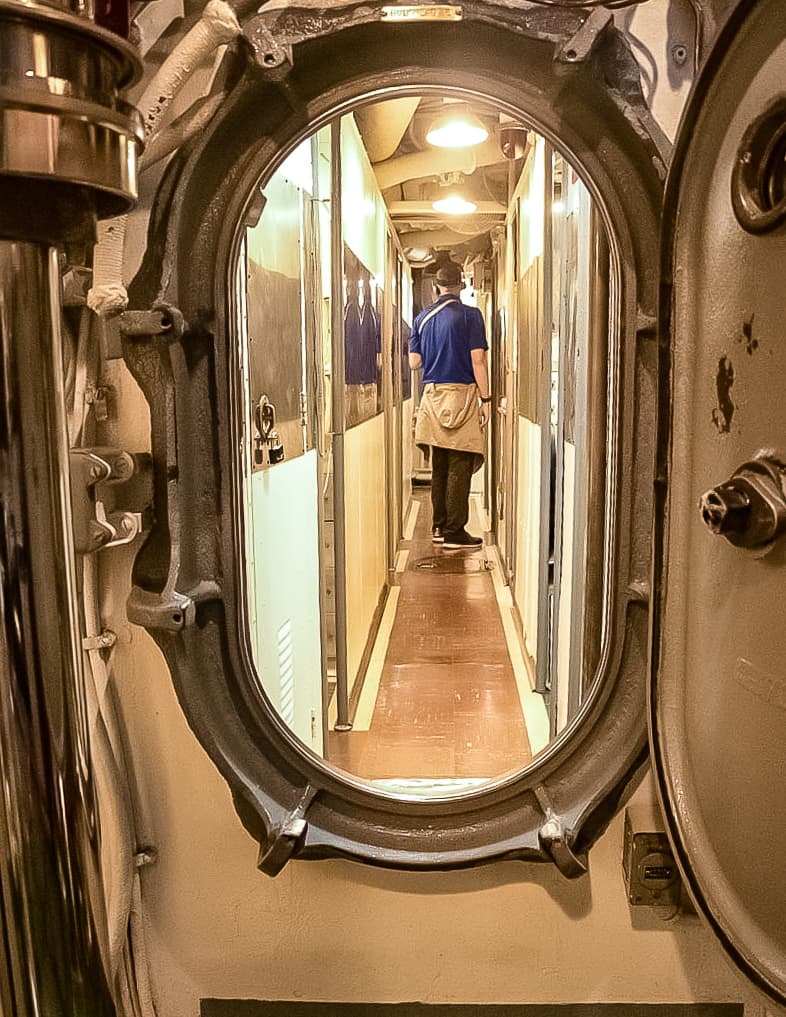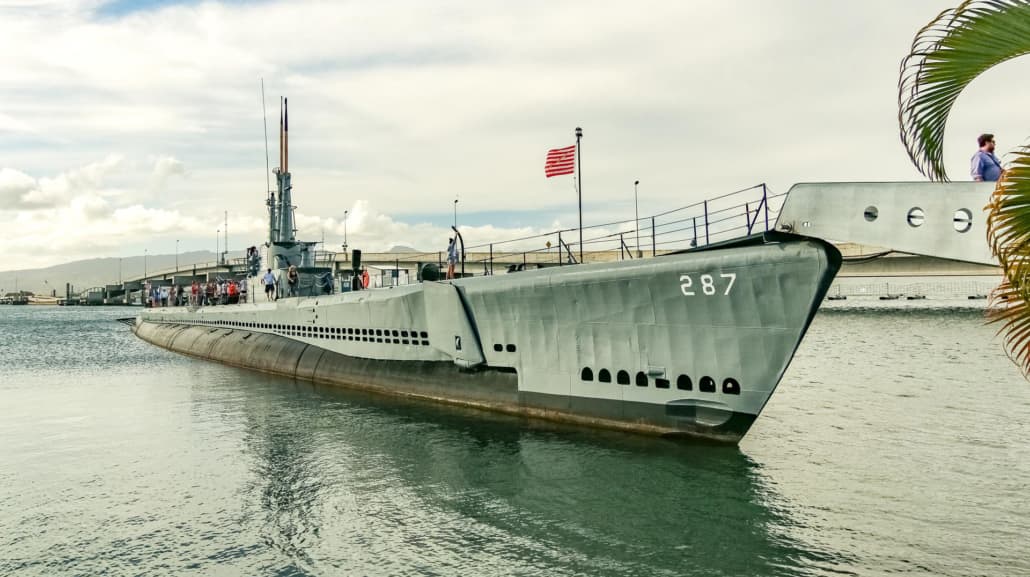 Moored at the harbors shoreline at the visitor center is the USS Bowfin submarine. Dubbed the "Pearl Harbor Avenger", it was launched on December 7th 1942, one year to the day of the attack on Pearl Harbor. We'll explore the submarine inside and out while trying to imagine 80 men living here. This tour also has audio headsets upon request. We'll visit the nearby Submarine Museum to learn about the "Silent Service" and how it immediately took the fight to the Japanese while the fleet was crippled in Pearl Harbor after the attack.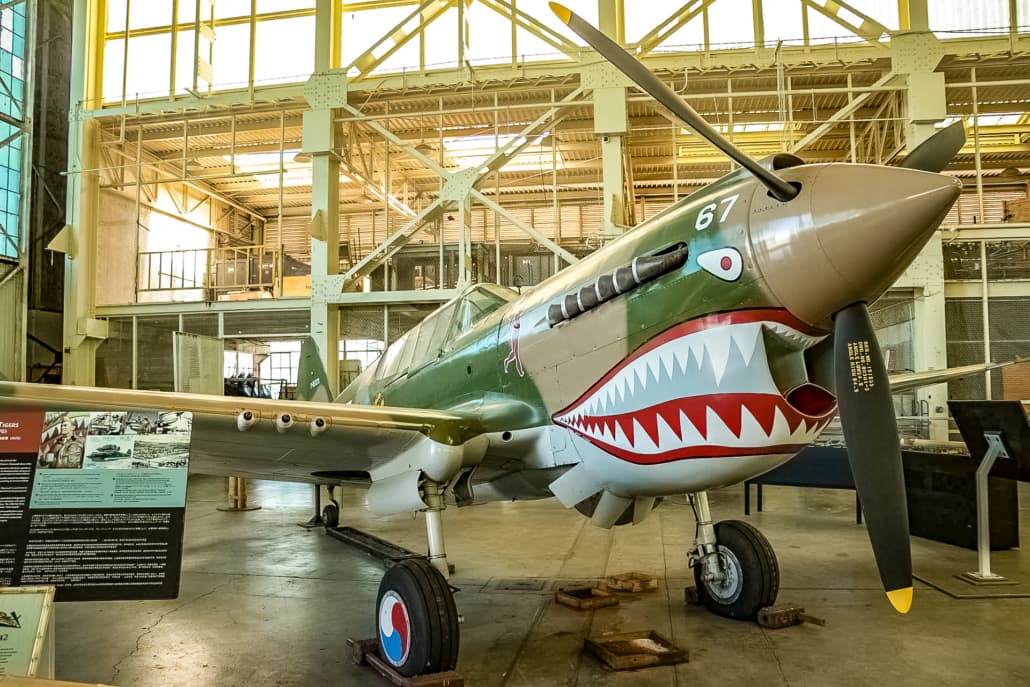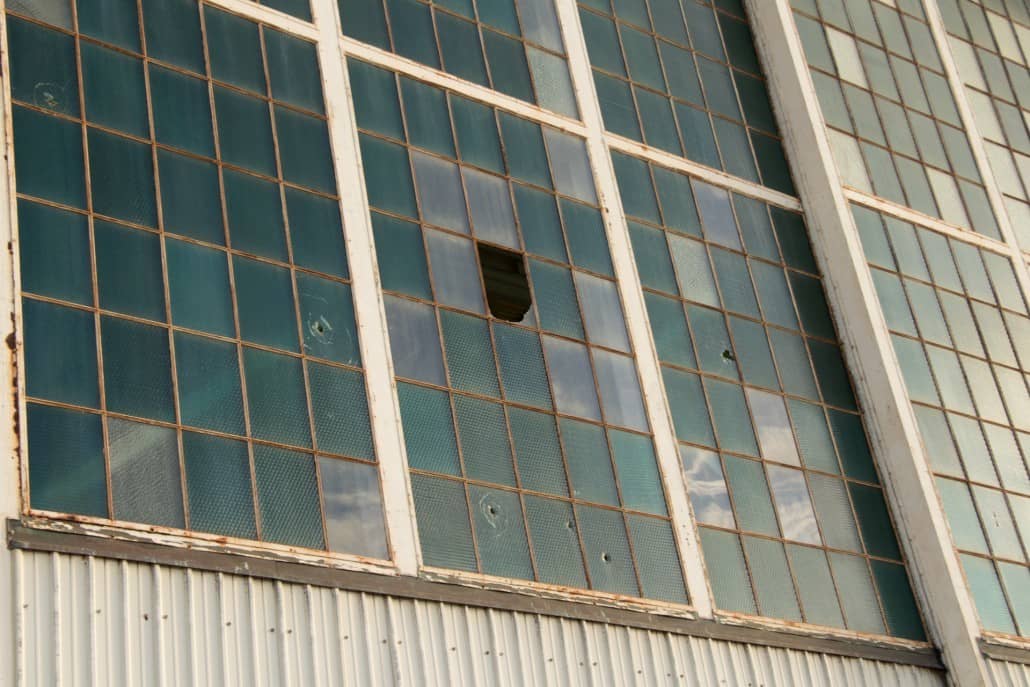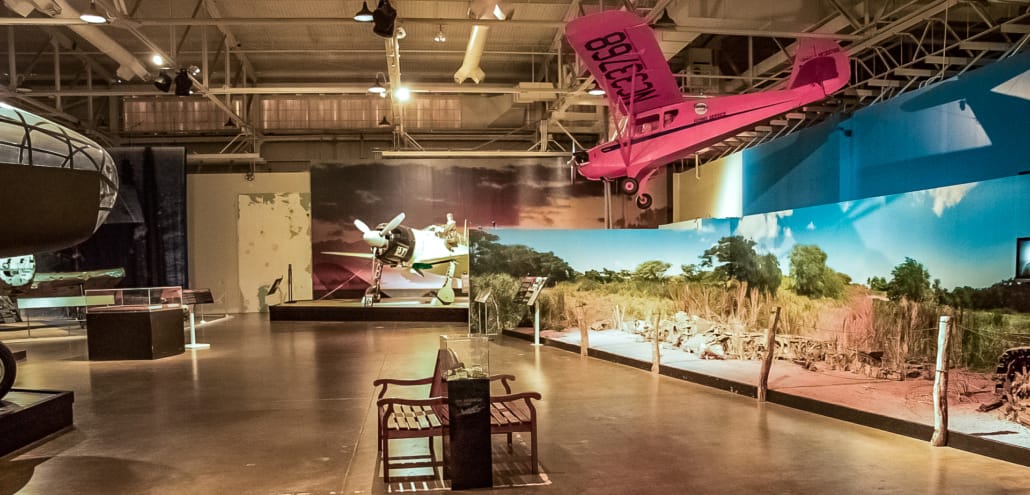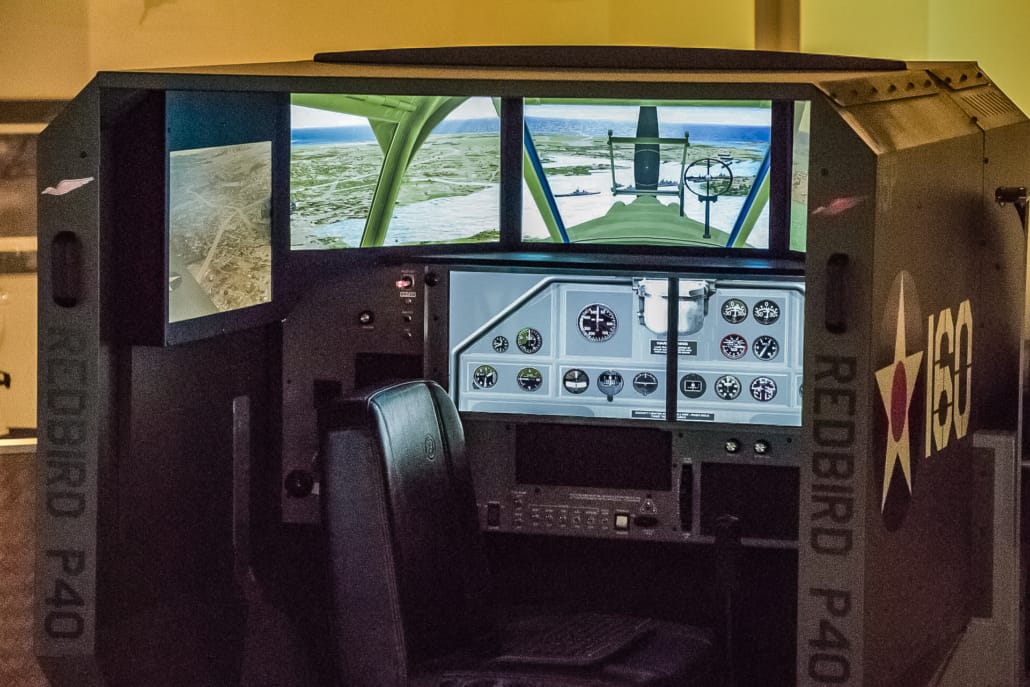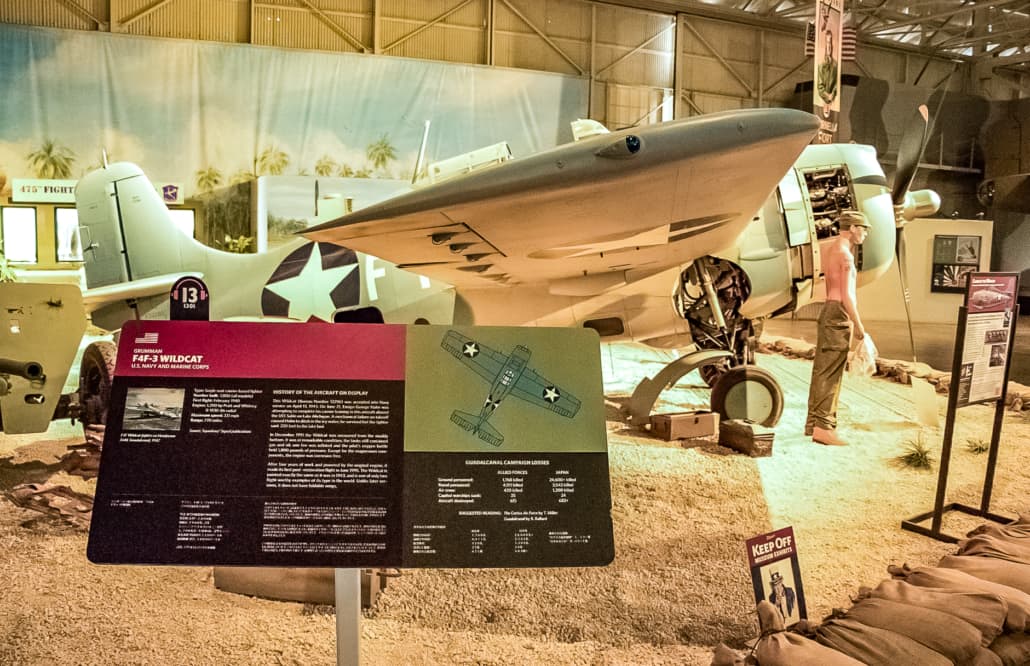 Pearl Harbor Aviation Museum
As impressive as the USS Missouri battleship is, the Japanese attack heralded in the age of the aircraft carrier and the aerial bombing of naval ships, as was evident from the attack. The military airfields on Oahu were all destroyed or damaged during the attack with the loss of nearly 200 planes. The first air station to sustain damage, two hangers and a runway, were on Ford Island next to Battleship Row. Today these same hangers, the 42,000 sq ft Hangar 37 and the 80,000 sq ft Hangar 79, house over 50 aircraft from WWII including jet fighters and helicopters used in the Korean and Viet Nam wars. At over 7 acres in size, the facility houses nine detailed exhibits, a movie theater, flight simulators, a store, and a restaurant.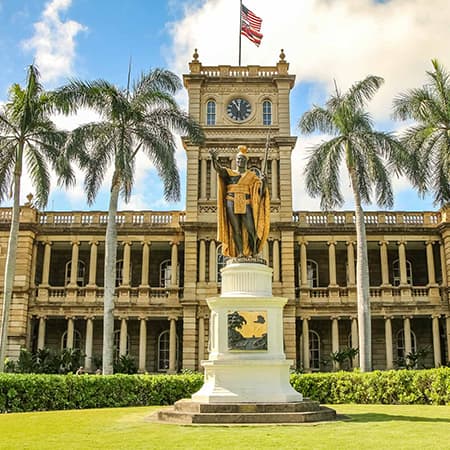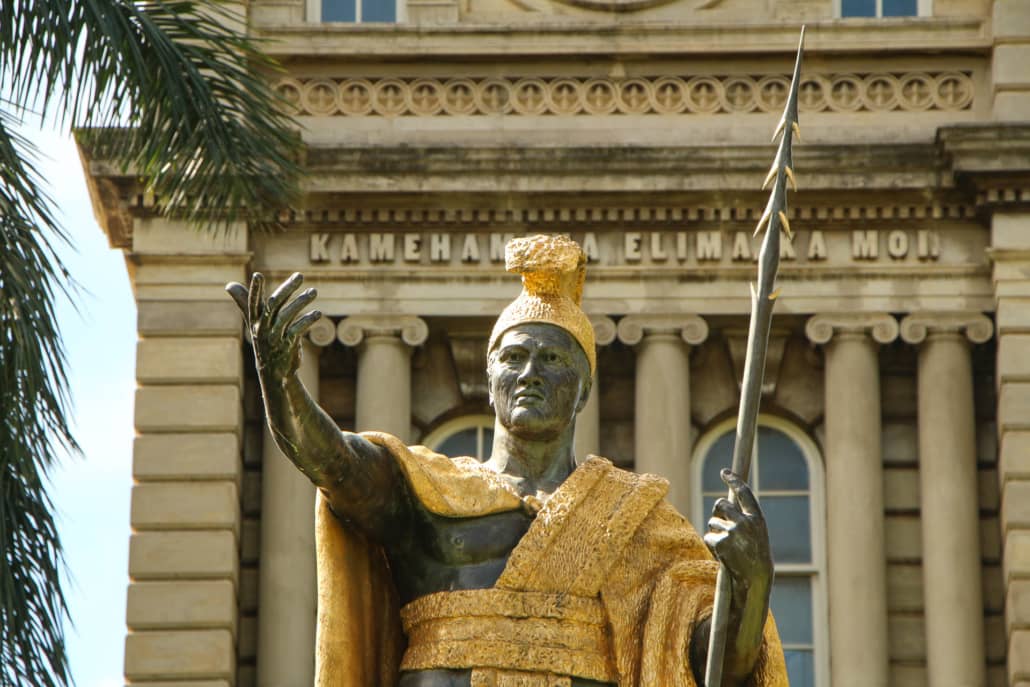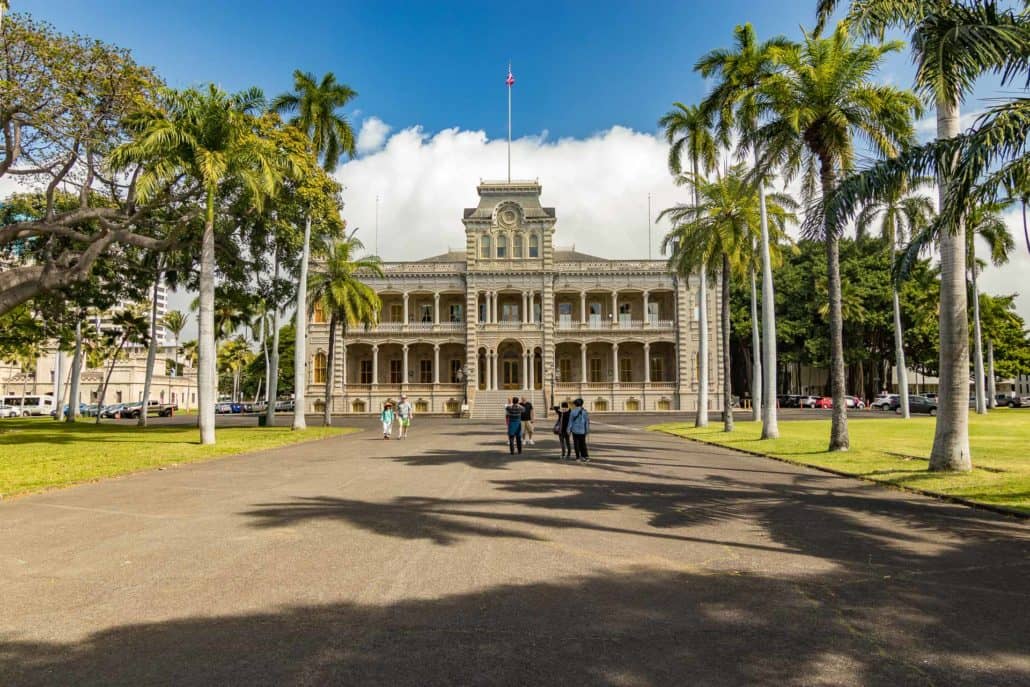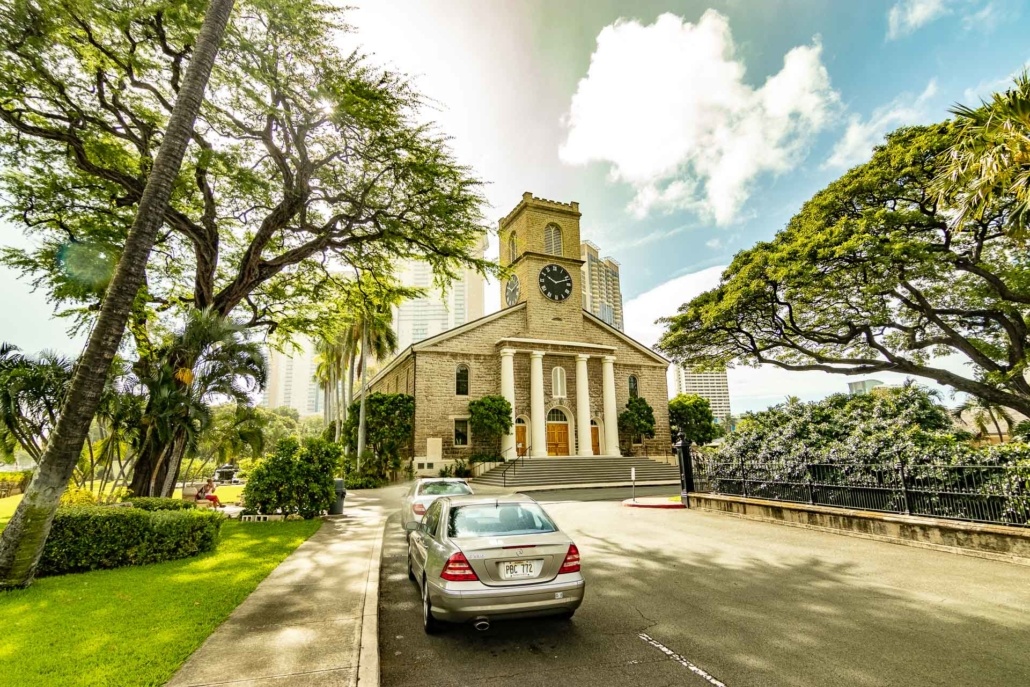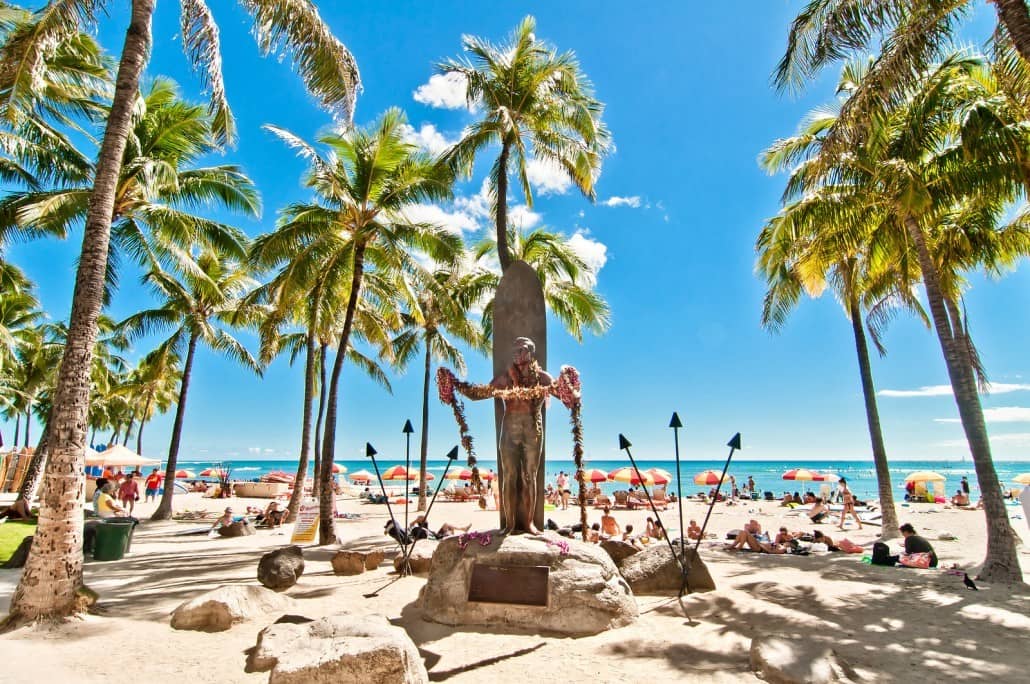 To finish your amazing day at Pearl Harbor we will enjoy a leisurely narrated drive through town past historic buildings and locations in Honolulu. We'll see King Kamehameha's statue at the state courthouse building and nearby Iolani Palace, all of which were built in the 1880s. Enjoy the scenery of Waikiki Beach as we see famous statues on the boardwalk like that of Duke Kahanamoku, the father of surfing and an Olympic medalist of swimming during the early 1900s. It's a perfect way to end an iconic day on Oahu!
Frequently Asked Questions
What Sites Will We See?
This tour will bring you to the Pearl Harbor Visitor Center to view multiple museums and exhibits around the national park. We will also take a trip out to the memorial over the USS Arizona and visit the nearby battleship museum, Missouri. Outside of Pearl Harbor we visit Punchbowl Crater and historic downtown Honolulu.
How Long is the Pearl Harbor Tour?
We will spend about 5 hours at Pearl Harbor on this tour.
Does Pearl Harbor Tours Accommodate Large Groups?
Although Pearl Harbor tours are more personable with smaller groups, there isn't a group too large for our team of Pearl Harbor experts to accommodate. Whether you have 1 person or 100, we will work with you to provide the best Pearl Harbor Hawaii tour possible.
Will You Match Competitors' Prices?
Here at Pearl Harbor Tours, the best experience possible for our guests is a top concern. Since we are so confident that we offer the best Pearl Harbor Arizona Memorial tour out there, we will gladly match or beat the price of any identical tour on any of the Hawaiian islands.
Do you Offer Tours from the Nearby Hawaiian Islands?
What Kind Of Plane Do We Use?
We book Hawaiian Airlines and their inter island flights use the Boeing B717
Does this tour include any food or beverages?
No. However there are multiple places where lunch, snacks, and beverages are available for purchase at each of the stops within Pearl Harbor
At what time will I return to my island of origin?
We will drop you off at the airport at approx 5:30 pm. Depending on which island you return to you should arrive back just after sunset.