FLY-DRIVE INTER ISLAND TOUR INCLUDES FLIGHTS, CAR RENTAL, AND PEARL HARBOR TICKETS
It's our least expensive Pearl Harbor package from the outer-islands which Includes round-trip airline tickets, rental car and tickets to Arizona Memorial. After you arrive in Honolulu, pick up your rental car,  your tickets for Pearl Harbor will be waiting for you along with recommendations on how to make the most of your time in Pearl Harbor and Oahu.
An Oahu Circle Island tour self drive option is perfect for you if you want to see the historic sites at your own pace. Add-on extra stops and tickets at checkout including other museums at Pearl Harbor!
Fly-Drive Pearl Harbor Tour Details
Highlights
Concierge Service Provides Island Help

Inter-island flights between the major Hawaiian islands

Rental vehicle based on your groupʻs size and needs

Explore the exhibits on your own at the harbor
Explore the islands stores, museums and sites

View multiple historic films at the museums and theatre

Ride a Navy launch across the harbor

Visit this national monument any time between 7:00 am to 5:00 pm
Tour Description
The Pearl Harbor Ticket and Fly-Drive Package gives you the freedom to visit the number #1 attraction in Hawaii, and to explore the Island of Oahu on your own.
Your fly-drive package includes round-trip airline tickets to Oahu, rental car for the entire day, tickets to Pearl Harbor to view movie and board the boat ride to the USS Arizona Memorial.  Upon your arrival at Pearl Harbor, you will make your way to a brief orientation to what to see and do at Pearl Harbor and other highlights not to miss on the Island of Oahu.
You will already have your tickets and time to visit the memorial before arrival at Pearl Harbor. After Arizona Memorial program you are free to explore the island as you want. Be sure to be back to the airport in plenty of time.
Please ask us here if you have any questions.
Schedule & Duration
Tentative Schedules for Pearl Harbor Tickets and Fly-Drive Package
(Subject to change depending on Pearl Harbor Ticket Time)
For Guests from Maui, Big Island and Kauai – 11 hours
6:00 AM
Depart Outer Island Airport to Honolulu International Airport
7:45 AM
Arrive at HNL Airport, board car rental shuttle and pick up your rental car and drive to Pearl Harbor, located less than 15 minutes from HNL Airport.
8:30 AM
Arrive at Pearl Harbor. You will have your tickets for the time of the Arizona Memorial Program sent to you prior to your arrival in Oahu.
9:00 AM
Watch documentary film
9:30 AM
Board Navy Launch to USS Arizona Memorial
10:15 AM
Return to Pearl Harbor Visitors Center

Visit exhibits and museums

11:30 AM
Highlights to consider visiting

Dole Plantation
North Shore of Oahu
Haleiwa Town for lunch
Turtle Beach
Waimea Bay
Sunset Beach
Laie Town
Polynesian Cultural Center (admission not included)
Macadamia Nut Farm
Pali Lookout
South Oahu
Historic Honolulu

5:30 PM
Return your rental car
6:00 PM
Take a rental shuttle to Hawaiian Airlines for your inter-island flight
*Tour Highlights may change or updated due to route change in event of weather or traffic situations beyond our control
Attire
Dress comfortably but please remember that shirts and shoes required on the USS Arizona Memorial; swimsuits not permitted. Bags not allowed in Pearl Harbor Visitor Center but if needed may be checked and stored for $5.00 per item.
Cancellation Policy
In the event of cancellation or request change to your reservation, please note the following if you purchase trip insurance there is no charge for date change or tour change based on tour availability but must be made 72 hours prior to the original tour day. No refunds issued for any tours within the 72-hour period, prior to the start of your flights.
Pearl Harbor Tours that include airline flights from Maui, Big Island of Hawaii, or Kauai can qualify for a refund if guests add the $15 per person insurance during checkout. If you do not purchase insurance, there are no refunds for cancellations or no-shows. Rescheduling fees will be applied to change your dates. Tickets are non-transferrable.
No stop is guaranteed to be operating on the day of your tour. We have no control of Navy and Army operations which may result in the closure of Ford Island or the boats going to the Arizona Memorial without notice. In the event of this occurring, our guides will make up for it in a variety of ways so your experience is always worthwhile.
Inclusions
This tour includes roundtrip airfare to Honolulu Airport, rental car reservation once you arrive in Honolulu, and entrance to World War II Valor In The Pacific National Monument & The USS Arizona Memorial.
It does not include transportation to and from the airport on the island you are staying at. Lunch is also not included (though lunch may be purchased at the Pearl Harbor Visitor Center.)
Special Instructions
Government Issued ID required for Ford Island entry
No camera lenses longer than 6 inches at Pearl Harbor
Bring reusable water bottle
Don't forget your camera!
Bring sunscreen, hat, sunglasses
Wear comfortable shoes
Leave your swimsuit at home
Dress comfortably & check the weather
No host lunch available at Visitor Center and USS Missouri
Due to ceremonies honoring the attacks of 1941, we will not operate tours to Pearl Harbor and the USS Arizona Memorial on December 7th each year
*Not allowed: Bags that offer concealment that exceed the measurements of 1.5″ X 2.25″ X 5.5″ are not allowed at the monument.
**Allowed: Clutches (strap or no strap) and wallets measuring 1.5″ X 2.25″ X 5.5″ or less in total dimensions, and clear plastic bags, such as those allowed at football games, are allowed at the monument.
***Due to the ceremony honoring the attacks of December 7, 1941, we will not operate tours to Pearl Harbor and the USS Arizona Memorial on December 7, 2013.
Book Your Pearl Harbor & Oahu Circle Island Self Tour With Flights From Maui, Kauai or Big Island Now!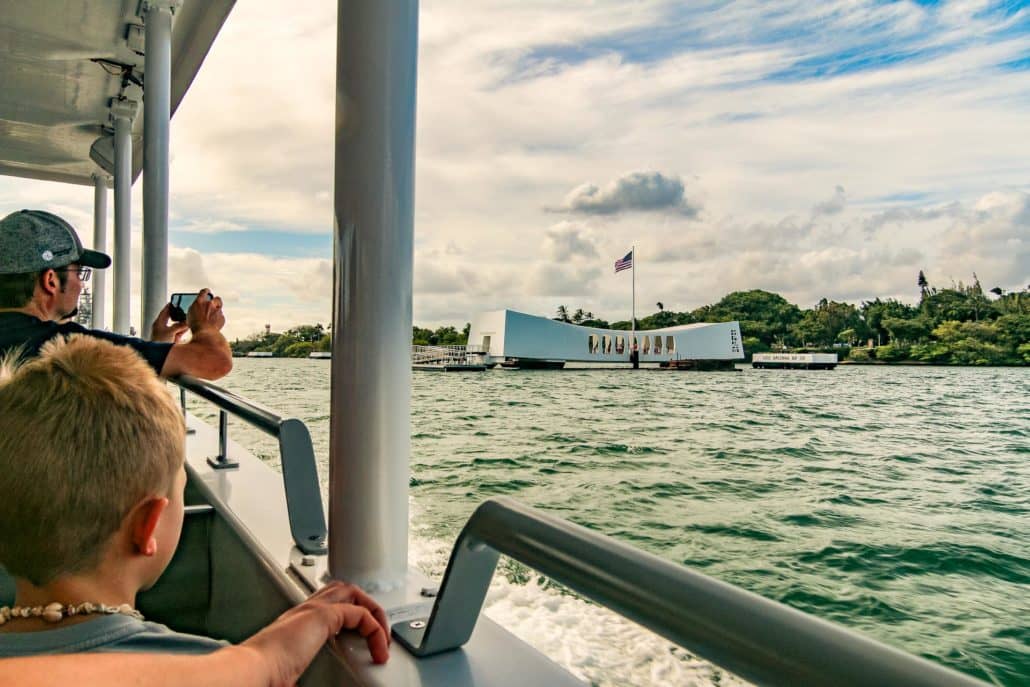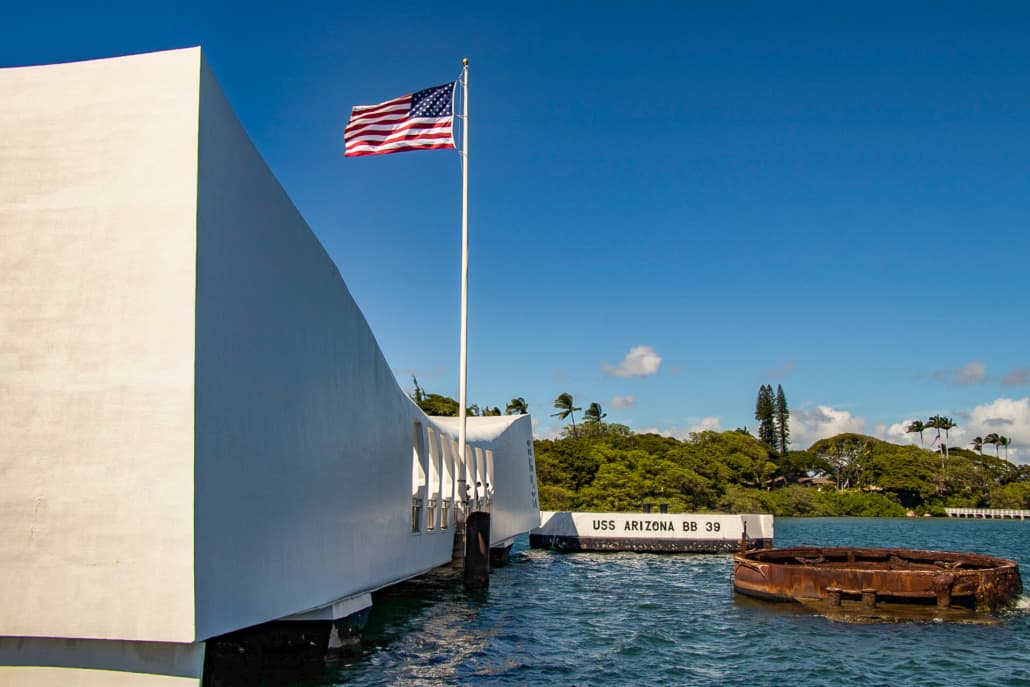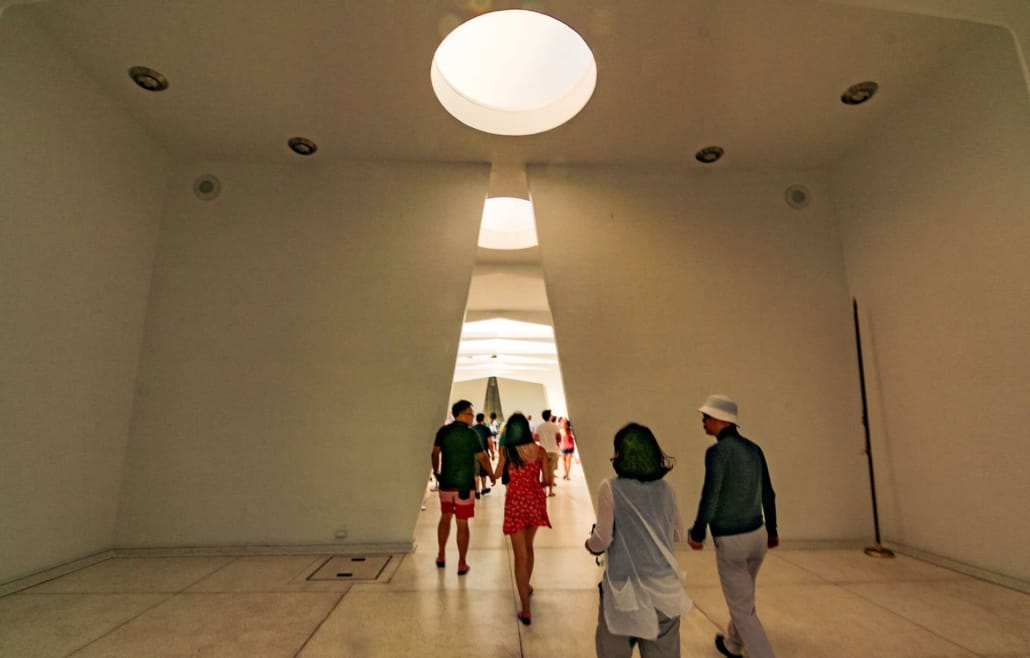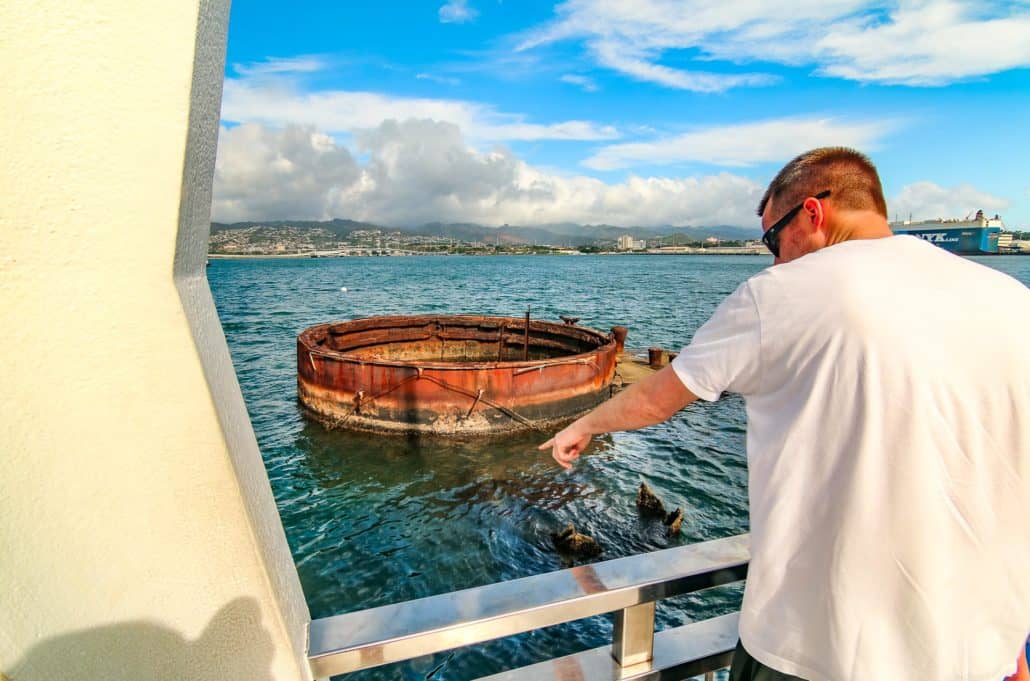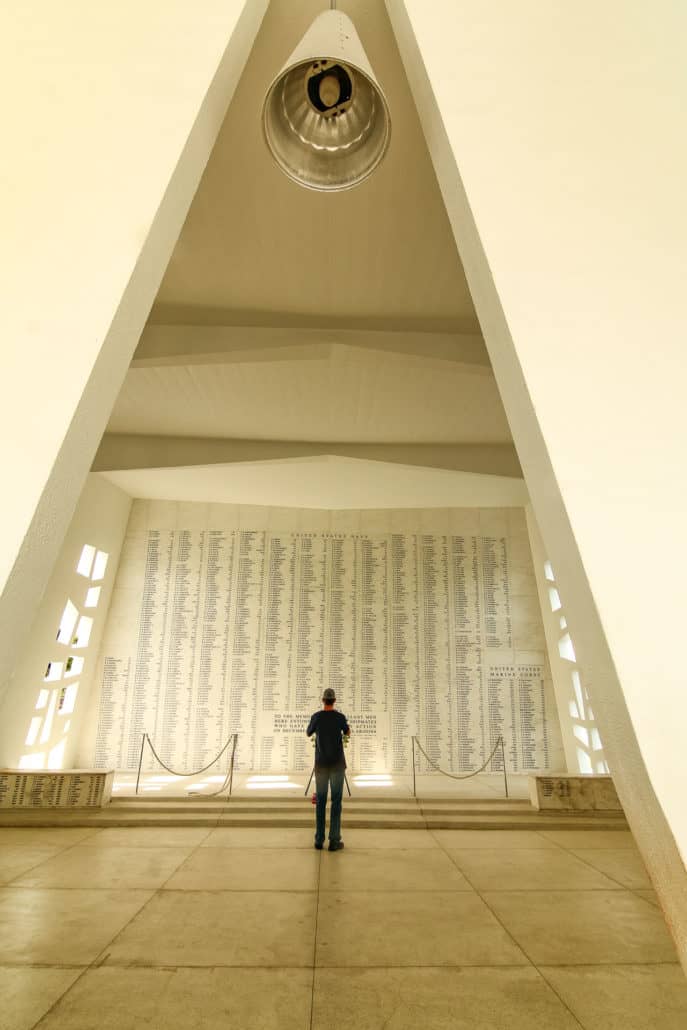 Your ticket includes access to the Arizona Memorial. You will be given a specific tour time that matches your schedule. To begin this tour you'll enter the theatre to watch a documentary with actual footage of the attack before taking a navy boat out to the Memorial. Battleship Arizona is the final resting place for over 1100 sailors and marines who died on Dec. 7th, 1941 when a Japanese bomb penetrated the decks and blew up the on-board ammunition. The stark white structure of the memorial straddles this sunken battleship.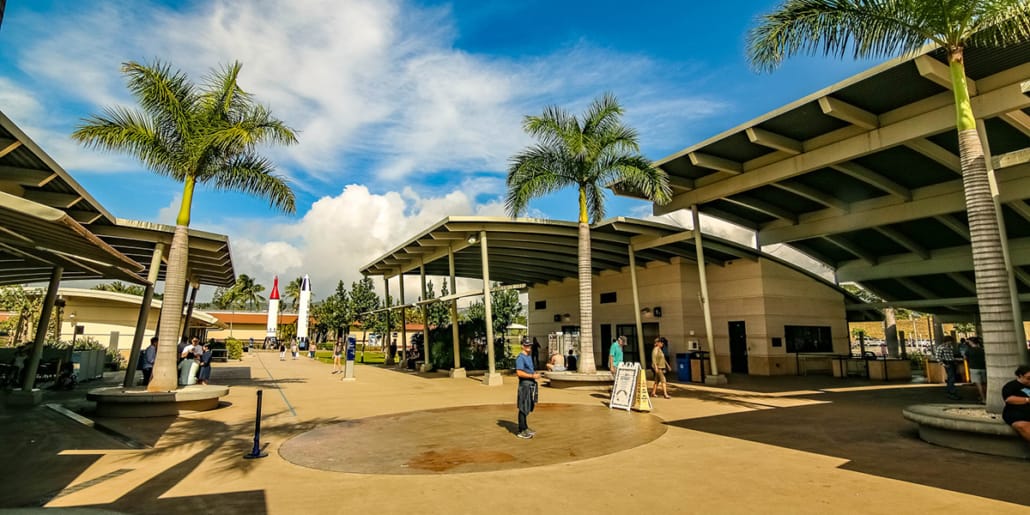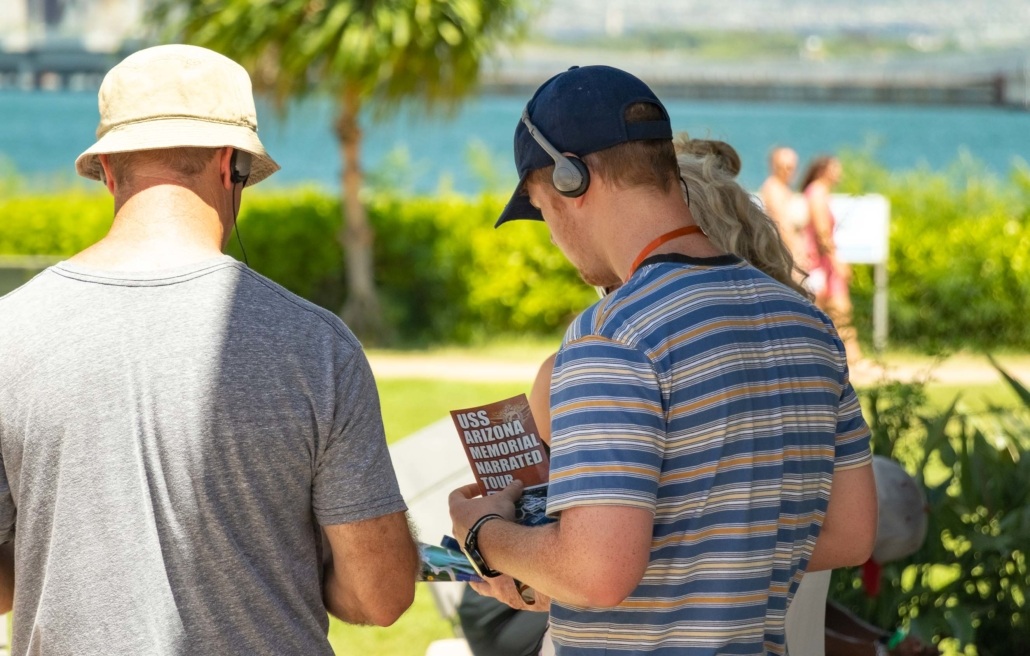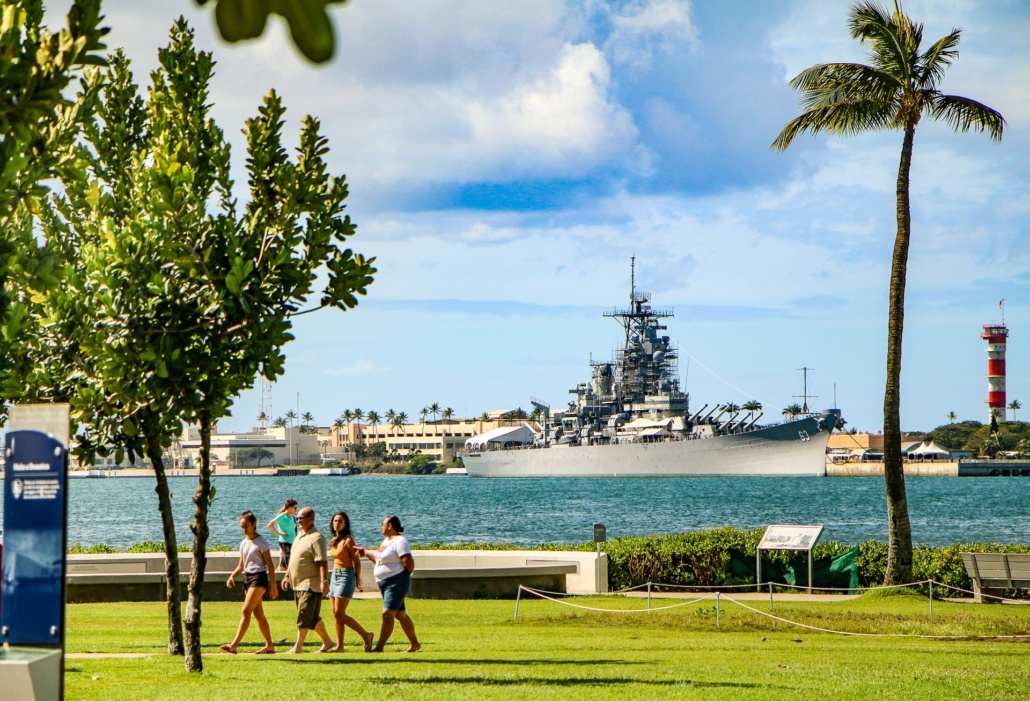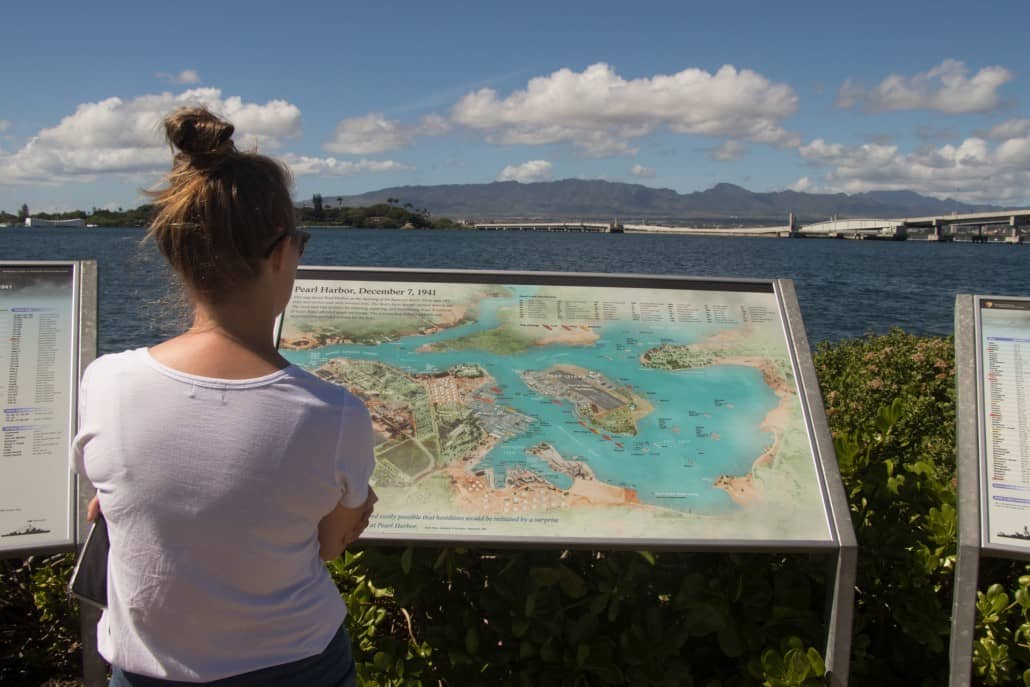 Pearl Harbor Visitor Center
At the Visitor Center, you will be able to rent an audio headset to explore the exhibits around the memorial. They are set along an easy walking path. Listen in detail to stories and clips at 29 different stops around the area, including on the Arizona Memorial. This service is available in 9 languages.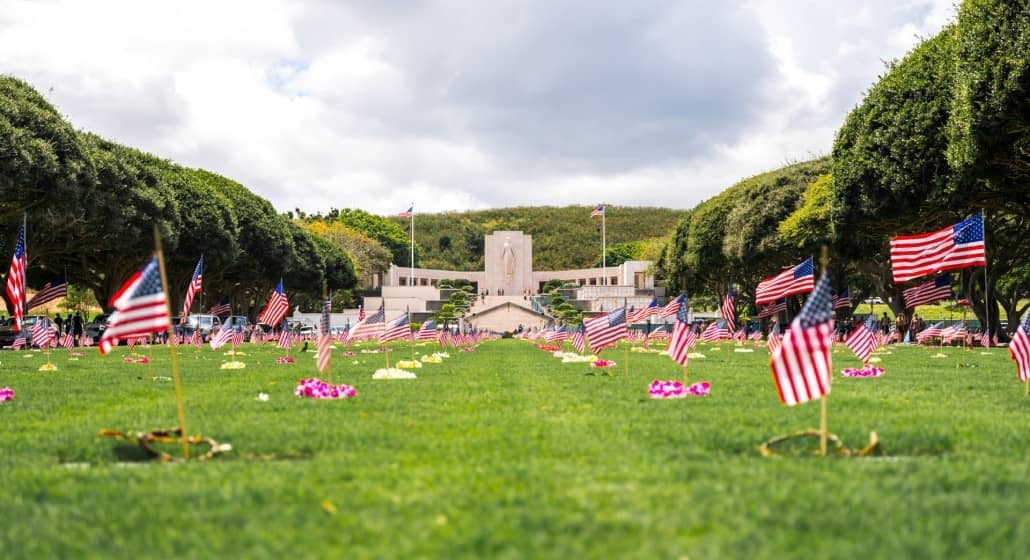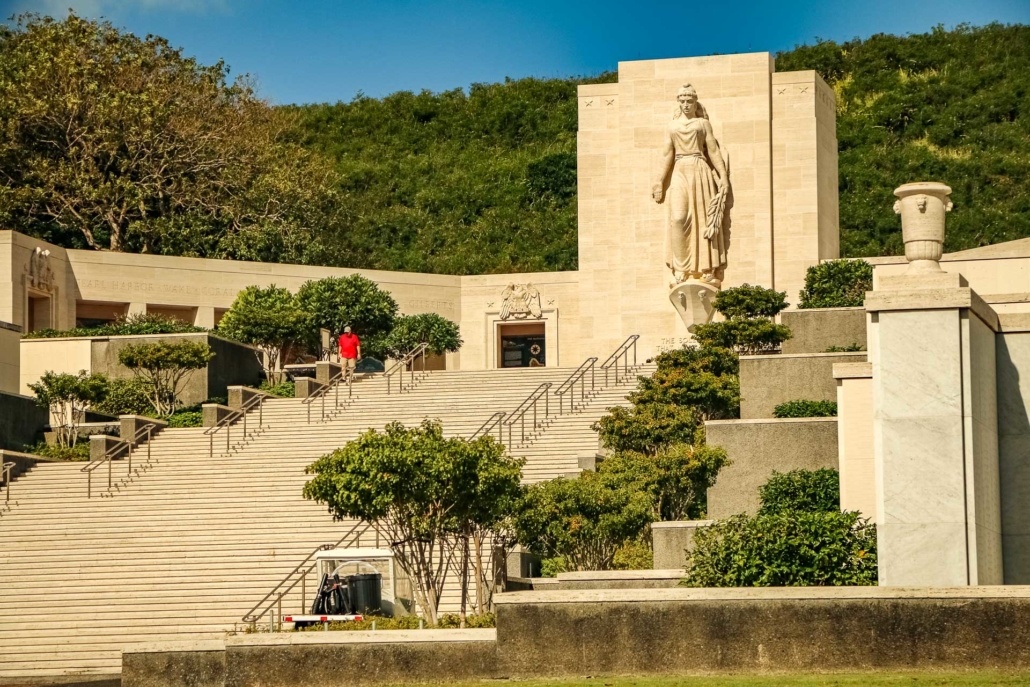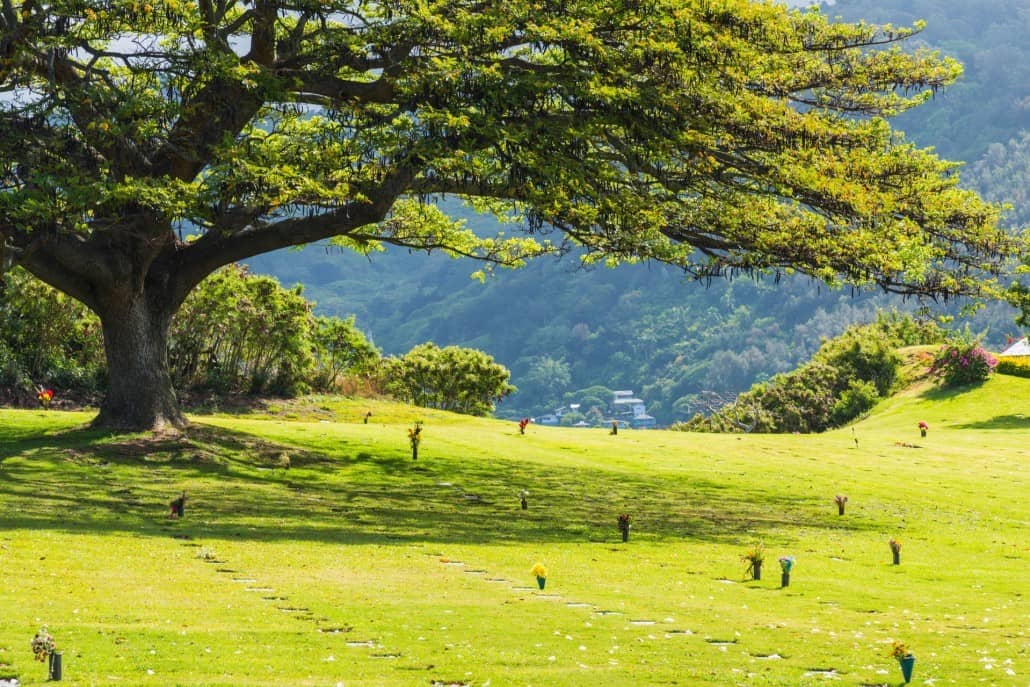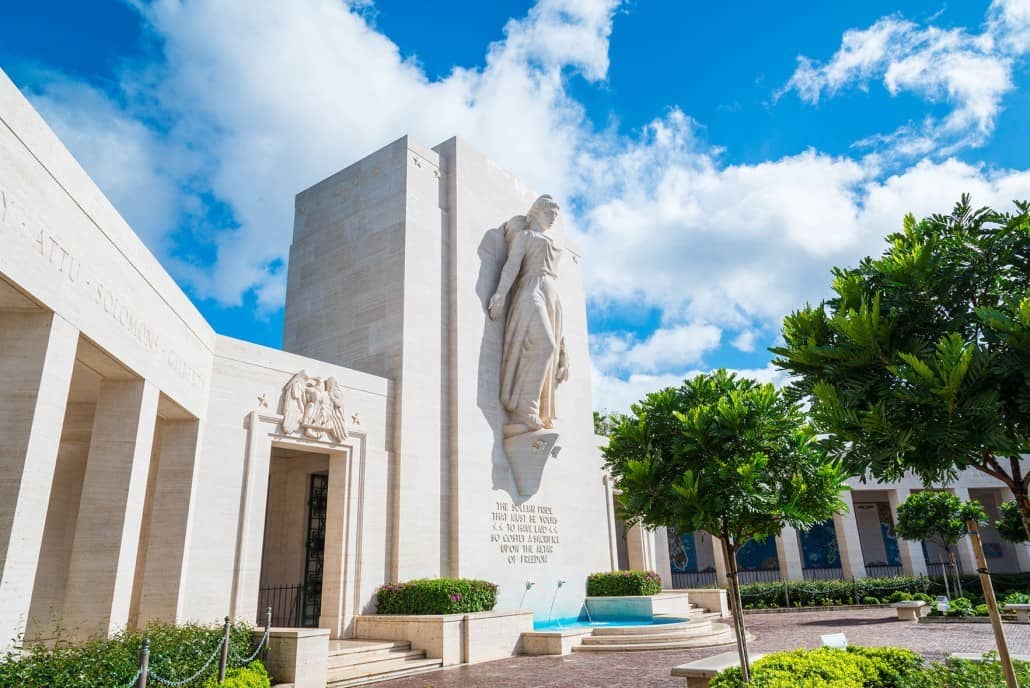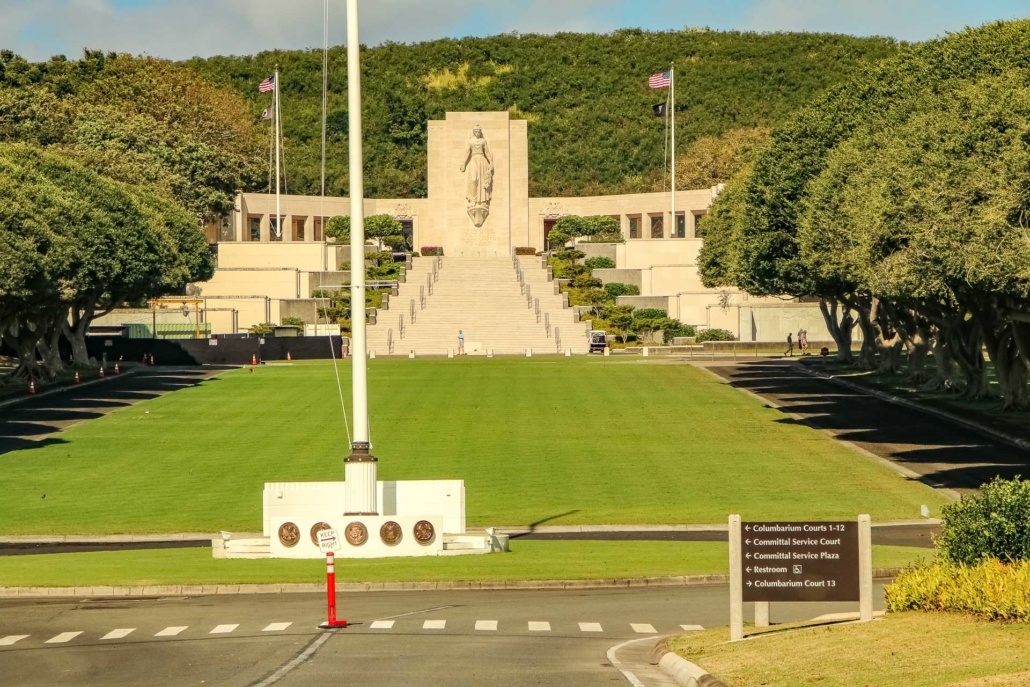 Punchbowl National Cemetery
A rental car allows you a bit more flexibility to go anywhere you want on the island. We do definitely suggest that you check out Punchbowl Crater. Not far from Pearl Harbor, it offers an incredible view of the city from itʻs rim. As a private visitor, you may stop at the cemetery. Covering the inside of the crater, this beautiful national cemetery is a monument to fallen and missing soldiers of all the Pacific wars. We recommend going up the steps into the various rooms to view beautiful artwork, memorials and mosaics of this monument.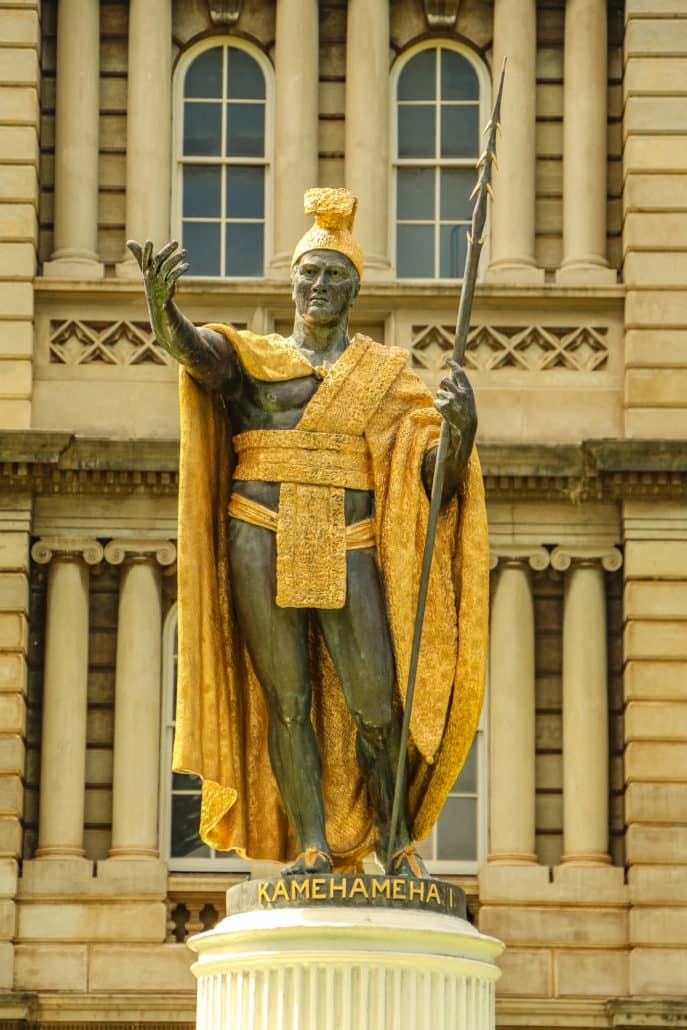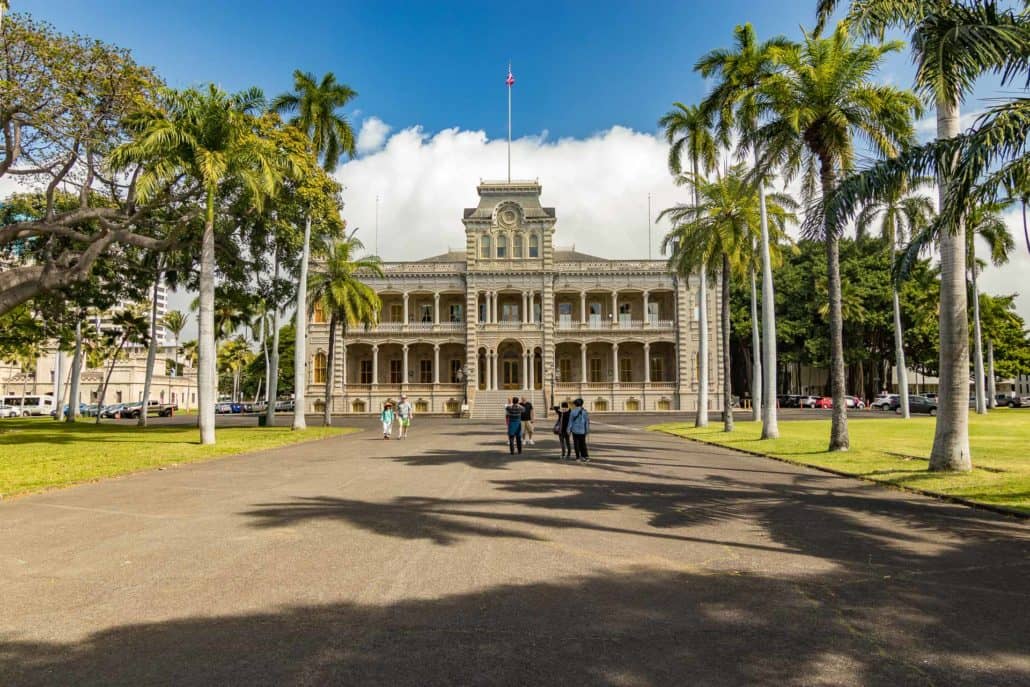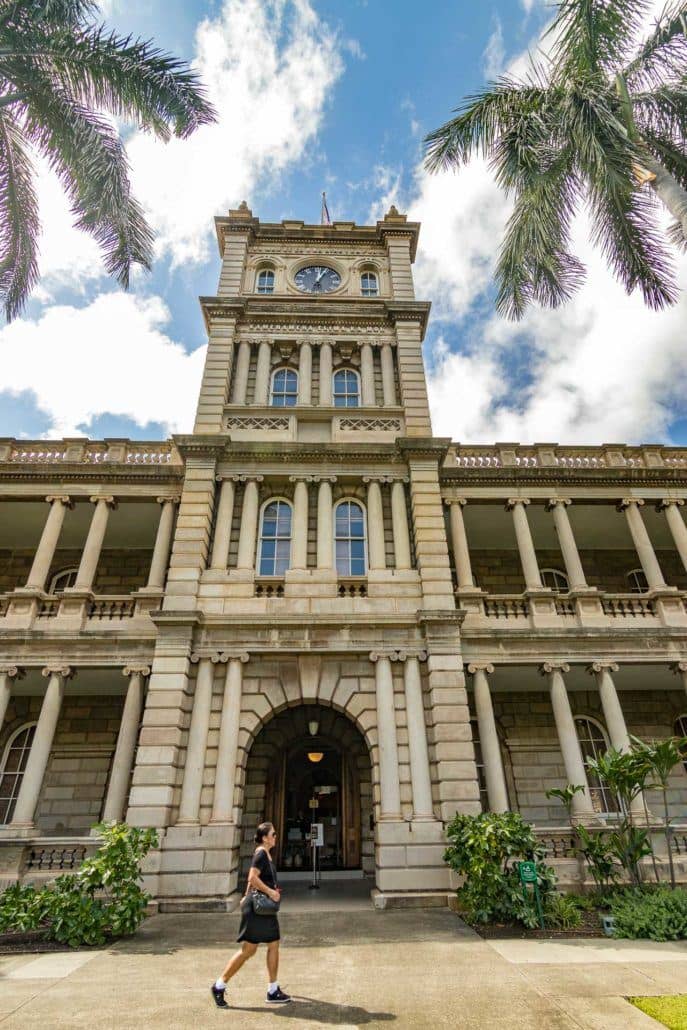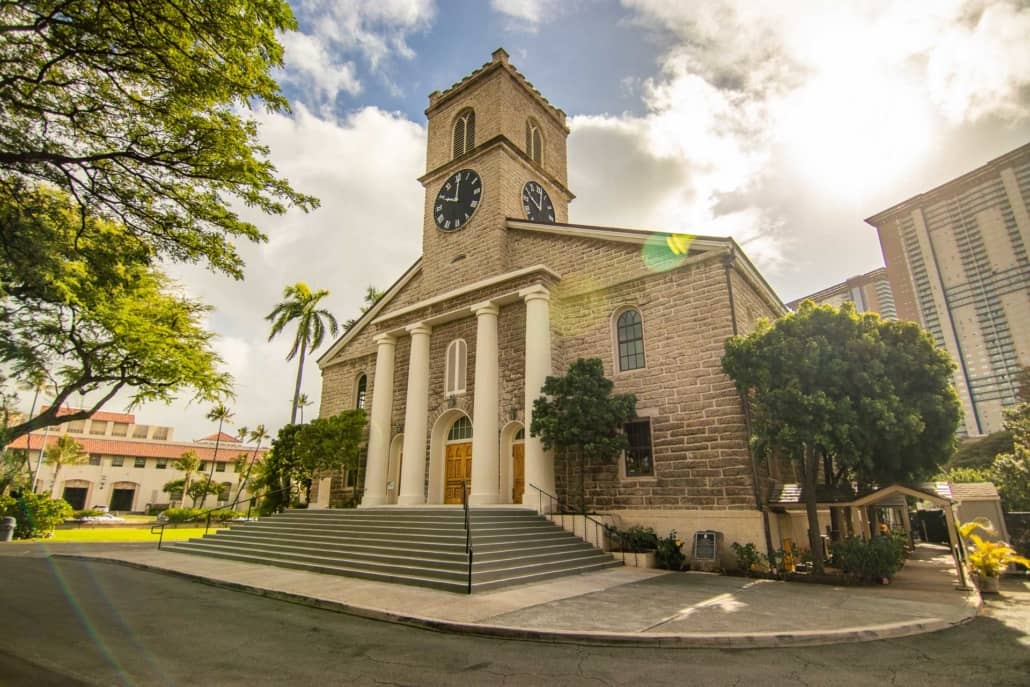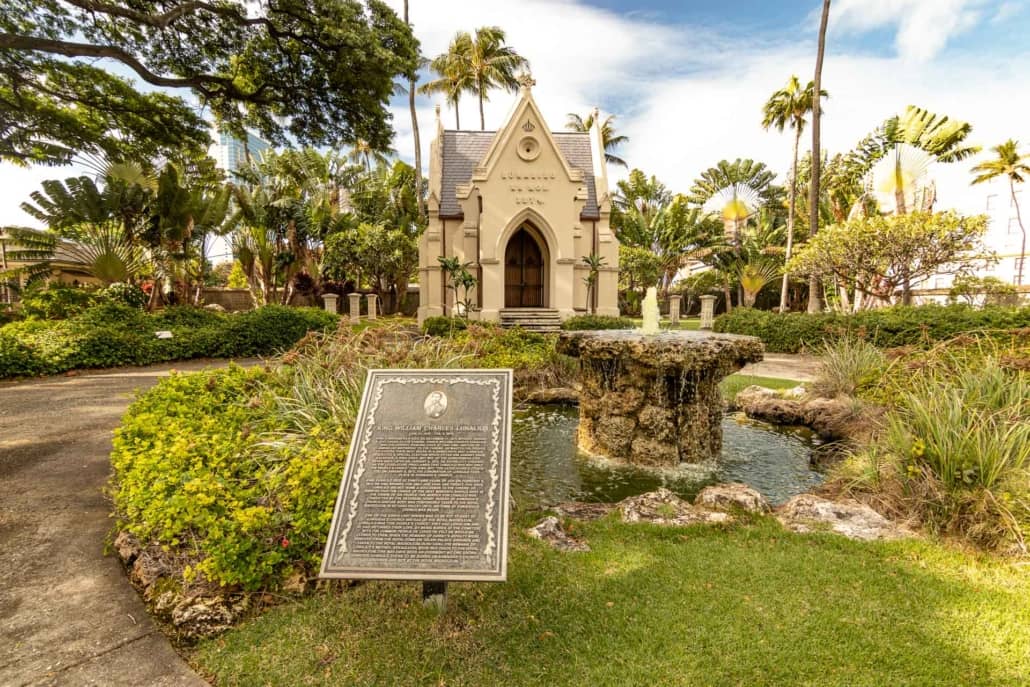 Honolulu's Historic Sites
Beautiful, historic downtown Honolulu is a stop that you should also make during your exploration of the island. We include it on each tour. Itʻs worth the stop. Here you can enjoy a picnic on the grounds of the palace. Explore the inside of the historic buildings, including the palace (extra fee), the Supreme Court and the oldest Christian church in the state. All can be seen as you stand under the 18ʻ tall statue of Kamehameha The Great.
Frequently Asked Questions