TOUR PEARL HARBOR NATIONAL MONUMENT
Pearl Harbor Tickets At The Best Value
Our Pearl Harbor tour packages below are carefully planned to provide you with the best possible experience at this amazing National Monument. These high-quality small-group tours are affordable and tailored to fit any budget. Choose from a half-day which includes a visit to the USS Arizona Memorial & Battleship Missouri all the way up to a full day which includes all of the historic sites at Pearl Harbor.
As Hawaii's #1 visitor attraction, we believe a Pearl Harbor tour should be a part of any Hawaii vacation. That's why we've put together several inter-island tours so our guests staying on other islands can come to Oahu for the day and experience Pearl Harbor. We include a variety of choices for you to also enjoy other top island attractions while we take care of everything including airline flights, admission tickets, Oahu transportation, and a personal guide.
Pearl Harbor Tickets
&

Tours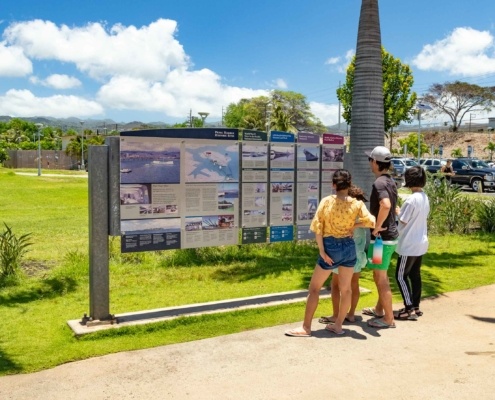 Bags such as purses and backpacks are not allowed inside of Pearl Harbor. If you are worried about the security of your belongings you may check your bags at the entrance to Pearl Harbor for $5.00 each.
Only camera lenses less than 6 inches are allowed within Pearl Harbor. Please keep this in mind and plan accordingly if you plan on taking photographs.
For your safety and comfort, we recommend that you wear comfortable shoes and bring a hat, sunscreen, and sunglasses to protect yourself from the sun throughout the day.
For security reasons, no bags, backpacks, or purses are allowed within Pearl Harbor. You may leave them in the car while you visit the attractions.
Where Is Pearl Harbor & When Is It Open?
Address: 1 Arizona Memorial Place Honolulu, Hawaii 96818
Hours of Operation: Pearl Harbor Visitor Center is open daily from 7:00 AM to 5:00 PM.
Pearl Harbor is closed on Thanksgiving, Christmas, and New Year's Day.
Tours are not offered each year on December 7th, as this day is reserved for ceremonies to honor the men and women who lost their lives during the attack.
Is Food Included On Our Tours?
Most of our tours do not include lunch however, food is available for purchase at the Visitor Center, at the USS Missouri or the Aviation Museumʻs Lanikai Cafe at Pearl Harbor.
Guests on our Circle Island Tour will have multiple options to stop for lunch.
Guests on our Polynesian Cultural Center tour is our only tour that includes lunch.
Why Should I Take A Tour To Pearl Harbor?
Have you ever been to a place and missed the best parts because you didnʻt know to look for them? You can read the guide books, check the apps, and follow the advice you find on Youtube but there is so much to see and do that you can easily get lost in it all. A guide can help connect you to what matters most. Their service is to make your visit the most memorable, impactful and valuable that it can be.
Donʻt waste a minute of your vacation looking for answers and great sites when a guide will guarantee youʻll find it.
USS Arizona Memorial and USS Missouri Battleship Tour
Tour most popular tour with highlight visits to the USS Arizona Memorial by Navy Boat and a shuttle ride to Ford Island to visit the USS Missouri.
Visit two of the most iconic memorials of World War II with an experienced local tour guide. It is sure to be one of the highlights of your visit to Hawaii.
Your visit to Pearl Harbor also includes viewing of a documentary film of actual footage of the attack on Pearl Harbor followed by a Navy Boat ride to the USS Arizona Memorial for your tribute to perhaps one of the most solemn memorials of World War II.
Visit the Pearl Harbor Visitors Center, experience and learn history at the Exhibits and Museum. After we return to our private tour vehicle and drive onto Ford Island to visit the USS Missouri. Your tour concludes with a drive through the National Cemetery of the Pacific at the Punchbowl Crater, officially dedicated on September 2, 1949, only 4 years after the signing of the surrender treaty with Japan on the deck of the USS Missouri. Also, a drive-through visit of Historic Honolulu, Iolani Palace, King Kamehameha Statue, Kawaiahao Church, State Capitol, and Downtown Honolulu.
USS Arizona Memorial and Battleship Missouri Tour Highlights
Pickup at or near your hotel and transportation in a climate controlled small group van (Max. 12 guests).
Tours originating from Maui, Kauai or the Big Island include roundtrip airfare (Plane Boeing B717)
4.5 hours to tour Pearl Harbor, USS Arizona Memorial and USS Missouri
Movie and Boat ride to USS Arizona Memorial
A guided tour of the Battleship USS Missouri at Ford Island
Stand in awe of the Surrender Deck where the Empire of Japan signed the Surrender Treaty ending World War II
Drive through Honolulu to view historic buildings, with picture taking stop at Iolani Palace and King Kamehameha Statue
Drive through Punchbowl Crater home to the National Cemetery of the Pacific
The Complete Pearl Harbor Experience
The Complete Pearl Harbor Experience is our biggest and best tour of Pearl Harbor. From the moment you are picked up from your hotel, you'll be treated to a day packed full of history and beauty.
When the tour begins you'll ride in an air-conditioned motorcoach to Pearl Harbor where you'll bypass the long lines to buy tickets to this historic location.
While inside Pearl Harbor you'll not only get to visit the the USS Arizona Memorial but also the Pearl Harbor Aviation Museum including access to other attractions that history buffs will appreciate like the Battleship USS Missouri and the USS Bowfin Submarine.
Once your tour of Pearl Harbor is complete you'll be taken on a ride through downtown Honolulu to see historical buildings and the Punchbowl National Cemetery.
Experience all of this and more when you book this once in a lifetime tour today!
The Complete Pearl Harbor Experience Highights
Waikiki Hotel Pick-Up
Historic World War II Narration
Visit Oahu's Pacific Historic Park
USS Arizona Memorial
USS Bowfin Submarine Museum
Ford Island Transportation
USS Battleship Missouri
Deck Tour of the 'Mighty Mo'
USS Oklahoma Memorial
No-Host Lunch Stop at Laniakea Cafe
Downtown Honolulu City Tour
Iolani Palace and Kawaiahao Church
Punchbowl National Cemetery
King Kamehameha the Great Statue
Ali'iolani Hale & Hawaii State Capitol
Pearl Harbor Aviation Museum
Pearl Harbor Visitor Center
PEARL HARBOR AND OAHU CIRCLE ISLAND TOUR FROM WAIKIKI
For anyone who wants to see all of Oahu's most popular sights, the Pearl Harbor Oahu Circle Island tour is a must.
You'll not only get to experience the amazing history at Pearl Harbor but you'll get to enjoy a tour around the island to see the island's most popular sights.
Your tour begins when our air-conditioned tour vehicle picks you up near your hotel. From there you'll be taken directly to Pearl Harbor where you'll be able to go directly in and start seeing the museums and exhibits.
Once inside you'll have the opportunity to browse the educational exhibits within the Pearl Harbor Visitor Center including a view of a documentary with real footage from the attacks on Pearl Harbor.
You'll also be taken on a boat ride by the Navy to view the USS Arizona Memorial and pay respect to those who lost their lives on that fateful day.
After you've experienced the sights and sounds of Pearl Harbor we'll take you on a tour of the beautiful island of Oahu to visit the most popular attractions in the entire state. You'll get to visit Dole Plantation, multiple overlooks, a stop in Haleiwa as well the world famous beaches on the north shore.
Book this tour if you want to see and do it all in one day. It's guaranteed to be a day you'll never forget!
Pearl Harbor and Oahu Circle Island Tour Highlights From Waikiki
Visit Oahu's Pacific Historic Park
Pearl Harbor Visitor Center
USS Arizona Memorial
World War II Museums
Dole Pineapple Plantation
Scenic Island Lookout Lāʻie Point
Oahu's Famous North Shore Beaches
Legendary Oahu Surf Spots
Macadamia Nut Farm
Waimea Bay & Sunset Beach
Waimanalo Beach Park
Historic Nuʻuanu Pali Lookout
South Shore Oahu's Rocky Shoreline
Halona Blowhole Lookout
Hanauma Bay Lookout (Closed Tuesdays)
Rabbit Island from Makapu'u Lookout, Kahala Estates Homes & Mansions
PEARL HARBOR AND POLYNESIAN CULTURAL CENTER TOUR
See Hawaii's most popular attractions on this day tour. This tour has history, culture, and fun all wrapped up in one unforgettable day.
Your tour will begin when you are greeted by your tour guide at your hotel or condo right here on Oahu. You'll then board an air-conditioned tour vehicle where you'll enjoy expert narration from a knowledgeable guide en route to the Pearl Harbor Visitor Center. Your first stop on this day tour.
Once at Pearl Harbor, you'll get to take a Navy boat ride across the harbor to visit the USS Arizona Memorial and view the final resting place of the men and women who lost their lives on December 7th, 1941.
After experiencing all that Pearl Harbor has to offer you'll be on your way to Windward Oahu stopping at overlooks and a macadamia nut farm along the way.
Next, you'll be off to the Polynesian Cultural Center where you can experience a canoe ride, enjoy a wonderful run-of-the-menu lunch at Pounders (an ocean-friendly restaurant), and learn about the many different cultures of Polynesia.
Book this tour to see a side of Hawaii that you won't see if you never leave the beaches of Waikiki. We will see you out here!
Pearl Harbor and the Polynesian Cultural Center Highlights
Round-trip Honolulu Airport Pickup (Flights included from outer islands Maui, Big Island & Kauai)
Historic World War II Narration
Visit Oahu's World War II Valor In The Pacific National Monument
Film Footage of the Attacks
Pearl Harbor Visitor Center
USS Arizona Memorial
Polynesian Cultural Center Admission
Lunch Included At Pounders Restaurant
Hoku Pa'a Canoe Ride
Demonstrations at Island Villages
Polynesian Canoe Pageant
PEARL HARBOR PRIVATE TOUR BY JEEP, SUV, CADILLAC OR MERCEDES SPRINTER
Prefer to get a more personal tour? Book our Pearl Harbor Private Tour by Jeep, SUV, or Mini Coach and you'll get a private car with a driver for you and your party, plus the undivided attention of your expert tour guide.
You have three vehicle options to choose from depending on the size of our party. Choose a Jeep for parties of up to 3 guests. Choose an SUV for parties of up to 6 guests. If you have a larger party (up to 12 guests) choose our mini-coach option.
We will pick you up at your hotel, condo, cruise ship or Airbnb right here on Oahu to escort you to the first stop on your tour, Pearl Harbor. You'll be able to skip the long lines and get into Pearl Harbor thanks to the fast-track tickets that are included in this package.
While at the Pearl Harbor Visitor Center don't miss out on the 23-minute documentary which includes actual footage of the attack on December 7th, 1941. Next, take a Navy boat ride to the USS Arizona Memorial where you'll have the opportunity to view this solemn memorial and pay respect to the fallen soldiers.
Depending on your preference you'll have the option to stay longer and see more exhibits within Pearl Harbor, or if you prefer, you can ask your driver to take you to any other sights around the island that you would rather see. If you go to the north shore of Oahu you can choose between a stop at Dole Plantation or the Polynesian Cultural Center before you make your way back to Honolulu later that day.
With this tour not only will you get a private driver who can recommend the best sights to see but they will also give you expert narration throughout the drive so you can learn more about the history of the island.
We recommend this tour for small parties or just for a couple who wants a more personalized experience. Book today and have an unforgettable experience!
Pearl Harbor Private Tour Highlights
Pick up from your Waikiki Hotel or Cruise Ship Pier are free. Other pick up options are available for a small fee including; Honolulu Airport, Ko Olina, Disney Aulani or Turtle Bay Resort
Pearl Harbor Tickets and 3 hours to tour Pearl Harbor Visitor Center
Watch movie of actual attack at Pearl Harbor
Navy boat ride to board the USS Arizona Memorial
It's your private tour, you can choose any of these tour options listed
USS Missouri, USS Bowfin Submarine, North Shore of Oahu, Dole Plantation, Waimea Valley or the Polynesian Cultural Center (admission not included)
8-9 Hour Private Pearl Harbor tour including featured Oahu sites
Choose from a number of great options for your group at checkout. Add on Waimea Valley Waterfall Swim, Missouri Battleship, Bowfin & more. Weather & construction may effect some highlights.