WHAT TO DO AT THE DOLE PINEAPPLE PLANTATION
The Dole Pineapple Plantation grew from a small fruit stand started in 1950 in the middle of James Dole's original pineapple fields. In 1989 a plantation home was added which became a museum and historical archive of Doles achievements.
Today the sprawling plantation is Oahu's second most popular visitor attraction.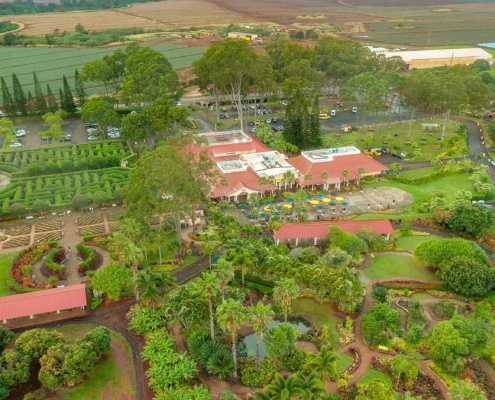 The eight different gardens are a walking tour aided by informational signs describing the gardens tropical fruits such as a half dozen different kinds of pineapples, various kinds of coffee plants and the colorful cacao pods used in the making of chocolate. A free app can be downloaded allowing you to hear about Hawaiian folklore, the north shore area, the various native and introduced plants and flowers as well as life on the plantation – all while you stroll through the gardens. The fish feeding pond is popular with the kiddos.
Pineapple Express Train Tour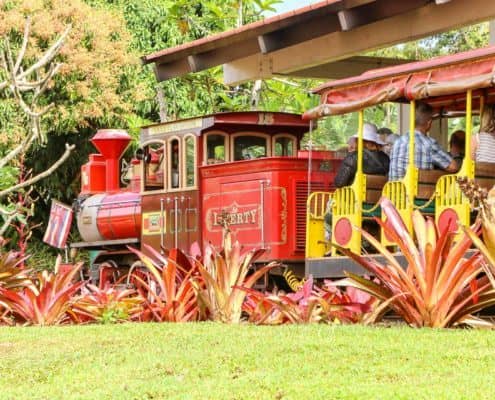 The train tour at Dole Pineapple Plantation is a two-mile-long ride through the plantation. A fully animated 20-minute narration explains the history of pineapples in Hawaii. It also covers how James Drummond Dole built his agricultural empire where the Dole Plantation Oahu stands today. Get all this while traveling through the beautiful scenery of Oahu's north shore.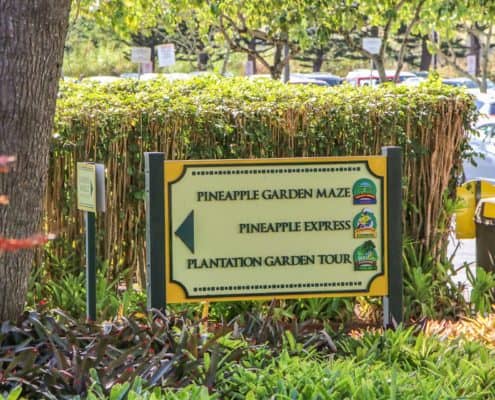 The Dole Plantation features the world's largest maze covering over three acres with paths traversing nearly 2 ½ miles, all in the shape of a pineapple. The maze is crafted with over 14,000 colorful native Hawaiian and other plants. Visitors can seek out eight secret stations leading to the heart of the maze. It is one of the few permanent botanical mazes in the US. Downloading the free Dole Plantation app allows you to automatically track your time and the stations you've found in the maze.
Pineapples, Gifts, Demonstrations
&

Treats
In the sprawling Dole Pineapple Plantation gift shop, you'll find tons of things to enjoy. Aside from shipping a fresh pineapple back home, there are plenty of gifts, treats and things to see and try — demonstrations including pineapple cutting along with chocolate sampling produced from cocoa trees grown at nearby Waialua Estates.
The Plantation Grille serves local plate lunch favorites as well as hot dogs and hamburgers. They're famous pineapple ice cream, Dole Whip, is also not to be missed! Many reviews have said this stop is worth it just for the pineapple whip…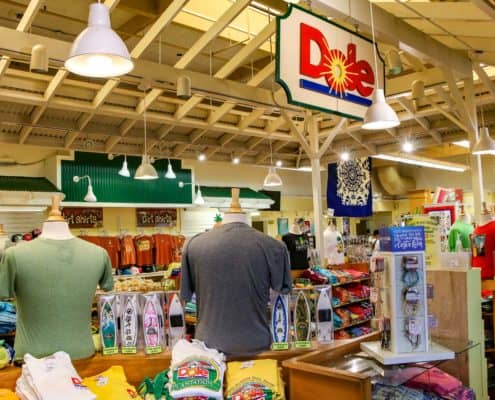 Pineapples began their romance with the world in the 15th and 16th century. Originally found in the South American lowlands of Paraguay, they were carried aboard trade ships as far away as Europe, Mexico, China, India, and Australia.
They became a gourmet treat to wealthy Europeans when Christopher Columbus returned with them from the "new world" in the late 1400s. They made their way to the US in the 1700s where George Washington grew them in his hothouse at Mount Vernon.
Historians believe the first pineapples in Hawaii arrived on a Spanish trade ship that wrecked off the coast of Kona in 1527. The Hawaiians acquired tools, garments, and plants from the ship, including pineapples. Though the story is hard to confirm we do know that Captain Cook, using captured Spanish maps to explore the Pacific, arrived on the Big Island in 1778. When he came ashore, King Kalaniopu'u showed Cook a Spanish sword and shared with him stories of a Spanish ship.
The first written mention of the wild "Kailua" pineapple was by Spanish explorer Francisco de Paula Marin who, in 1794, began growing them in Kona. Marin had become a trusted advisor to King Kamehameha I, and he began to experiment with cultivating pineapples, as well as other fruits, on the island.
By the time New England Protestant missionaries began to arrive in 1820 pineapples could be found growing wild and in private gardens and small plots. Several of the newcomers began to consider selling them in San Francisco which they eventually did. The fruits were picked green to avoid rotting while in transit to ship them to the U.S., but this resulted in a poor quality fruit. It was not until the mid-1860's that the pineapple canning industry began in Baltimore using fruit shipped from the Caribbean. Eventually, the superior Hawaiian pineapple would make its arduous journey from a rare delicacy for the wealthy to a popular household staple enjoyed across the U.S.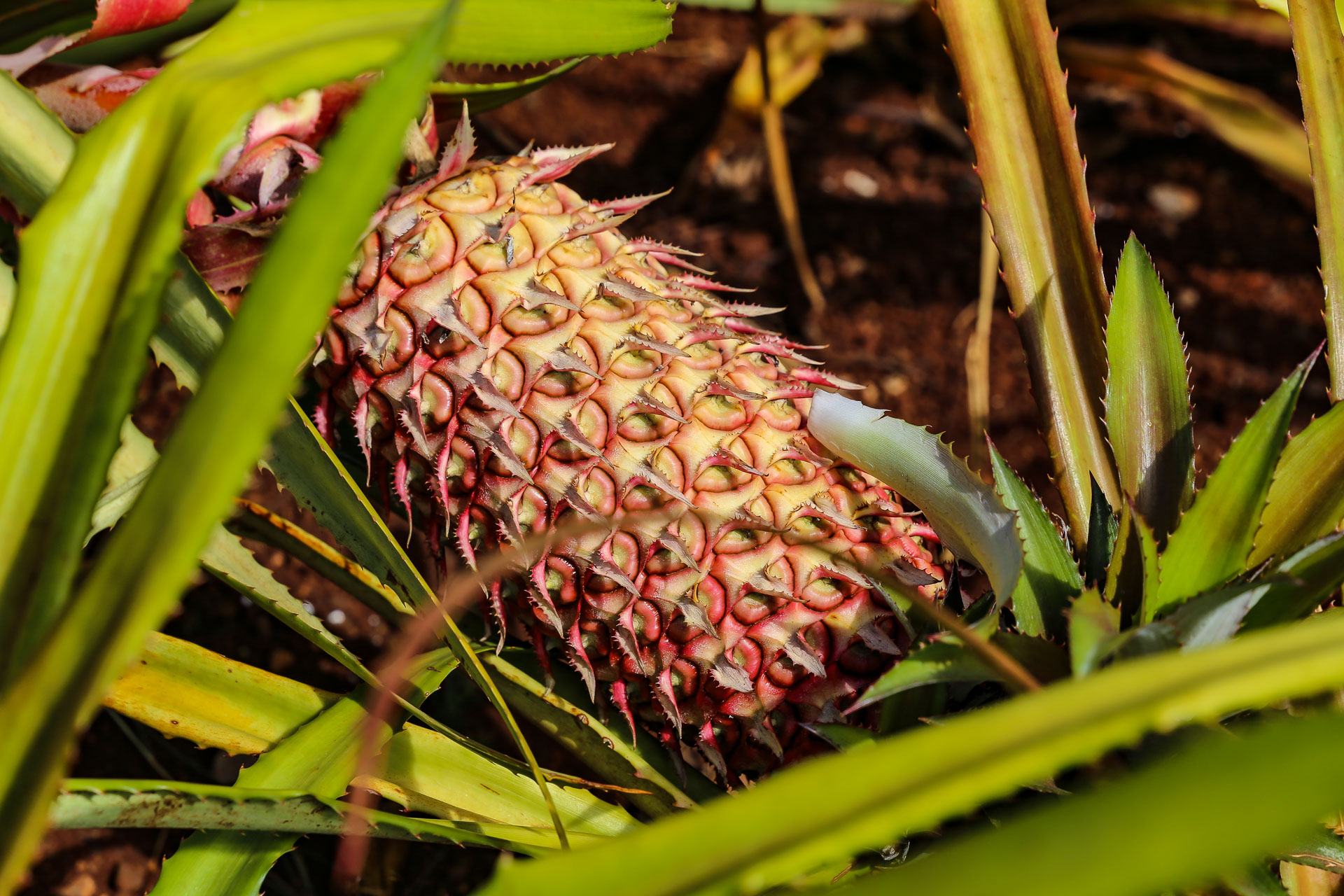 John Kidwell – Hawaii's Pineapple Pioneer
English immigrant John Kidwell started the first pineapple plantation in the Manoa Valley on the island of Oahu in 1885. Though the wild growing pineapples from the Big Island of Hawaii were his first crop the nurseryman from London thought they were of poor quality, so he planted 31 different species of pineapples on his 5-acre farm. He settled on a variety called Smooth Cayenne which eventually became known as Hawaiian Sugarloaf Pineapples. He mastered the transplanting technique of using the crowns of the fruit for propagation, still used to this day.
His pineapples were popular in San Francisco but not very profitable due to waste during shipping. He began canning his fruit, and in 1891 he joined several Honolulu businessmen in founding the Pearl City Fruit Co. He also was instrumental in establishing the Hawaii Fruit and Packing Company, a small cannery near Honolulu in 1892. A year later there were 13 pineapple growers in the islands, mostly on Oahu, with almost 400,000 plants in production and by 1897 over 150,000 fresh pineapples were exported to the US mainland.
However, by 1898 US tariffs and high shipping costs made the venture unprofitable and the company was sold to Pearl City Fruit Co. Kidwell retired on the proceeds at the age of fifty and traveled the world. He lived in Honolulu until his death in 1922.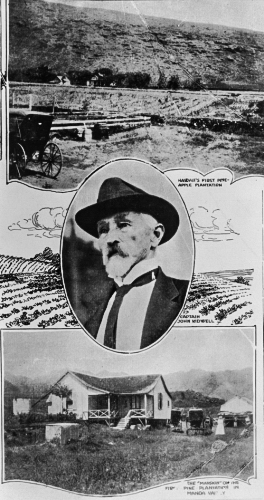 James Drummond Dole – Hawaii's Pineapple King
Several events fostered the development of a new pineapple canning industry in Hawaii at the turn of the century. The 1898 annexation of Hawai'i by the US revoked the 35% duty on Hawaiian canned pineapple while 1300 acres of homesteads in Wahiawa, located in central Oahu, were made available under new laws. 22-year-old James D. Dole arrived in 1899 to take up a settlement of a 64-acre coffee farm homestead in Wahiawa. The crop was not profitable, so he switched to pineapple cultivation and formed the Hawaiian Pineapple Co. in 1901. It was the start of what would become the largest pineapple industry in the world!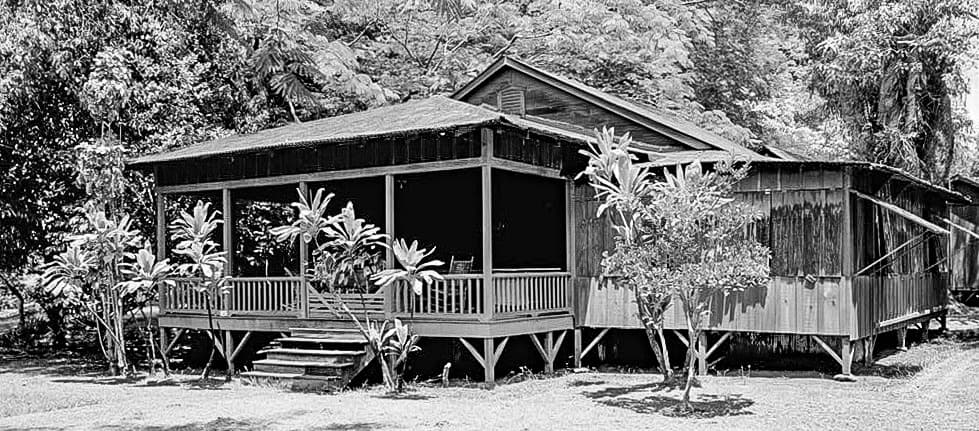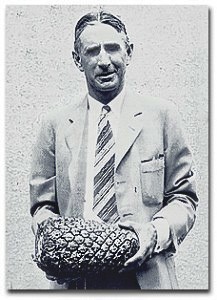 James Drummond Dole obtained a bachelor's degree in agriculture from Harvard University's Bussey Institute in 1899 and soon found himself in Hawaii. His cousin, Sanford B Dole, was then president of the newly annexed American Territory of Hawaii. With improvements in canning and harvesting equipment, he soon outgrew the company's field canning operation and in 1907 built a cannery in Iwilei near downtown Honolulu and leased more land for cultivation. He became known as Hawaii's "Pineapple King" when he began a national magazine ad campaign promoting his canned pineapples which were successful. In 1913, a pineapple peeling and coring machine was invented, funded by Dole, replacing hundreds of man-hours and increasing the speed of his canning operation. Other small pineapple operations began to grow too, but soon Dole would corner the market.
By 1922 he had gathered investors in his families network and purchased the Island of Lana'i. It became the largest plantation in the world with 20,000 acres of pineapple under cultivation. Using large mechanized machines and immigrant Filipino workers, Dole was able to reduce the price of his canned pineapples to such a level that it drove other producers out of business. He also purchased land on the island of Maui forming the Maui Land and Pine Company and built a cannery in Kahului. Throughout the 20th century, Dole produced over 75% of the worlds pineapple crop!
In 1927 Dole was inspired by Charles A. Lindbergh's trans-Atlantic flight and sponsored the Dole Air Race with a $25,000 prize for the first airplane to fly from Oakland California to Honolulu and a $10,000 prize for the second plane. Only two out of 12 people who attempted the crossing made it. The other ten perished. The race opened up the air-travel business to Hawai'i, and Dole quickly developed the contacts needed to corner this new sector of Hawaiian shipping. He would soon reach his goal of making pineapple available in every grocery store in the country. He would leave the company in 1932 and retire a wealthy man.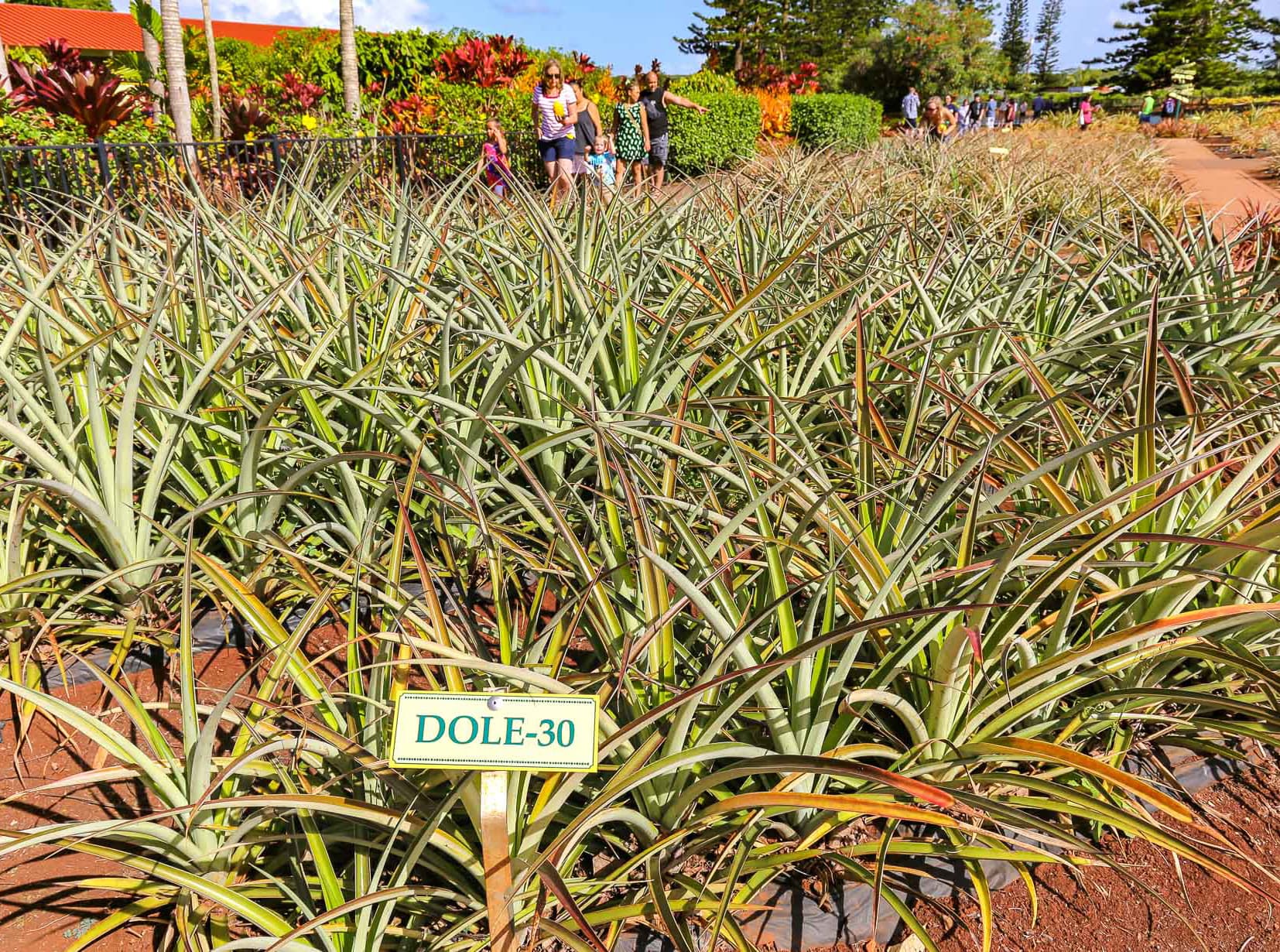 In Harvard's Alumni Newspaper Dole Writes:
"I landed in Honolulu on November 16, 1899; and within two weeks found the town quarantined for six months by an outbreak of bubonic plague. During that winter I saw the fire department, with the timely aid of a stiff trade-wind, burn down all of Chinatown (the intention having been to disinfect in this thorough manner only one or two blocks). In July, I bought a government homestead of sixty-four acres, twenty-three miles from Honolulu, and on August 1, 1900, I took up my residence thereon as a farmer—unquestionably of the "dirt" variety. After some experimentation, I concluded that the land was better adapted to pineapples than to peas, pigs or potatoes, and accordingly concentrated on that fruit.
Pineapple growing created the necessity for a market, and in order to enlarge the market to the entire United States (and other countries) and to extend the marketing season throughout the entire year, a cannery seemed necessary. This meant that money had to be raised and a company started, and this necessitated more land, which had to be leased. I started my first pineapple plants in the spring of 1901, our company was incorporated in December of that year, and in the summer of 1903 we put up our first season's pack of 1893 cases. In 1923 we packed 2,038,671 cases, or 43,497,828 cans. The period between has been one of repetitive cycles of more land, more pineapples, more cannery. Our plantings in 1923, if extended in a straight line, would have made a double row from New York to San Francisco".
For Guests Coming In From Or Going To Maui:
On Maui check out the pineapple tour in the upcountry plantation town of Hali'imaile. This working farm tour shares information about pineapple production from the field and includes tastings of the various stages of the plants 18-month growing cycle. The tour includes a walk through the packing facility and fresh pineapple to take home!
Maui Gold Pineapples are unique to the island of Maui with high sugar content and low acidity. They are also perfect for use by the on-site Hali'imaile Distillery Company who produce their award-winning spirits. You can add a distillery tour and tasting or lunch to their tour during the weekdays.