A full tour of the island of Oahu's best sites and experiences awaits you. Start your day off with a bit of solemn reflection at Pearl Harbor's USS Arizona Memorial and Visitor Center before embarking on an island-wide adventure.
On this tour we travel from Pearl Harbor across the island to the Dole Plantation where we can see history in action and taste the fruit of Hawai'i in so many different ways. We continue to explore the North Shore and it's wonderful towns, famous beaches and legendary surfing spots all the way around to the Polynesian Cultural Center, Oahu's top entertainment attraction. See the Polynesian cultures represented through demonstrations and shows. Watch the canoe pageant and get inspired to go for a ride yourself! At the center, a wonderful lunch included in your tour price gets you ready for an afternoon of fun.
We also pass through quaint towns and stop at various overlooks and lookouts throughout day so there are plenty of opportunities to get great pictures of the most popular locations at the best times of day.
YOU WILL LOVE THAT WE ONLY HAVE
12 GUESTS OR LESS PER TOUR
Highlights
Round-trip Waikiki Hotel Transportation (from outer islands Maui, Big Island & Kauai)

Audio Head-phone Guides Available in 29 Areas for 9 Languages

See the memorials that make up the World War II Valor In The Pacific National Monument, including Punchbowl

Documentary Film Footage of the Attacks

Pearl Harbor Visitor Center and Museums

USS Arizona Memorial

Polynesian Cultural Center Admission
Lunch Included At Pounders Restaurant

Hoku Pa'a Canoe Ride

Demonstrations at Island Villages

Polynesian Canoe Pageant

Dole Pineapple Pavilion

Oahu's North Shore Beaches

Waimea Bay & Sunset Beach
Tour Description
Explore the best that Oahu has to offer on this 11 hour tour of Pearl Harbor, Polynesian Cultural Center, the North Shore and so much more.
Start your tour with a hotel or condo pickup which brings you out to Pearl Harbor to pay your respects at the USS Arizona Memorial. Visit the museums at the Visitor Center before taking to the road on an adventure to the Dole Pineapple Plantation. Here we can experience a little of Hawaii's plantation life and even taste some great fruit-inspired foods.
From there we continue exploring the island of Oahu by visiting the North Shore with it's beautiful beaches, quaint towns and amazing coastline views. We'll stop at various spots and overlooks to view famous beaches and surf spots.
Next we make our way to the Polynesian Cultural Center where a wonderful lunch is served that will prepare you for an afternoon of adventure and activities. Be awed by the Pacific people's traditions, history and legends during multiple shows and demonstrations, and the brave can try dancing and/or a canoe ride.
We return you to your hotel or the airport for your flight back at around 5:30 pm after a wonderful day exploring the best Oahu has to offer.
Please ask us here if you have any questions.
Schedule & Duration
Tentative Schedules for Pearl Harbor, and Polynesian Cultural Center Tour
(Subject to change depending on Arizona Ticket Time and other factors)
For Oahu guests only – 10 hour tour
6:30 AM

Pick up from Waikiki Hotels

8:00 AM
Enter the theatre to enjoy a documentry film.
8:30 AM

Board Navy Launch to USS Arizona Memorial

9:15 AM

Return to Pearl Harbor Visitors Center 

Visit exhibits and museum

10:30 AM

Depart to North Shore with stop at Dole Plantation

11:00 AM

Dole Plantation

12:00 AM

Depart to North Shore Oahu

1:00 PM
Lunch provided at the Polynesian Cultural Center
1:45 PM
Tour Highlights at the Polynesian Cultural Center

Samoan Village

Pageant of the Long Canoes

Tongan Village

New Zealand Village

Canoe Tour

Hawaii Theater Movie

Hawaiian Village

4:30 PM

Depart the Polynesian Cultural Center to your hotel
*Tour Highlights may change or updated due to route change in event of weather or traffic situations beyond our control
Availability
We recommend booking your Pearl Harbor tours in advance of your arrival to Hawaii.  Pearl Harbor is our #1 visitor destination and will sell out on certain days of the week. Book your tour for the 1st or 2nd full day after your arrival.  Our guests usually get up early in the morning due to the time difference, so you're usually wide awake by the time your tour starts, plus your tour guide will point out highlights not to miss on Oahu.
*Safety is our #1 priority. Sites & features of our tours can change due to adverse weather and other unforeseen circumstances.
Attire
Dress comfortably but please remember that shirts and shoes are required on the USS Arizona Memorial; swimsuits not permitted. Bags not allowed in Pearl Harbor Visitor Center but if needed may be checked and stored for $3.00 per item at the Visitor Center.
Cancellation Policy
In the event of cancellation or request change to your reservation, please note the following. Tours originating from Oahu, there is no charge for date change or tour change based on tour availability. Any request for a refund prior to 48 hours is honored with a full refund, minus a 10% cancellation fee. No refunds issued for any tours within the 48 hour period, prior to the start of your tour.
Special Instructions
No bags allowed at Pearl Harbor
Government Issued ID required for Ford Island entry
No camera lenses longer than 6 inches at Pearl Harbor
Bring Bottled Water
Don't forget your camera!
Bring sunscreen, hat, sunglasses
Wear comfortable shoes
Leave your swimsuit at home
Dress comfortably & check the weather.
No host lunch or snack available at Visitor Center and USS Missour
Due to ceremonies honoring the attacks of December 7, 1941, we will not operate tours to Pearl Harbor and the USS Arizona Memorial on December 7, 2013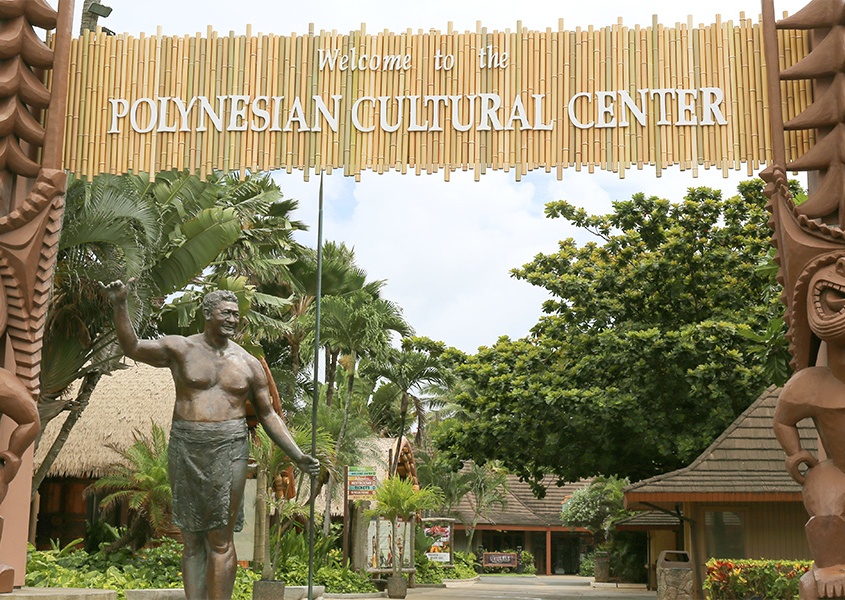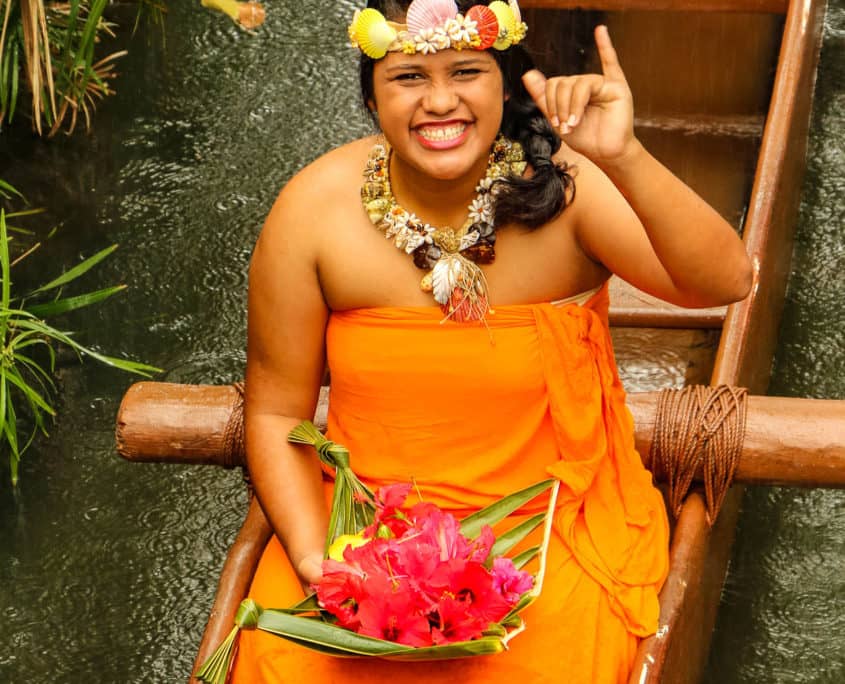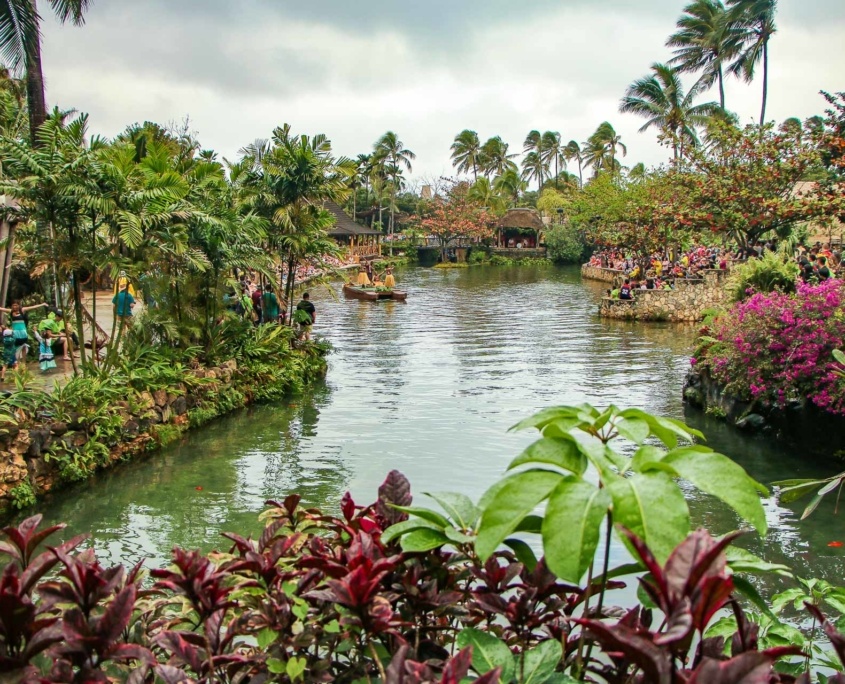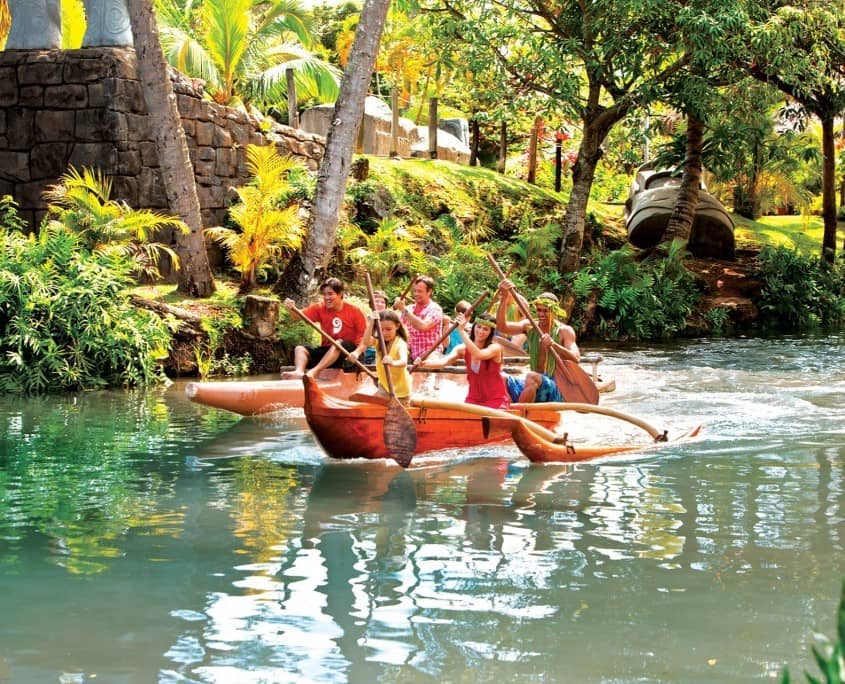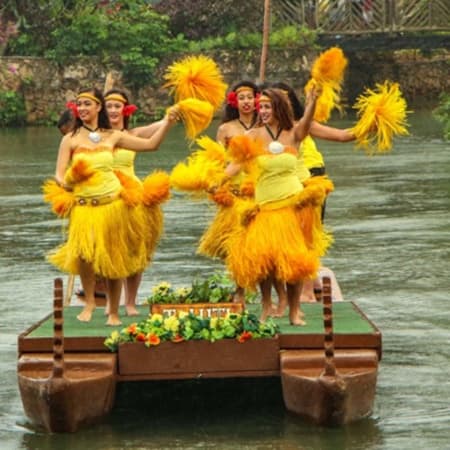 Polynesian Cultural Center
Our final stop is at the Polynesian Cultural Center, with admission to the six Island Villages of Samoa, Tonga, New Zealand, Fiji, Tahiti, Hawai'i and much more. Explore the Polynesian world with an expert guide, watch the canoe parade and shows taking place throughout the day. Get connected with the stunning art and ancient culture of Polynesia as we spend almost 4 hours at this stop.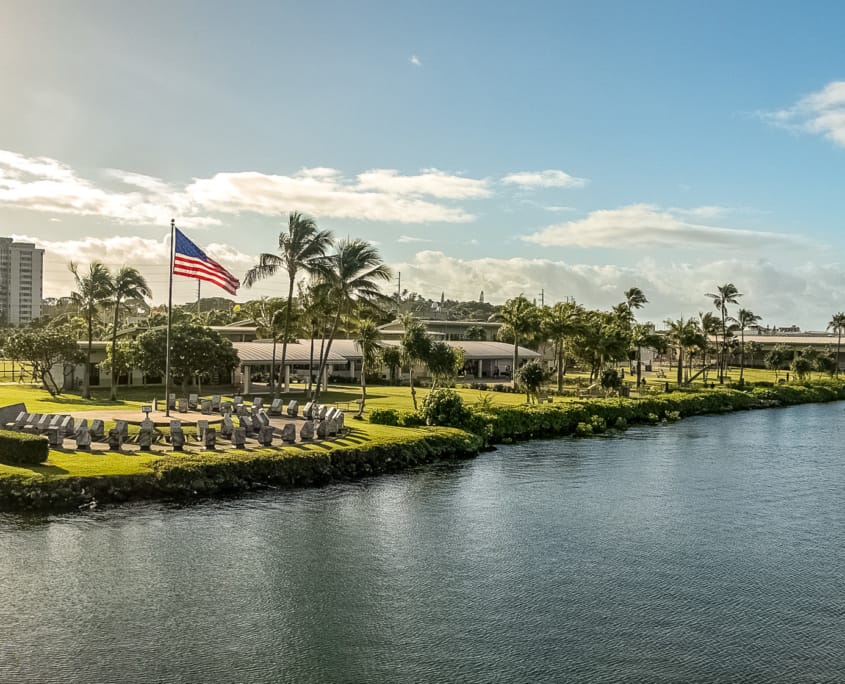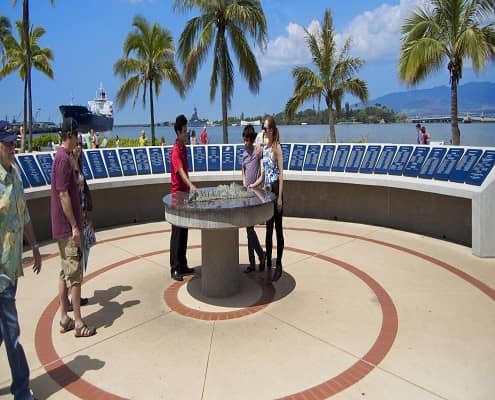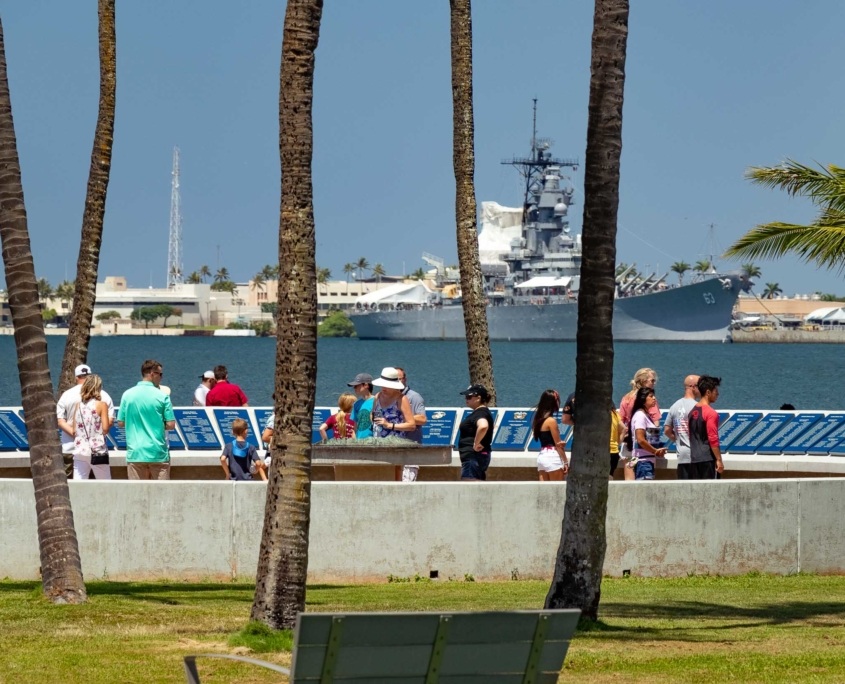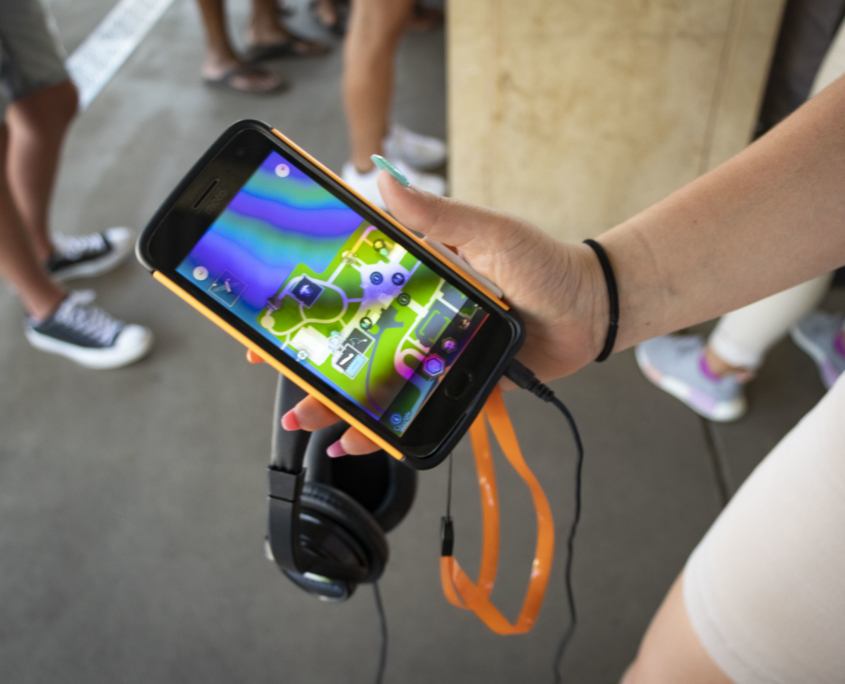 Pearl Harbor Visitor Center
Beginning the tour at the Pearl Harbor Visitor Center allows you to really understand what happened on December 7th, 1941. Watching a 23 minute short film of the attack on Pearl Harbor with historical footage from the attack really let's you absorb the events from the lead up to the US entering World War II right through to the signing of the Instrument of Surrender by Japan almost 4 years later. For those non-english speaking visitors. All our tours include access to the audio tours provided in 9 languages (English, Japanese, Chinese, Korean, French, Russian, Italian, German and Spanish).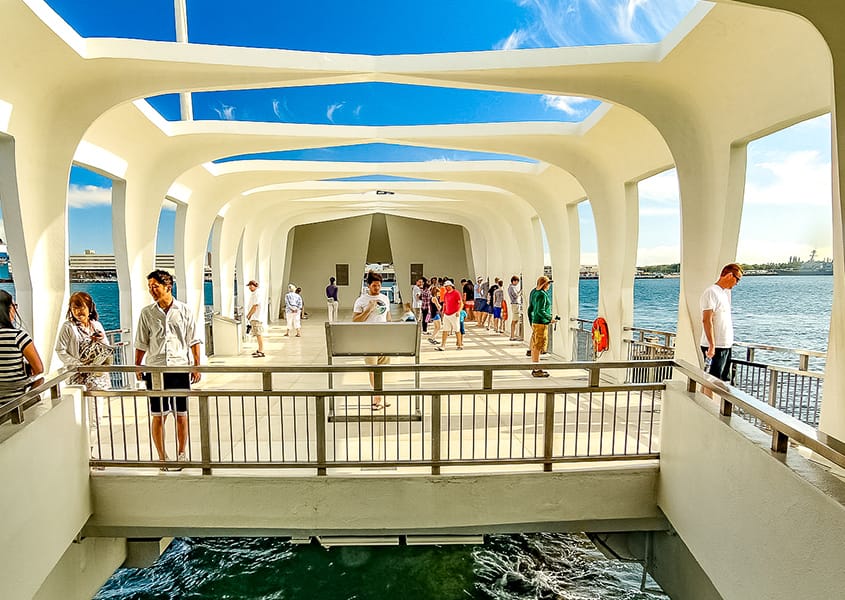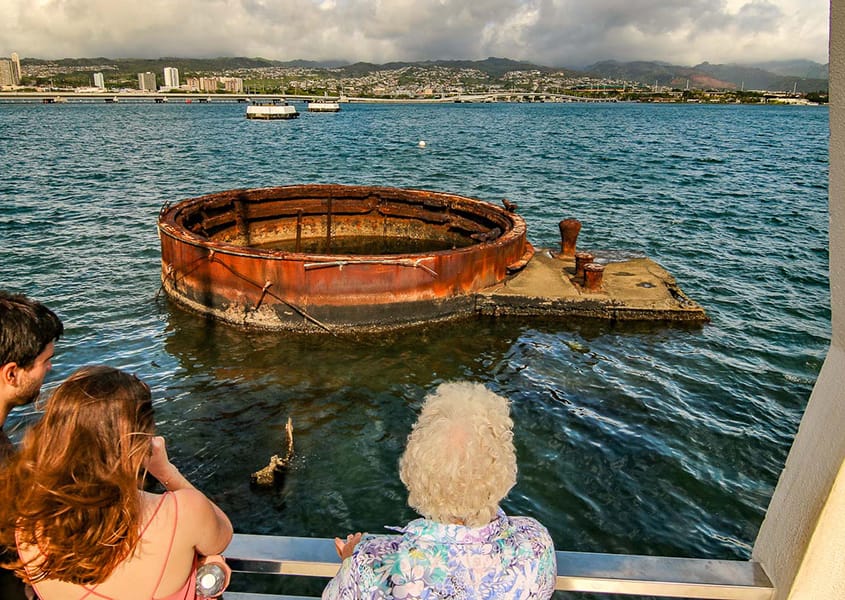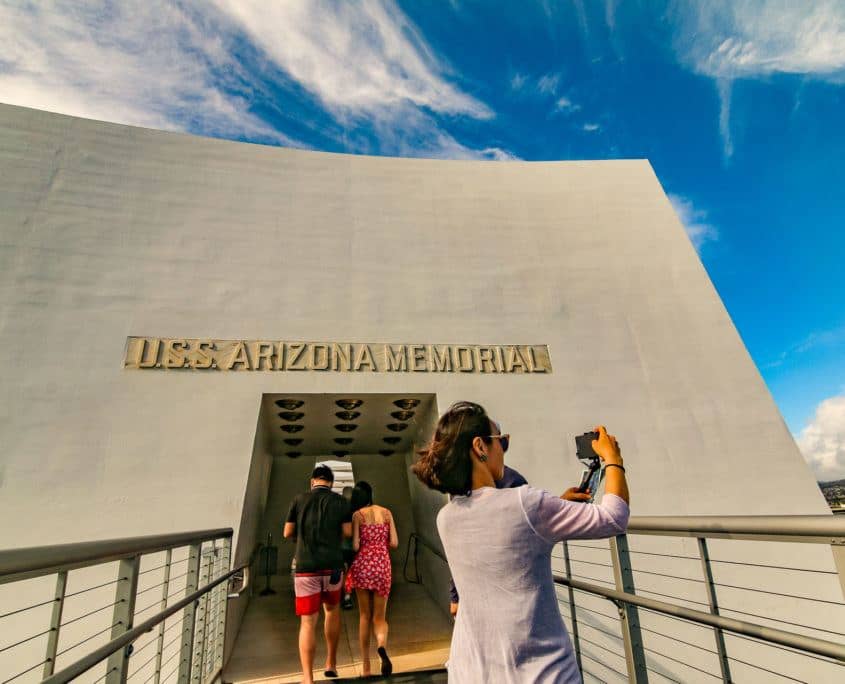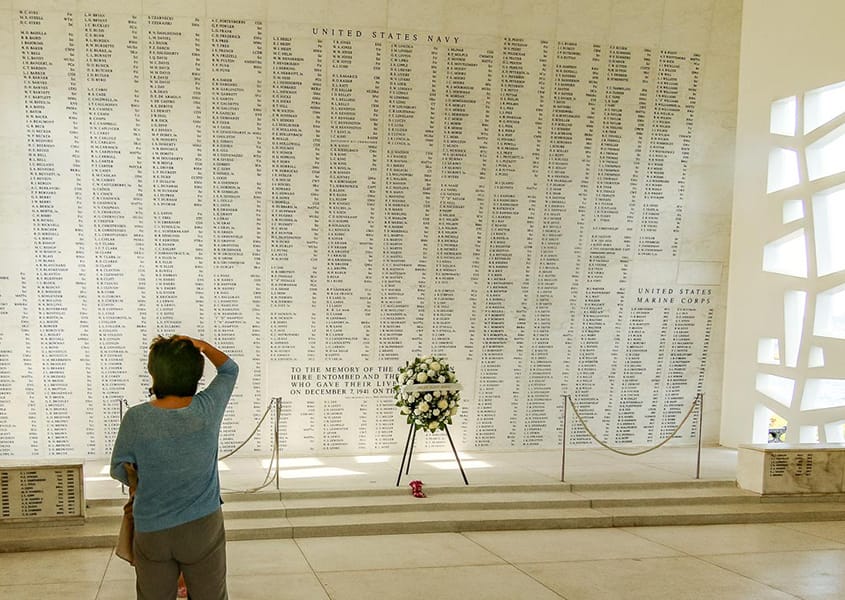 All aboard! Make the short trip to the memorial itself aboard a U.S. Navy launch. The memorial built over the remains of the USS Arizona Memorial itself will allow you to honor and reflect on the heroes of that "Day of Infamy" You can read the names of all 1,177 sailors and marines who were killed on December 7, 1941. Don't forget to look for the "Black Tears", the oil leak on the surface from the sunken remains.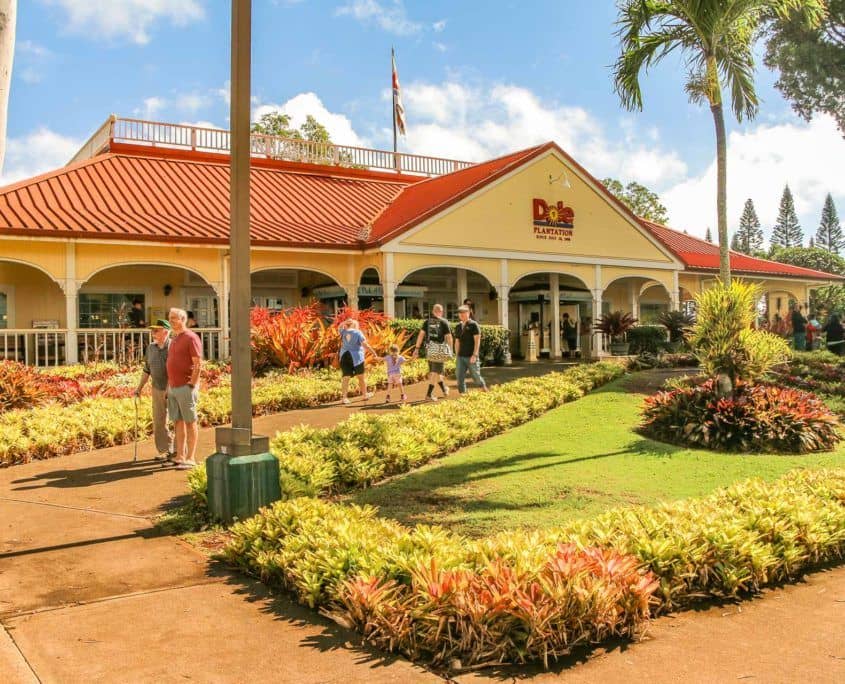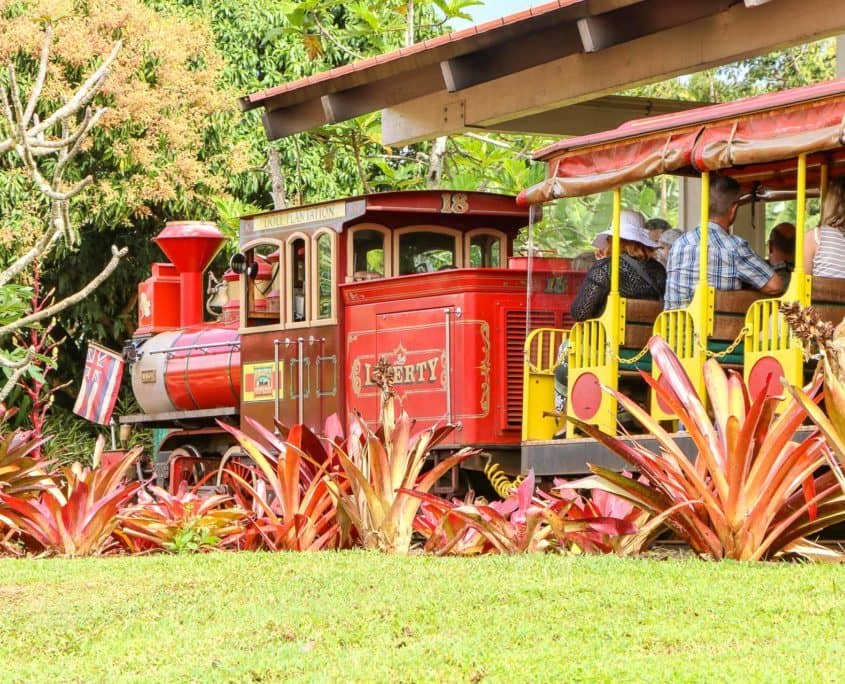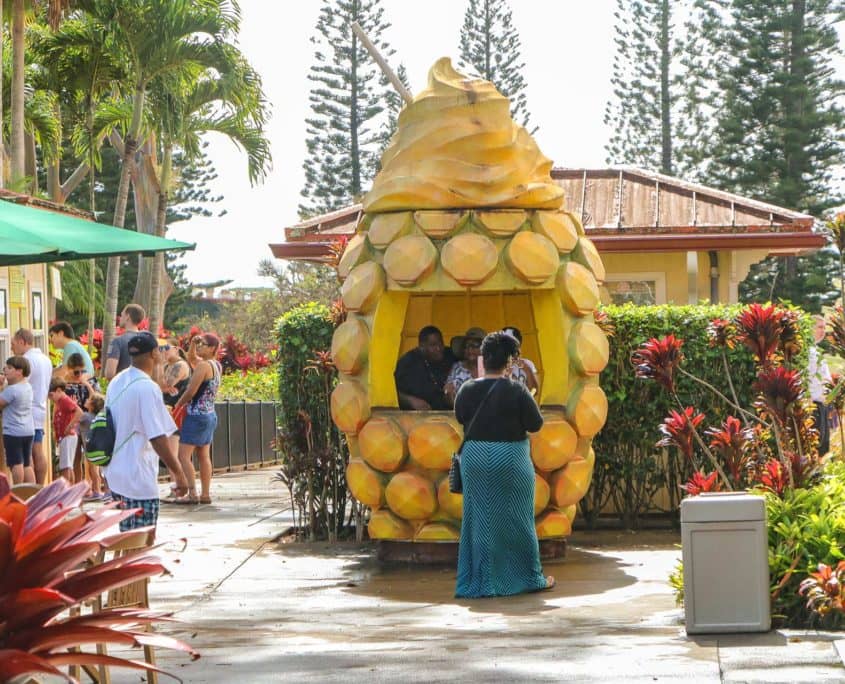 Stop in at Dole Plantation and try out their famous Dole Whip ice cream. We spend an hour here learning, tasting and exploring the history of growing pineapples here on Oahu. The plantation, which started out as a humble fruit stand, is fun for everyone. There are several activities including a train, maze and a garden tour. You can even take some pineapple home with you!
Frequently Asked Questions
How Long is the Pearl Harbor Tour?
You will spend about 3 hours at Pearl Harbor on this tour visiting the museums and the USS Arizona Memorial.
Does This Tour Accommodate Large Groups?
Yes, we have many large busses so we can handle a group of any size.  Let us know your plans in the contact form.
Will You Match Competitors' Prices?
The best experience possible for guests is our top concern. Since we are so confident that we offer the best tours out there, we will gladly match or beat the price of any identical tour on any of the Hawaiian islands.
Can I Get a Refund if I Cancel My Tour?
Please refer to our refund policy or the cancellation policy above for this tour. We have a 10% cancellation fee for all tours. Tours cancelled within 48 hours of tour day there will no refund.
Do you Offer Tours from the Nearby Hawaiian Islands?
This tour can be experienced by those visiting from the islands of Maui, Hawaii or Kauai. Check the schedule to learn more and book your tour, selecting the island you are coming from to get the best price for your tour.