Our COVID-19 Pandemic Response
March. 2022 UPDATE
Starting today, all COVID restrictions put in place by the City & County of Honolulu have been dropped. Safe Access Oahu is no longer functioning.
Statewide indoor mask mandates and social distancing guidelines will still be enforced.
Entering the State of Hawaii will require visitors to show proof of vaccination, proof of negative test or will be required to quarantine for 5 days.
All restrictions are set to expire by March 25th 2022 unless the governor extends those emergency proclamations.
The Pearl Harbor Tours Ohana wants to ensure that your visit to Hawaii exceeds your expectations as we navigate these challenging times. To ensure this, we have made your health and safety a priority, installing new policies ensuring all company practices are performed cleanly and safely. For your ohana's health, we have installed a rigorous protocol as provided by the Department of Health and the Center for Disease Control (CDC).
Rest assured, the steps we have taken will keep you and your family safe. Our enhanced cleaning processes have been extended to include hourly, daily, and per-use medical grade disinfection of all frequently touched surfaces, including doors, seating areas, countertops, floors, and handles. We have installed screens and barriers to limit contact further, and, where possible, we have upgraded to touchless features. We start and end our day with a company-wide thorough cleaning procedure.
We Are Safe Travels Accredited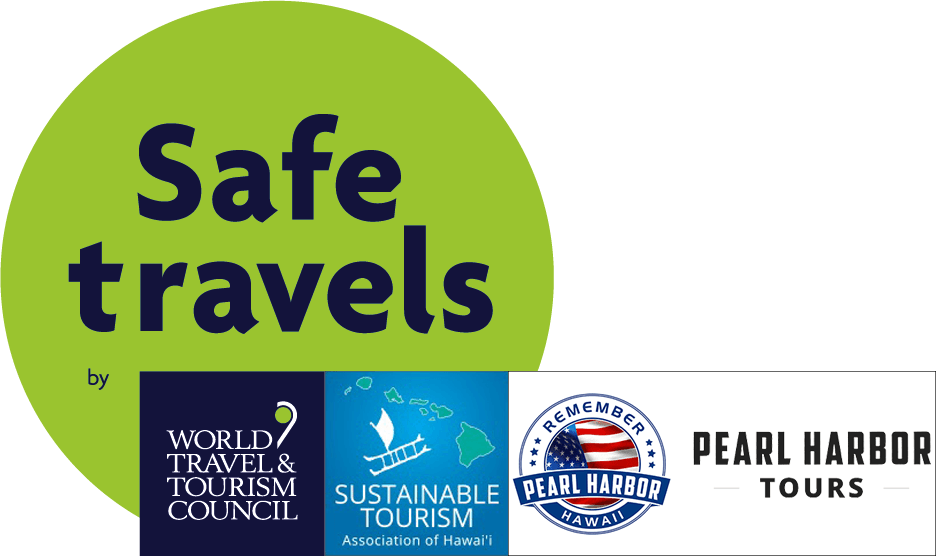 Our crew practices safety-minded customer service, including appropriate social distancing and usage of PPE equipment. Following government guidelines, we have downsized our guest capacity, creating appropriate spacing between parties on our shared, small group tours. Guests are also asked to wear a face-covering over their nose and mouth at all times in enclosed areas, and hand sanitizer and disinfectant wipes are available for use.
Welcome to the islands — we are thrilled to extend our safest aloha.